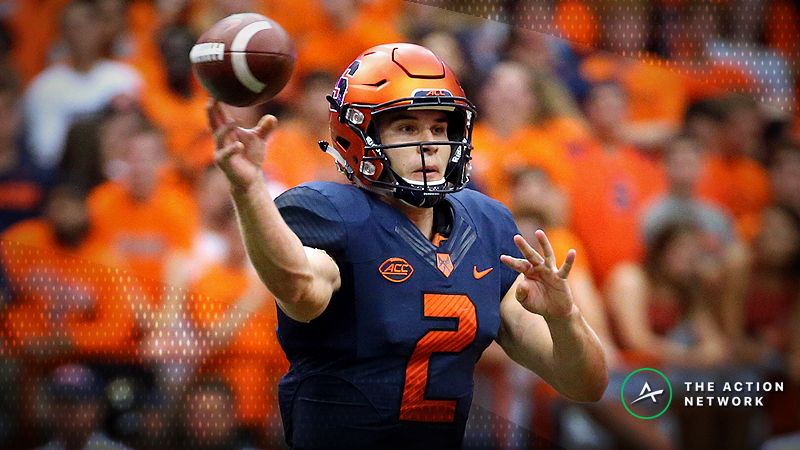 Syracuse Among Week 6's Most Popular College Football Bets
Week 5 wasn't great for the public. Of the three most popular bets last weekend, only one (Fresno State) was able to cover the spread.
This week, public bettors are all over three favorites — as is often the case — and their decision-making looks to be based off last week's results.
Syracuse (-3) @ Pittsburgh
12:20 p.m. ET
Getting 84% of bets in what's on pace to be the sixth-most heavily bet game on Saturday, Syracuse is the most popular team of the weekend. Despite that support for the Orange, Syracuse has fallen from -6 to -3 as sharps have been all over Pittsburgh.
Why the public loves Syracuse: Nearly 70% of bettors had the Orange last weekend as 25.5-point underdogs to Clemson. After watching 'Cuse nearly steal the game outright, the public has completely bought in on this team.
South Florida (-15.5) @ UMass
3:30 p.m. ET
This is certainly not one of the marquee matchups of the weekend, but South Florida has drawn the highest percentage of bettors to this point. Eighty-six percent of tickets have landed on the Bulls, and the line has moved from -14 to -15.5.
Why the public loves South Florida: USF has yet to lose this year, and its schedule has already included two Power 5 teams (Georgia Tech and Illinois). If the Bulls can beat Georgia Tech by 11, it's easy to see how the public would have no problem taking them to beat lowly UMass by 16.
Washington State (-17) @ Oregon State
9 p.m. ET
Washington State has drawn 83% of bets accounting for 93% of dollars in Saturday's meeting with Oregon State. As a result, this line has gone from its opener of -16 up to -17.
Why the public loves Washington State: Public bettors often make their decisions based on what they last saw. That certainly seems to be what's happening in this game.
Wazzu is coming of an impressive win over Utah, while Oregon State was just blown out by Arizona State, 52-24. With ASU beating the Beavers by 28, this looks like a steal at -17.
This article was originally posted on ActionNetwork.com by Danny Donahue. Sports Insights is part of The Action Network.