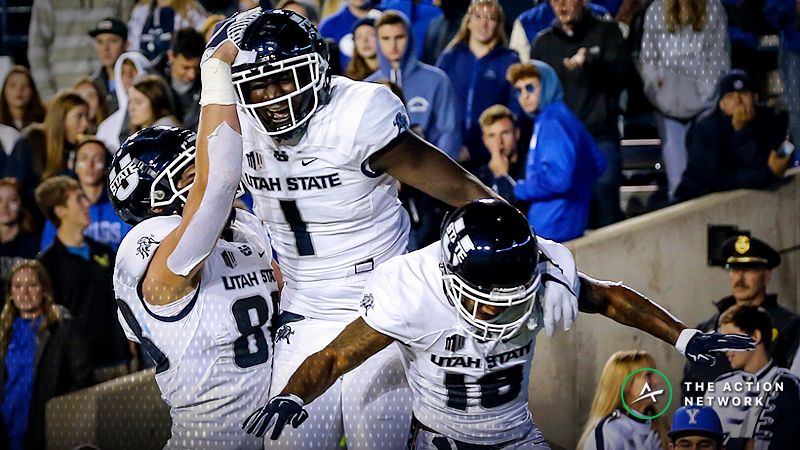 Most Popular College Football Week 8 Bets: Utah State Getting Lots of Love
Generally speaking, public bettors tend to be drawn to the best teams in the country. When looking at the teams receiving the highest betting percentages on a given week this season, you'd expect to find names like Alabama and Ohio State in the mix.
That's not the case this week, however, as none of the three most popular teams on Saturday are even from Power 5 conferences.
Buffalo (-1) @ Toledo
12 p.m. ET
In addition to being one of the most popular teams this weekend, Buffalo has also been among the biggest movers. The Bulls have gone from +3 to -1 behind 81% of bets and 82% of dollars.
Why the public loves Buffalo: Buffalo enters this game at 6-1, the best overall record of any team in the MAC. Toledo, meanwhile, is sitting in the middle of the pack at 3-3.
Laying only one point (and even getting points when this line opened) on the Bulls seems almost too easy, hence the heavy public backing.
Utah State (-15) @ Wyoming
2:30 p.m. ET
Utah State is the most popular team among bettors this weekend, attracting 87% of bets and 88% of money wagered. The line has moved up as a result, but only by one-half point, going from -14.5 to -15.
Why the public loves Utah State: Public bettors are suckers for points, and Utah State has been a points machine this season. The Aggies' 51.7 points per game is second to only Alabama among FBS teams.
Wyoming, on the other hand, hasn't scored more than 20 points since its season opener against New Mexico State, so I'd imagine the public is already counting this one as a win on Saturday.
Central Florida (-21.5) @ East Carolina
7 p.m. ET
Rounding out the three most popular bets of Week 8 is Central Florida. The Knights briefly opened at -24 before being bet down to -21. Since then, they've moved up to -21.5 behind 80% of bets and 74% of dollars.
Why the public loves UCF: In its past two games, East Carolina has been outscored, 91-26, by Temple and Houston. With the Pirates now facing the 10th-ranked team in the country, why would the public expect anything other than another blowout?
This article was originally posted on ActionNetwork.com by Danny Donahue. Sports Insights is part of The Action Network.