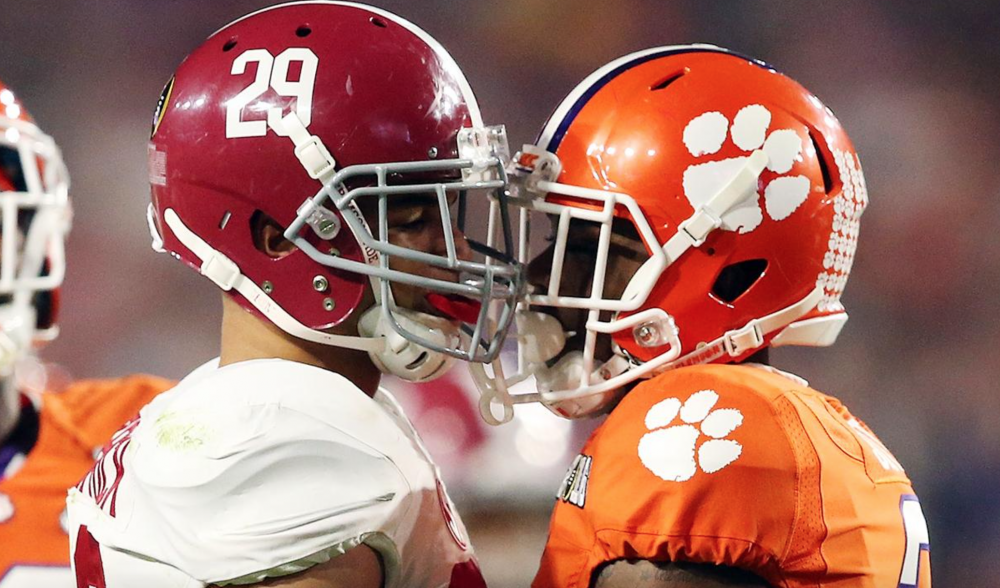 College Football Bowl Games: Info, Odds, and Spreads
'Tis the season for action! With another loaded bowl season officially upon us, we polled the top analysts, sharpest minds, and most experienced bettors. Oh, and we also asked our one-named friend Stuckey to chime in!
In all seriousness, here's your guide to every matchup, from now through the 2018 College Football Playoff National Championship Game. If you're in a Confidence Pool, be sure to check out Collin Wilson's 1-39 rankings here.
All odds as of Dec. 28. For updated lines and percentages, check out our free NCAAF odds page. 
Saturday, Dec. 30
TaxSlayer Bowl
Mississippi State vs. Louisville (-6.5) | O/U: 61
12:00 PM | ESPN | Jacksonville, FL
Stuckey says: I'm not sure Mississippi State cares much about this game after a disappointing finish to the year, especially considering the Bulldogs' entire staff took off for Gainesville, leaving the running backs coach behind to coach the bowl game. More importantly, State will also be without their star quarterback Nick Fitzgerald, so I don't think they can exploit a horrific Louisville defense that ranks outside of the top 90 in both rushing S&P+ and passing S&P+.
Liberty Bowl
Memphis (-3.5) vs. Iowa State | O/U: 67.5
12:30 PM | ABC | Memphis, TN
Stuckey says: You must relentlessly expose the Tigers' 106th S&P+ ranked defense in order to keep up with their offense, which UCF just did in the AAC Championship. Iowa State head coach Matt Campbell will throw everything at Memphis, but I ultimately don't think they have enough firepower to defeat the Tigers in Memphis' home stadium.
Fiesta Bowl
Penn State (-3) vs. Washington | O/U: 55
4:00 PM | ESPN | Glendale, AZ
Stuckey says: Penn State will need a big day from Trace McSorley to win this game, as Saquon Barkley should be contained by a Washington defense ranked first in defending rush explosiveness. That could prove to be a difficult task, as Washington should be able to get pressure in passing situations against an offensive line ranked 74th in adjusted sack rate.
Orange Bowl
Miami vs. Wisconsin (-6.5) | O/U: 45.5
8:00 PM | ESPN | Miami Gardens, FL
Stuckey says: Miami's offense ranks 125th in the country in third-down conversion percentage, and the Canes will be without their best running back, wide receiver and tight end for this game. That spells trouble against a Wisconsin defense ranked seventh in third-down conversion percentage allowed, and No. 1 in overall S&P+ defense. Miami will also finally run into a unit better at creating havoc than its own defense, as Wisconsin ranks No. 1 in overall havoc rate. Miami won't benefit from turnovers against a very disciplined Wisconsin team that will use a heavy ground attack.
---
Monday, Jan. 1
Outback Bowl
Michigan (-7.5) vs. South Carolina | O/U: 43
12:00 PM | ESPN2 | Tampa, FL
Stuckey says: Can the offensively challenged Gamecocks even score enough points against Michigan to cover? The 88th ranked S&P+ offense of South Carolina will face a Michigan defense that ranks top 10 in almost every category. I'll trust Jim Harbaugh with the month of prep in this matchup. Michigan's defense only allows teams to convert 27% of third downs (third-best in the country), which should keep the SC punter busy, as the Gamecock offense only converts third downs at a 39% clip (71st in the country).
Peach Bowl
Auburn (-9.5) vs. Central Florida | O/U: 67
12:30 PM | ESPN | Atlanta, GA
Stuckey says: Fascinating matchup with Scott Frost hanging around to coach and Gus Malzahn signing an extension. Central Florida has simply never faced a defense like Auburn's this season. The Tigers rank fifth in the country in overall defensive S&P+, and No. 1 in limiting explosiveness, but will Auburn be a little flat here after their run at the CFP came up just short to end the season? Make sure you keep an eye on the Auburn injury report at running back.
Citrus Bowl
Notre Dame vs. LSU (-3) | O/U: 51.5
1:00 PM | ABC | Orlando, FL
Stuckey says: This sets up to be a very evenly matched game. Both offenses are ranked in the top six in rushing S&P+, but both teams have defenses built to stop the run. As a result, it should come down to the little things, such as average net field position, where LSU ranks in the top 25, while the Irish rank outside of the top 100.
Rose Bowl (Playoff semifinal)
Oklahoma vs. Georgia (-2.5) | O/U: 60
5:00 PM | ESPN | Pasadena, CA
Stuckey says: The Georgia rush offense, averaging 5.8 yards per carry (10th in the country) should eat up an Oklahoma defense ranked outside of the top 40 in yards allowed per rush. Georgia ranks second in the nation in pass yards per attempt allowed (5.6), which should come in handy against an Oklahoma offense that ranks first overall in yards per attempt (12.0) and third in passing yards per game (367.4) yards. Give me the Bulldogs, who rank third in limiting explosiveness, which might be the most important defensive metric when facing this Sooner squad. Oklahoma has feasted on soft secondaries, but they won't face one on New Year's Day. Georgia's defensive backfield ranks in the top 10 in passing S&P+.
Sugar Bowl (Playoff semifinal)
Clemson vs. Alabama (-3) | O/U: 47
8:45 PM | ESPN | New Orleans, LA
Stuckey says: Even with a plethora of injuries, the Alabama defense still ranks first in opponent yards per play. Imagine what they will do when healthier against a Clemson offense that lacks explosiveness, ranking 119th in IsoPPP. Side with Saban, who has more than a month to prepare with revenge on his mind, at anything under a field goal. Roll Tide.
---
Completed Games
Saturday, Dec. 16
New Orleans Bowl
Troy (-7) vs. North Texas | O/U: 62.5
1:00 PM | ESPN | New Orleans, LA
Stuckey says: Both of these teams can score, but I trust the Troy defense to get more stops, especially since the Mean Green lost their leading rusher, Jeffrey Wilson, to injury. Troy was the only team in the country to not allow more than 24 points in a single game this year, led by their No. 1-ranked red zone defense that only allowed scores on 59% of opponent opportunities this season. Also, keep your eye out for a big play out of Marcus Jones in the return game. Jones became the first player in NCAA history to return two kickoffs for touchdowns in the same game earlier this season. He also had a 100-yard kick return touchdown and a 99-yard interception return in Troy's season finale to win a share of the Sun Belt title.
Cure Bowl
Georgia State vs. Western Kentucky (-6.5) | O/U: 52
2:30 PM | CBSSN | Orlando, FL
Stuckey says: I'm not sure how motivated Western Kentucky will be here, but Georgia State should be hungry to secure their first ever postseason win. Neither one of these teams can run the ball, but each has a more than capable quarterback. WKU averages an NCAA worst 66.9 yards per game on the ground, and Georgia State ranks dead last in rushing S&P+. Expect the ball in the air early and often, as both of these defenses struggle vs. the pass. If WR Penny Hart is a go for Georgia State, I'd look at the dog and/or over in what should be a shootout.
Las Vegas Bowl
Boise State vs. Oregon (-7) | O/U: 59.5
3:30 PM | ABC | Las Vegas, NV
Stuckey says: A lot of question marks in this game, as Boise State's leading rusher Alexander Mattison is listed as questionable with an ankle injury, and superstar Oregon running back Royce Freeman still hasn't announced if he will play. If everyone can go, this is strength on strength, as we will see an Oregon offense that ranks top 20 in yards per carry (5.4) meet a Boise State defense that ranks top 20 in yards per rush allowed (3.5). Oregon is a different team with Justin Herbert back under center, but the status of Freeman is paramount for the Ducks, who are also are dealing with the departure of their head coach.
New Mexico Bowl
Marshall vs. Colorado State (-5.5) | O/U: 58
4:30 PM | ESPN | Albuquerque, NM
Stuckey says: Marshall's rushing attack is almost nonexistent (128th in rushing S&P+), which means you can completely shut down their offense with a strong secondary. Unfortunately, Colorado State does not have an effective pass defense (111th in passing S&P+). The Thundering Herd look like a live dog here, especially with their star wide receiver Tyre Brady upgraded to probable. I expect them to move the chains all day against a Rams defense ranked 114th in third-down conversion percentage.
Camellia Bowl
Arkansas State (-4) vs. Middle Tennessee | O/U: 62.5
8:00 PM | ESPN | Montgomery, AL
Stuckey says: QB Justice Hansen leads a prolific Arkansas State passing attack that averages 341 yards per game, sixth best in FBS. MTSU simply does not have the personnel in their defensive backfield to slow down the Red Wolves. Both teams possess vulnerable offensive lines, but Arkansas State's defensive line, a unit ranked fifth overall in adjusted sack rate, is much better equipped to generate pressure than the Blue Raiders' defensive line, which is ranked 47th.
---
Tuesday, Dec. 19
Boca Raton Bowl
Florida Atlantic (-22) vs. Akron | O/U: 65
7:00 PM | ESPN | Boca Raton, FL
Stuckey says: FAU, one of only five teams in the country averaging more than 6 yards per rush attempt, will face an Akron defense allowing 5.0 yards per carry, 105th in the country. FAU should run it up in their home stadium, as they have been doing for the last month-plus. All aboard the Lane train!
---
Wednesday, Dec. 20
Frisco Bowl
SMU (-4) vs. Louisiana Tech | O/U: 71
8:00 PM | ESPN | Frisco, TX
Stuckey says: New head coach Sonny Dykes will coach SMU in the Frisco Bowl, as Chad Morris left for Arkansas. SMU should enjoy the support of the home crowd playing 30 miles from campus, especially since they haven't been to a Bowl since 2012, but can you really lay points with an SMU defense that allows 6.7 yards per play, 123rd in the country and worst among all bowl teams? I don't think you can, especially now that their best playmaker, cornerback Jordan Wyatt, will not play against a La Tech team that has won their bowl game in each of the past three years. Also, Louisiana Tech ranks 43rd in defending explosive passing, which should generate enough stops to give them a shot against the Mustang passing attack.
---
Thursday, Dec. 21
Gasparilla Bowl
FIU vs. Temple (-6.5) | O/U: 57.5
8:00 PM | ESPN | St. Petersburg, FL
Stuckey says: It's tough to trust an FIU defense that ranks outside of the top 100 in both rushing S&P+ and passing S&P+, but I expect a fully motivated bunch playing in Florida. While these teams measure up pretty similarly when it comes to a number of advanced metrics, FIU does have a significant advantage in the red zone, where they rank second in the country in scoring percentage, while Temple ranks 96th. FIU also has the advantage in the red zone on the defensive side of the ball, where they rank in the top 25 in scoring percentage allowed, as opposed to Temple, who ranks 48th.
---
Friday, Dec. 22
Bahamas Bowl
Ohio (-7) vs. UAB | O/U: 59
12:30 PM | ESPN | Nassau, Bahamas
Stuckey says: This game boils down to what you value more: UAB's motivation or the UAB struggles defending the run? The Ohio rushing attack, which averages 5.6 yards per carry (top 12 in the nation), should feast against a UAB defense allowing 4.4 yards per carry (70th in the nation). However, Ohio's leading rusher A.J. Ouellette is doubtful, their second-leading rusher Dorian Brown is questionable, and second-leading receiver Brendan Cope is questionable. Side with the motivated pup here looking to secure the program's first ever bowl victory to close out a storybook year against an Ohio program that has generally struggled in bowls under Frank Solich (2-8 all time).
Potato Bowl
Central Michigan vs. Wyoming (-3.5) | O/U: 45.5
4:00 PM | ESPN | Boise, ID
Stuckey says: These two teams ended their seasons in completely different ways. Central Michigan won and covered each of its final five games, while Wyoming ended the year with an embarrassing loss to San Jose State. Tough game to get a read on without knowing the status of future NFL QB Josh Allen, which is still unknown.
---
Saturday, Dec. 23
Birmingham Bowl
South Florida (-2) vs. Texas Tech | O/U: 66
12:00 PM | ESPN | Birmingham, AL
Stuckey says: I'm not sure how high the South Florida motivation level will be for a repeat trip to the Birmingham Bowl, after the last-minute loss against UCF kept them out of the AAC Championship. USF had much higher preseason expectations, so Tech could catch a flat Bulls team here.
Armed Forces Bowl
Army vs. San Diego State (-6.5) | O/U: 45.5
3:30 PM | ESPN | Fort Worth, TX
Stuckey says: As a result of the Army/Navy game, San Diego State will get much more prep for the option, which they have seen this year in victories over New Mexico and Air Force. Expect Rashaad Penny to beef up his NFL draft stock with a big day on the ground against an Air Force defense that ranks 99th in the country in rushing yards per attempt allowed.
Dollar General Bowl
Appalachian State vs. Toledo (-6) | O/U: 61
7:00 PM | ESPN | Mobile, AL
Stuckey says: Toledo's defense ranks 87th in the country in rush yards per attempt allowed at 4.7, which could spell trouble against an App State offense that churns out 5.4 yards per carry (16th best in the country). Expect the App State offense to take full advantage of their redzone opportunities against a Toledo defense ranked 97th in red zone points allowed per attempt. The Toledo rush offense isn't too far behind at 5.3 yards per carry, but the App State defense is much more respectable when it comes to stopping the run, allowing only 4.0 yards per carry.
---
Sunday, Dec. 24
Hawaii Bowl
Fresno State vs. Houston (-2.5) | O/U: 49
8:30 PM | ESPN | Halawa, HI
Stuckey says: I actually give Fresno State the edge in a battle of two defensive-minded teams with similar advanced stats and strength of schedules. The Bulldogs have already made the road trip to Hawaii in a road victory earlier this year, and should be fully motivated after failing to make a bowl the previous two seasons. I'd also look hard at the under here.
---
Tuesday, Dec. 26
Heart of Dallas Bowl
Utah (-6.5) vs. West Virginia | O/U: 56
1:30 PM | ESPN | Dallas, TX
Stuckey says: The West Virginia offense will be without Will Grier, and the West Virginia defense is one of the nation's worst units, allowing well above of 6 yards per play. Utah should get their 12th victory in their past 13 Bowl games with a win and cover against the Mountaineers.
Quick Lane Bowl
Duke (-6.5) vs. Northern Illinois | O/U: 47
5:15 PM | ESPN | Detroit, MI
Stuckey says: Northern Illinois' solid defense owns significant advantages over Duke, specifically on third down and in the run game. Duke's offense ranked just 117th in yards per play during the season. Daniel Jones should be under pressure from the opening snap against an NIU defense that had the second-most sacks in the country during the regular season.
Cactus Bowl
Kansas State (-6.5) vs. UCLA | O/U: 62
9:00 PM | ESPN | Phoenix, AZ
Stuckey says: Even without QB Josh Rosen, UCLA should be able to shred a Kansas State pass defense allowing 7.6 yards per pass attempt (92nd in the nation). Out of 130 teams, the only team that allowed more yards per game through the air this year was Connecticut. K-State should also run at will against a UCLA defense that allows 5.7 yards per rush. The over is worth a look, along with UCLA if it reaches +7.
---
Wednesday, Dec. 27
Independence Bowl
Florida State (-14.5) vs. Southern Miss | O/U: 49
1:30 PM | ESPN | Shreveport, LA
Stuckey says: Odell Haggins, a position coach for Florida State since 1994, takes over as the interim head coach, and is one of the most well-liked coaches on the staff. The current Seminole roster should be fully motivated to play for Haggins, who could be personally coaching for his DL position job, with Willie Taggert and Jim Leavitt heading to Tallahassee. This game does also mean something to the Florida State program, as the Seminoles are looking to avoid their first losing season since 1976. It is worth noting that FSU star DB Derwin James will sit out.
Pinstripe Bowl
Boston College vs. Iowa (-2.5) | O/U: 45
5:15 PM | ESPN | New York, NY
Stuckey says: Boston College's run defense is ranked 103rd in the nation, allowing 5.0 yards per carry, which should allow the vanilla Hawkeyes' offensive attack to move the ball. Meanwhile, the Iowa run defense grades out much better (4.1 yards per carry), which will help against a top 25 BC rushing offense.
Foster Farms Bowl
Arizona (-3) vs. Purdue | O/U: 64.5
8:30 PM | FOX | Santa Clara, CA
Stuckey says: Khalil Tate should be a good enough reason to back Arizona, as Purdue ranks 92nd in defending rush explosiveness.
Texas Bowl
Texas vs. Missouri (-3) | O/U: 61
9:00 PM | ESPN | Houston, TX
Stuckey says: Missouri will get Damarea Crockett back at running back, but that won't change the Tigers' pass-first approach, led by Drew Lock. Texas actually has a defense that ranks 17th in passing S&P+, and I trust Tom Herman with a month to prep to get the job done over Barry Odom.
---
Thursday, Dec. 28
Military Bowl
Virginia vs. Navy (-2.5) | O/U: 51
1:30 PM | ESPN | Annapolis, MD
Stuckey says: Bronco Mendenhall has plenty of experience facing the triple option, and his Cavaliers notched an upset win over Georgia Tech earlier this season. Navy ranks 112th in sacks, which should give Virginia all day to pass. As a result of the Army/Navy game, UVA will have the preparation advantage, and the Cavaliers won't lack in motivation for the program's first bowl appearance since 2011. Virginia's 69.7% red zone scoring percentage allowed (fifth in the nation) will play a major role; Navy's defense ranks 111th in comparison.
Camping World Bowl
Oklahoma State (-6.5) vs. Virginia Tech | O/U: 61.5
5:15 PM | ESPN | Orlando, FL
Stuckey says: Most will focus on Oklahoma State's offense against Virginia Tech's defense, but I can't see the Hokies scoring enough to beat a Cowboys defense ranked 23rd in Rushing S&P+ and 37th in Passing S&P+.
Holiday Bowl
Michigan State vs. Washington State (-2) | O/U: 49
9:00 PM | FS1 | San Diego, CA
Stuckey says: This could be one of the best unders on the board, as both teams rank in the top 20 in a number of advanced defensive metrics. I would also look at Sparty as a dog, as they should be excited to play in this bowl after exceeding expectations this season, and Washington State has not done much away from Pullman.
Alamo Bowl
Stanford vs. TCU (-3) | O/U: 47.5
9:00 PM | ESPN | San Antonio, TX
Stuckey says: The TCU defense ranks top 5 in rush yards allowed per attempt, but they also rank 126th in the nation in defending explosiveness, which is problematic against a Stanford offense ranked eighth in explosiveness. Look for big days out of K.J. Costello, who has improved dramatically in each start, and Bryce Love, whose health should benefit from the time off.
---
Friday, Dec. 29
Belk Bowl
Wake Forest (-3) vs. Texas A&M | O/U: 65.5
1:00 PM | ESPN | Charlotte, NC
Stuckey says: Jeff Banks moves from special teams coordinator to interim head coach for Texas A&M, who I'm not sure really cares about this matchup. Wake Forest's offensive line, ranked in the top five in adjusted sack rate, is built to contain an Aggies defense that finished in the top five nationally in total sacks. Expect John Wolford to have a big day under center for Wake Forest, as Texas A&M has really struggled to contain mobile quarterbacks the past few years.
Sun Bowl
Arizona State vs. NC State (-6.5) | O/U: 59.5
3:00 PM | CBS | El Paso, TX
Stuckey says: NC State could potentially be without star defensive end Bradley Chubb, and I don't necessarily think the Wolfpack will have a great deal of motivation after coming up well short of preseason expectations. Conversely, the Sun Devils should show up for Todd Graham, who is sticking around to coach one last time for his seniors at Arizona State.
Music City Bowl
Kentucky vs. Northwestern (-7.5) | O/U: 51
4:30 PM | ESPN | Nashville, TN
Stuckey says: Two solid running backs will face off in Benny Snell and Justin Jackson, but the Northwestern defense is in a different class, ranking top 10 nationally in rush yards per attempt allowed (3.3), while Kentucky ranks 89th at 4.8 yards. Kentucky's defense ranks 125th in red zone scoring percentage at 92.31% (worst among bowl teams), compared to a Northwestern defense that ranks third at 67.7%.
Arizona Bowl
New Mexico State vs. Utah State (-4) | O/U: 63
5:30 PM | CBSSN | Tucson, AZ
Stuckey says: If you want a motivated team, look no further than New Mexico State, who is making their first bowl appearance in 57 years. From a metric standpoint, NMSU should have an advantage keeping drives alive, as they rank seventh in the country in third-down conversion percentage and ninth in third-down conversions allowed. They will be facing a Utah State offense ranked 96th and defense ranked 64th on third down.
Cotton Bowl
Ohio State (-7.5) vs. USC | O/U: 65
8:30 PM | ESPN | Dallas, TX
Stuckey says: USC has Sam Darnold at quarterback, but they have won their biggest games of the year by controlling possession through a heavy dose of Ronald Jones II. That strategy won't work against an Ohio State defense ranked first in the country in rushing S&P+. The Buckeyes defense is also equipped to contain the USC passing game with their top 20 passing S&P+ ranking. Ohio State should run wild against a USC defense ranked outside the top 50 in rushing S&P+, and I simply trust an angry Urban Meyer with almost a month to prep.