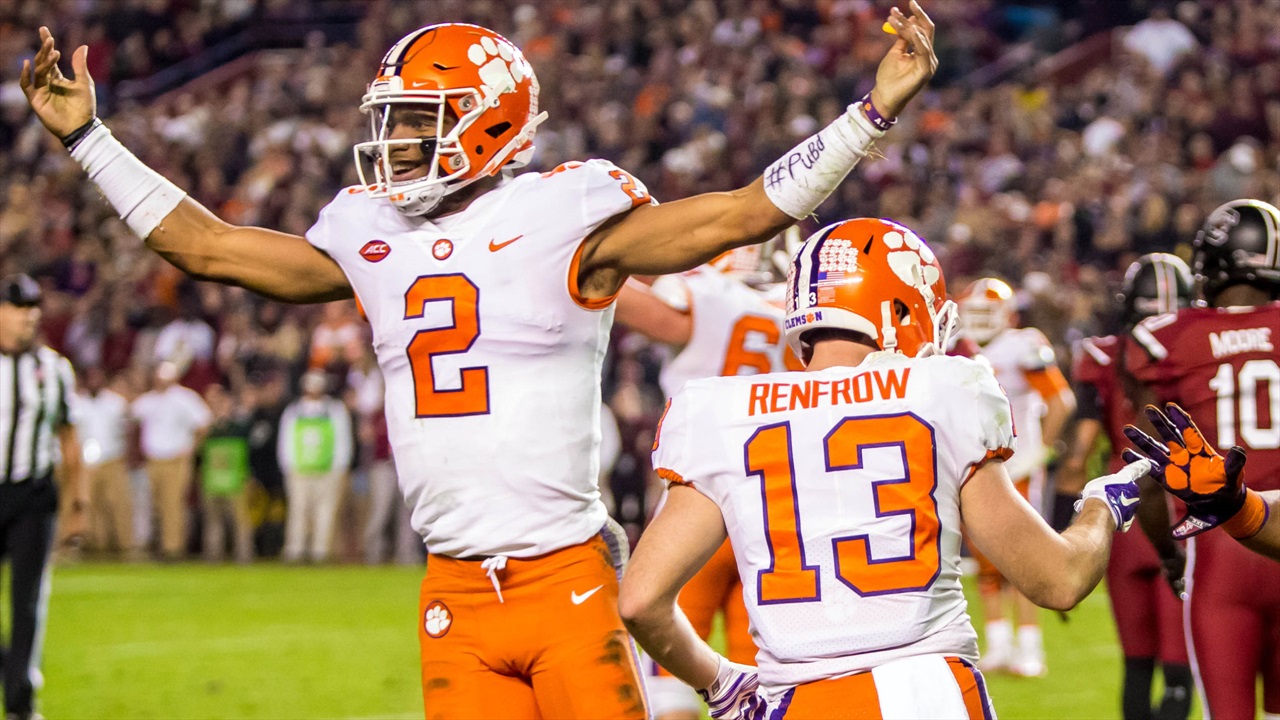 Clemson Given Best Odds to Make College Football Playoff
With the latest College Football Playoff rankings set to be unveiled later tonight, Bookmaker.eu has just released odds for each contending team to make or miss the playoff.
Clemson sits at the top of the list at -355. The Tigers are currently a 9.5-point favorite against Miami in Saturday's ACC Championship game, and with a win are surely in.
All eyes are likely drawn to Alabama, however, as the only team not playing in a conference championship this weekend. The Tide are given the same chance to make the playoffs as they are to miss, odds that could surely change based on where the committee places them in tonight's rankings.
School
Make Playoff
(Nov 28)
Miss Playoff
(Nov 28)
Make Playoff
(Nov 13)
Miss Playoff
(Nov 13)
Make Playoff
(Nov 9)
Miss Playoff
(Nov 9)
Make Playoff
(Nov 2)
Miss Playoff
(Nov 2)
Make Playoff
(Oct 18)
Miss Playoff
(Oct 18)
Make Playoff
(Aug 19)
Miss Playoff
(Aug 19)
Make Playoff
(June 17)
Miss Playoff
(June 17)
Clemson
-355
+250
-210
+160
+110
-140
+200
-260
+300
-400
+700
-1500
+600
-1200
Oklahoma
-245
+175
-180
+140
+200
-260
+400
-600
+450
-700
+250
-350
+250
-350
Auburn
-120
-110
+210
-290
N/A
N/A
N/A
N/A
N/A
N/A
+500
-900
+600
-1200
Alabama
-115
-115
-675
+425
-1000
+600
-800
+500
-800
+500
-195
+155
-195
+155
Georgia
+130
-160
+165
-215
-150
+120
+110
-140
-130
+100
+825
-1725
+825
-1725
Wisconsin
+140
-180
+150
-190
+175
-220
+260
-350
+130
-160
+725
-1545
+700
-1500
Ohio State
+180
-250
+310
-430
N/A
N/A
-260
+200
-160
+130
+140
-180
+160
-210
Miami Florida
N/A
N/A
+100
-140
+260
-350
+300
-400
+350
-500
+1200
-2600
+1100
-2300
USC
N/A
N/A
+1000
-2000
N/A
N/A
+2000
-5000
+400
-600
+145
-185
+140
-180
TCU
N/A
N/A
+1500
-4500
+400
-600
+800
-1500
+260
-350
+1700
-5100
+1350
-3250
Washington
N/A
N/A
+2100
-6300
+500
-800
+1200
-2500
+800
-1500
+425
-675
+425
-675
Oklahoma State
N/A
N/A
+2500
-7500
N/A
N/A
+500
-800
+600
-1000
+800
-1700
+700
-1500
Notre Dame
N/A
N/A
+3500
-13500
+175
-220
+300
-400
+600
-1000
+1300
-3000
+1300
-3000
Michigan
N/A
N/A
+5000
-20000
N/A
N/A
N/A
N/A
N/A
N/A
+500
-900
+500
-900
Penn State
N/A
N/A
+6000
-24000
N/A
N/A
+350
-500
+130
-160
+450
-750
+450
-750
Central Florida
N/A
N/A
+6000
-24000
N/A
N/A
N/A
N/A
N/A
N/A
N/A
N/A
N/A
N/A
Washington State
N/A
N/A
+8500
-37500
N/A
N/A
N/A
N/A
N/A
N/A
+1900
-5700
+1700
-5100
LSU
N/A
N/A
N/A
N/A
N/A
N/A
N/A
N/A
N/A
N/A
+450
-750
+450
-750
Florida
N/A
N/A
N/A
N/A
N/A
N/A
N/A
N/A
N/A
N/A
+850
-1750
+825
-1725
Louisville
N/A
N/A
N/A
N/A
N/A
N/A
N/A
N/A
N/A
N/A
+1000
-2000
+1000
-2000
Virginia Tech
N/A
N/A
N/A
N/A
N/A
N/A
N/A
N/A
N/A
N/A
+1400
-3600
+1500
-4500
Stanford
N/A
N/A
N/A
N/A
N/A
N/A
N/A
N/A
N/A
N/A
+1600
-4800
+1600
-4800
Kansas State
N/A
N/A
N/A
N/A
N/A
N/A
N/A
N/A
N/A
N/A
+1600
-4800
+1200
-2600
Oregon
N/A
N/A
N/A
N/A
N/A
N/A
N/A
N/A
N/A
N/A
+1700
-5100
+1700
-5100
UCLA
N/A
N/A
N/A
N/A
N/A
N/A
N/A
N/A
N/A
N/A
+1800
-5400
+1800
-5400
West Virginia
N/A
N/A
N/A
N/A
N/A
N/A
N/A
N/A
N/A
N/A
+7000
-30000
+2300
-6900
South Florida
N/A
N/A
N/A
N/A
N/A
N/A
N/A
N/A
N/A
N/A
+3000
-11000
+4000
-16000
NC State
N/A
N/A
N/A
N/A
N/A
N/A
N/A
N/A
N/A
N/A
+3700
-14100
+3000
-11000
BYU
N/A
N/A
N/A
N/A
N/A
N/A
N/A
N/A
N/A
N/A
+3700
-14100
+3000
-11000
Florida State
N/A
N/A
N/A
N/A
N/A
N/A
N/A
N/A
N/A
N/A
+150
-190
+145
-185
Nebraska
N/A
N/A
N/A
N/A
N/A
N/A
N/A
N/A
N/A
N/A
+3700
-14100
+3000
-11000
Utah
N/A
N/A
N/A
N/A
N/A
N/A
N/A
N/A
N/A
N/A
+5500
-21500
+3400
-12800
Colorado
N/A
N/A
N/A
N/A
N/A
N/A
N/A
N/A
N/A
N/A
+6000
-24000
+3300
-12100
Texas
N/A
N/A
N/A
N/A
N/A
N/A
N/A
N/A
N/A
N/A
+850
-1750
+850
-1750
Northwestern
N/A
N/A
N/A
N/A
N/A
N/A
N/A
N/A
N/A
N/A
+6000
-24000
+3500
-13500
Iowa
N/A
N/A
N/A
N/A
N/A
N/A
N/A
N/A
N/A
N/A
+6000
-24000
+4300
-16900
Arkansas
N/A
N/A
N/A
N/A
N/A
N/A
N/A
N/A
N/A
N/A
+7000
-30000
+6000
-24000
Duke
N/A
N/A
N/A
N/A
N/A
N/A
N/A
N/A
N/A
N/A
+15000
-75000
+9500
-45500
Minnesota
N/A
N/A
N/A
N/A
N/A
N/A
N/A
N/A
N/A
N/A
+8000
-35000
+4500
-17500
Arizona State
N/A
N/A
N/A
N/A
N/A
N/A
N/A
N/A
N/A
N/A
+8000
-35000
+7000
-30000
Mississippi State
N/A
N/A
N/A
N/A
N/A
N/A
N/A
N/A
N/A
N/A
+8000
-35000
+7000
-30000
Baylor
N/A
N/A
N/A
N/A
N/A
N/A
N/A
N/A
N/A
N/A
+8000
-35000
+3300
-12100
Michigan State
N/A
N/A
N/A
N/A
N/A
N/A
N/A
N/A
N/A
N/A
+8000
-35000
N/A
N/A
North Carolina
N/A
N/A
N/A
N/A
N/A
N/A
N/A
N/A
N/A
N/A
+8500
-37500
+6000
-24000
Pittsburgh
N/A
N/A
N/A
N/A
N/A
N/A
N/A
N/A
N/A
N/A
+8500
-37500
+4000
-16000
Georgia Tech
N/A
N/A
N/A
N/A
N/A
N/A
N/A
N/A
N/A
N/A
+10000
-50000
+4000
-16000
Boise State
N/A
N/A
N/A
N/A
N/A
N/A
N/A
N/A
N/A
N/A
+10000
-50000
+4500
-17500
South Carolina
N/A
N/A
N/A
N/A
N/A
N/A
N/A
N/A
N/A
N/A
+13500
-67500
+9000
-41000
Indiana
N/A
N/A
N/A
N/A
N/A
N/A
N/A
N/A
N/A
N/A
+15000
-75000
+12500
-62500
Texas A&M
N/A
N/A
N/A
N/A
N/A
N/A
N/A
N/A
N/A
N/A
+3700
-14100
+3100
-11300
Tennessee
N/A
N/A
N/A
N/A
N/A
N/A
N/A
N/A
N/A
N/A
+1500
-4500
+1400
-3600