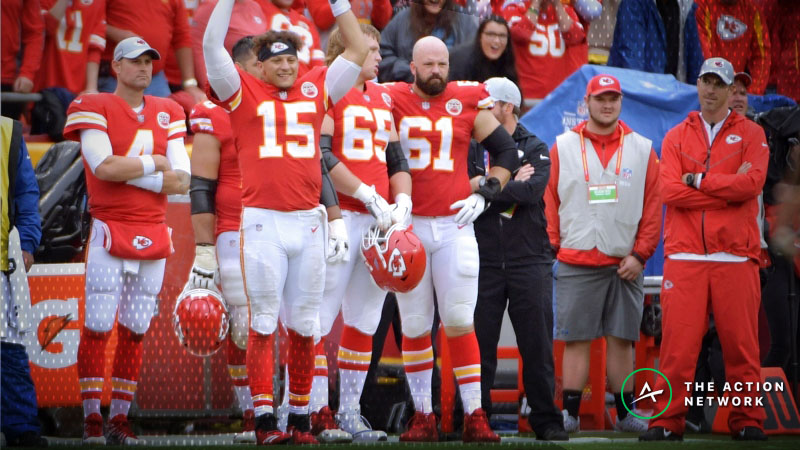 Chiefs-Patriots Over/Under Among Highest Ever
Though four weeks of the 2018 NFL season, record scoring led to 34 of 63 (54%) of games going over the closing total. Oddsmakers reacted by opening six Week 5 games with over/unders of at least 50 points.
Exactly half of Week 5's games (with Monday Night Football still pending) have gone over the total, suggesting that oddsmakers finally caught up with scoring.
However, oddsmakers aren't resting on their laurels in Week 6, highlighted by the current Kansas City Chiefs-New England Patriots over/under of 58.5 on Sunday Night Football.
According to our Bet Labs software that analyzes historical betting data from Pinnacle, only one game has closed with an over/under higher than 58.5 since the start of the 2003 season.
On Dec. 25, 2004, a matchup between the Oakland Raiders and Kansas City Chiefs closed with a total of 60. Kansas City won that game, 31-30, hitting the over by a single point.
Two playoff games — Falcons-Packers during the 2016 season and Lions-Saints in 2011 — closed with totals of 59.5.
Early bettors haven't been scared off the historically high total in Patriots-Chiefs, as 93% of both spread tickets and dollars have already come in on the over.
This article was originally posted on ActionNetwork.com by PJ Walsh. Sports Insights is part of The Action Network.