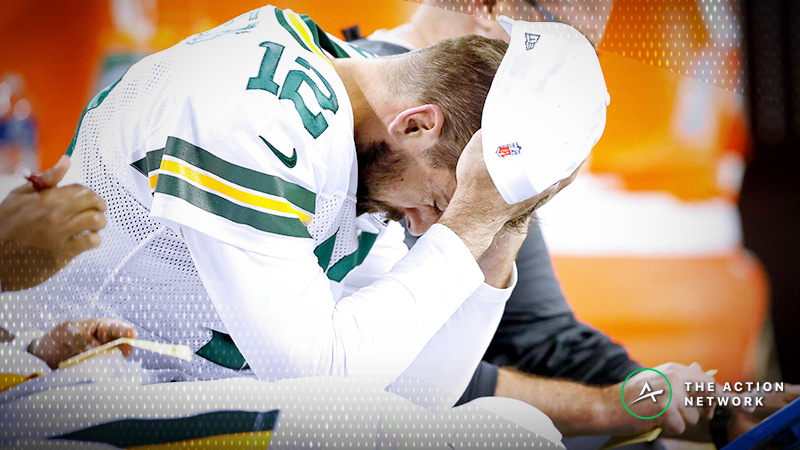 Cardinals-Packers Odds: Green Bay Ranks Among Worst Double-Digit Favorites of All-Time
Green Bay lost another high-profile game on Sunday Night Football against the Minnesota Vikings, dropping the Packers to 4-6-1 on the season.
With Green Bay's playoff odds at just 2.3% according to The Action Network's latest NFL simulations, the seat is now scorching under head coach Mike McCarthy.
While nobody would consider this roster to be loaded, there's enough talent surrounding all-world quarterback Aaron Rodgers to expect the team to have more than just four wins through 11 games.
Despite their struggles, the Packers opened as massive 14-point home favorites against the Arizona Cardinals in Week 13.
In fact, according to our Bet Labs software — which archives historic NFL betting data — just 43 teams with winning percentages of 40% or less have closed as double-digit favorites.
Those teams are 15-28 (34.9%) against the spread (ATS).
Only the Seattle Seahawks (-16.5 vs. Chicago Bears on Sept. 27, 2015) and the Los Angeles Chargers (-15.5 vs. Kansas City Chiefs on Nov. 9, 2008) closed as larger favorites with win percentages at 40% or below.
Sunday's Packers-Cardinals game is even more noteworthy considering it's taking place in Week 13, compared to Bears-Seahawks in Week 3 of 2015 and Chiefs-Chargers in Week 10 of 2008.
The public perception that the Green Bay Packers are still a "good team" is likely factoring into this point spread.
This game is a good one to monitor when The Action Network releases its most overrated and underrated Week 13 teams based on updated NFL power ratings.
This article was originally posted on ActionNetwork.com by PJ Walsh. Sports Insights is part of The Action Network.