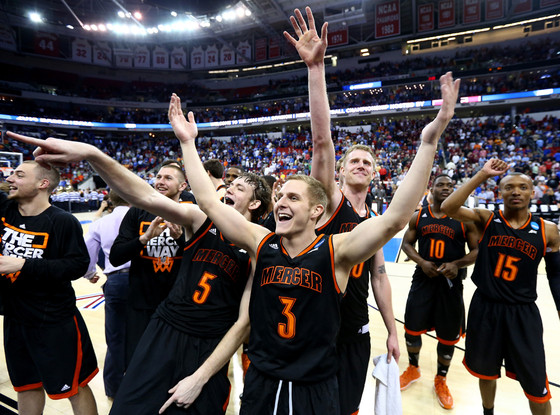 Building an Upset Bracket
Yesterday, I looked at filling out a bracket based on a contrarian strategy. That's a good way to separate your bracket from the masses in a large standard scoring group.  But what if you have a different scoring system?
Many bracket pools reward participants for picking upsets to increase the intrigue. In this exercise, I assumed that each win would give the user points based on the seed of the team they picked. For example, if you pick an 11-seed to win and you are correct, then you receive 11 points.
More risk, more reward.
In this system, the goal is to rack up as many points as possible without worrying about how terrible your upset bracket might look in a couple of weeks. Let's break it down by region:
MIDWEST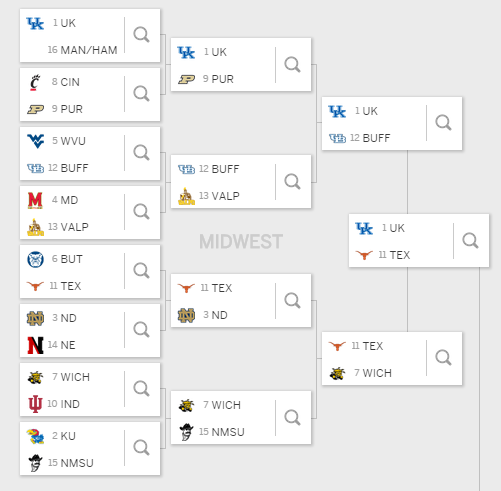 You can quickly see how this looks different than a normal bracket. The 11, 12, 13, and 15 seeds are all worth the risk in this region. Taking New Mexico State may seem foolish, but Kansas wouldn't have been a pick in the next round anyway. You are risking an 88% chance of 2 points for an 11% chance of 15 points. The math says this is worth taking the long shot.
Even though Kentucky only gets you one point per win, they are such a strong favorite that they are still worth taking through to the regional final.  Texas is the high seed that is the best value in this region. They are underdogs to Notre Dame and Wichita State, but the eleven point award for each win is too much to pass up. Perhaps the Longhorns will finally live up to the top-10 ranking they received prior to the season.
EAST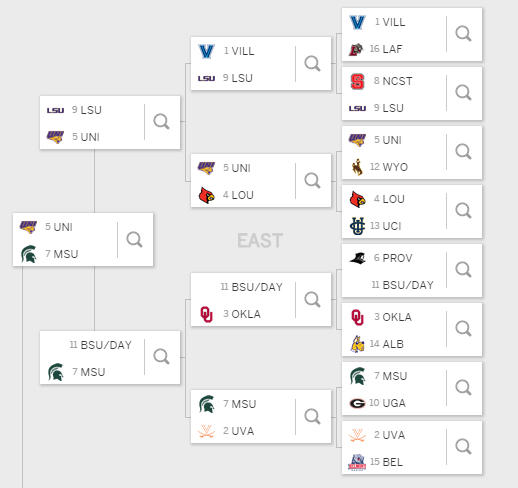 Not as many first round upsets in the East, but the 1-seed Villanova isn't strong enough to merit advancing more than one round. The 8-9 matchup is razor-thin so the extra point is what puts LSU over NC State and into the Sweet 16.
Northern Iowa is a very solid team as a 5-seed and we'll try to get 15 points out of them in an Elite Eight run.
A lot of people are taking Michigan State in their normal bracket, and they are definitely worth the play here, racking up 7 points for each win. In this bracket, we'll take them winning the East and getting to Tom Izzo's seventh Final Four.
WEST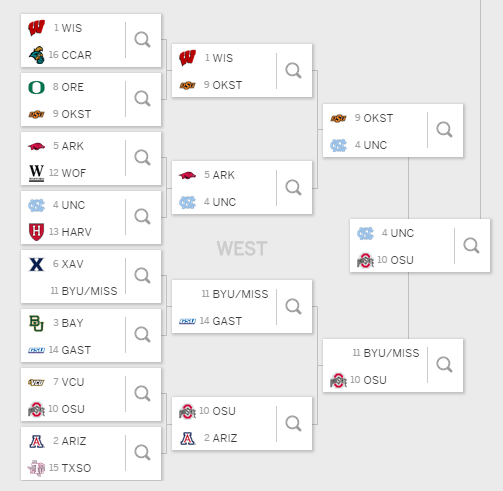 Once again, the 1-seed isn't worth advancing very far. In what's becoming a trend, neither the 1-seed nor 2-seed makes it through the first weekend. Arkansas and North Carolina avoid the upset and UNC ends up being worth 12 points in this scenario.
Ohio State was vastly under-seeded and are far too valuable as a 10-seed to not pick for an extended run. Even though you will have to put up with insufferable Ohio State fan base, it's worth cheering them on to the Final Four.
SOUTH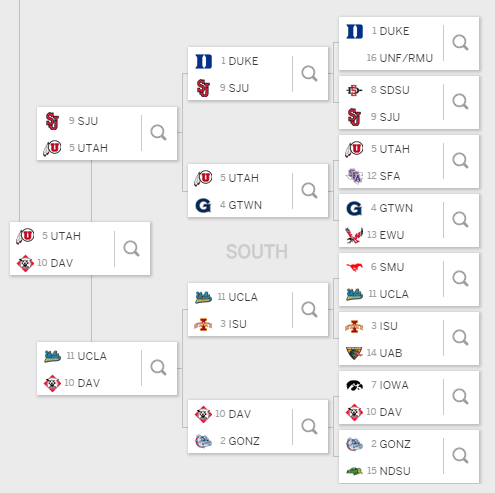 I told you there was a trend. Duke and Gonzaga were both eliminated early with losses to the 9-seed and 10-seed, respectively.
UCLA was the biggest disagreement between pundits and the selection committee as most people were shocked they were even in the tournament (CBS didn't even have a camera at their watch party). But none of that is relevant here, and the eleven points are worth the gamble of a Sweet 16 berth.
Stephen Curry isn't walking through that door, but Davidson isn't a pushover either (KenPom has Davidson one spot ahead of 4-seeded Maryland). Ten points per win. Ten points. Ten. That's all that matters in this format.  Go big or go home, and in this case I'll go ridiculously big with Davidson getting all the way to Indianapolis.
FINAL FOUR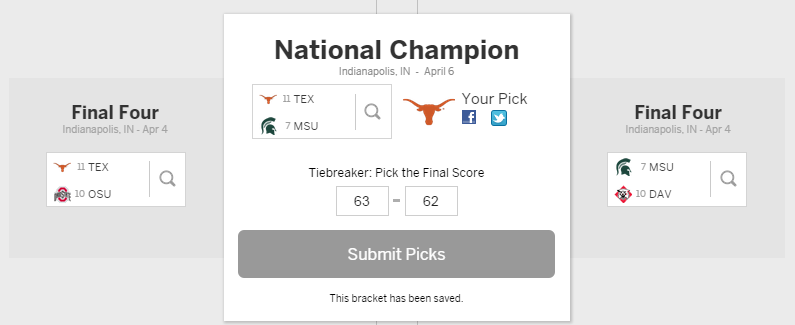 Take a look at this hot garbage. You have to realize at this point you are likely looking at four red lines going through these teams and you are out of ways to score. This strategy is going to end up with you accumulating points early and hoping to hold off any late runs by your opponents.
While the probability of this exact Final Four is roughly zero, realize that one single win by any of these teams is worth more than Kentucky winning the entire tournament. Collect your big points early and just hold on for the ride.