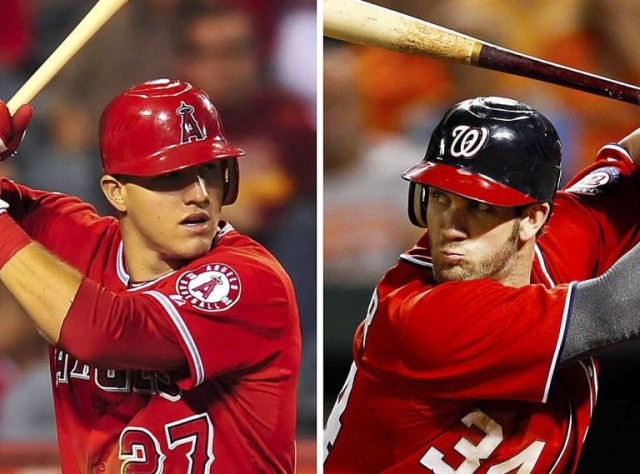 Bryce Harper or Mike Trout? That's a Clown Question, Bro
Over the first two months of the season, the success of the league's two youngest players has astonished fans across the league while creating a riveting narrative. More importantly, Mike Trout and Bryce Harper have rejuvenated their big market teams with their youthful enthusiasm and have helped put both teams into the thick of the playoff hunt.
Neither player has looked overmatched against elite competition — even as most players their age continue to toil in low-level minor leagues.
In fact many believed that Harper, who left high school early to play for Southern Nevada Junior College before being drafted with the first overall pick in 2010, was not expected to make his major league debut until the beginning of the 2013 season. Nonetheless, the 19-year old lefty (who has been compared by many to Mickey Mantle) has looked like a polished veteran and has batted .287 with 7 home runs and 20 RBI in just 47 games. Perhaps most impressive has been his patience, as Harper sports a team-high .369 on-base percentage.
Harper graced the cover of Sports Illustrated as a 15-year old and was dubbed the Chosen One — baseball's version of LeBron James — so his debut in the bigs has been long awaited despite his young age. His counterpart Mike Trout did not arrive to quite as much fanfare, but the 20-year old centerfielder has quickly established himself as one of this league's most exciting young players.
Drafted in the first round back in 2009 (25th overall), Trout tore through the minor leagues posting a .342 batting average, 23 home runs and 108 stolen bases in 286 games. After another hot start to the season and a poor start by the major league squad, the Angels called up Trout and inserted him into the starting lineup for an April 28th game in Cleveland. He went hitless in his first two games, and that's the only time he has looked human this season.
The speedy centerfielder (who only recently played enough games to qualify for the league leaders) ranks second in the American League with a .338 batting average while leading the league with 19 steals. And that's after missing nearly a month of the season! His 40 runs lead the team, as does his .397 on-base percentage making Trout an ideal leadoff hitter, but this rookie also swings a big stick. In just 48 games, Trout has already tallied 22 extra base hits (13 doubles, 3 triples and 6 home runs) and owns a remarkable .925 OPS (on-base plus slugging).
As you can see, both players have been impressive, but Trout has already established himself as a potential MVP candidate. Perhaps, this is helped by his previous big league experience (Trout had 123 at-bats in 40 games with the Angels last season) but the real question for sports bettors is which team has been helped more by their young stars? The data below, with line data taken from Pinnacle, shows how each of these players teams performed before and after their call-up from the minors.
| | | | |
| --- | --- | --- | --- |
| | Record | Units Won/Lost | ROI |
| Washington With Harper | 25-21 | +0.9 | 2% |
| Washington Without Harper | 15-6 | +9.7 | 46.2% |
| Los Angeles With Trout | 30-18 | +5.5 | 11.5% |
| Los Angeles Without Trout | 8-14 | -9.0 | -40.9% |
So not only has Trout posted more impressive statistics, his team (and more importantly sports bettors) has benefitted greatly since his name began appearing on the Angels lineup card. Washington leads the National League East with a 40-27 record, however the team has actually been worse since the Harper call up. There are a multitude of factors that play into this including the injury to outfielder Jayson Werth and a tough stretch in their schedule including games against AL East powers like Tampa Bay, Boston and the New York Yankees, but since the Harper call up we have seen a sharp rise in the public betting percentages on Washington. This has sucked out some of the team's early value, as the team has been essentially treading water since their hot start.
For the Angels backers, Trout's call-up has been a godsend. Behind a slow start from the newly acquired Albert Pujols (.217 batting average and zero home runs in April), Los Angeles sat in last place with an 8-15 record after the first month of the season and were the best team to bet against in the league. Since Trout's arrival the team has been 12 games above .500 — good for 5.5 units earned. Bookmakers will adjust their lines to reflect the Angels improved offense and the general public will start to fawn over Trout as his exposure grows on certain four letter networks, but for now, square bettors do not appear to have jumped on the Angels bandwagon.