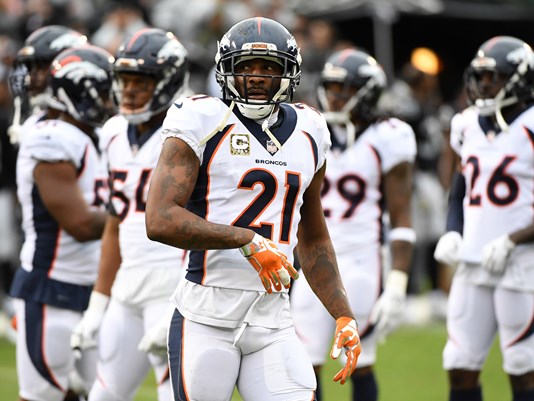 Broncos Approaching Historic Lows Against the Spread
The Broncos' season has truly derailed after a promising 2-0 start. Well, I guess it had already derailed a few weeks ago. Now this sucker is headed for Clayton (Eastwood) Ravine.

Perhaps the most noteworthy Denver news over the past couple months has been the Crabtree vs. Talib fight that took place yesterday. Probably not the headline you're looking for in the NFL.
CRABTREE VS. TALIB ROUND 2 pic.twitter.com/RpfFLFmy9S

— Barstool Sports (@barstooltweetss) November 26, 2017
Well, they have another headline coming their way courtesy of yours truly (me.)
The Broncos need to cover right stat now or else they'll be joining the likes of some horrible teams. They've failed to cover in seven straight games, becoming the tenth team to do so since 2003. If they don't cover next week, they'll become the fourth team to go on an eight game ATS skid and if they fail to cover the week after that, they'll join the 2015 Falcons as the only team we have on record with a nine game ATS losing streak.
At 2-8-1 ATS this season, they're slightly better than the 2-9 Browns and will hope to avoid the worst ATS crown by season's end. Both of these teams have screwed me essentially on a weekly basis, but I'm like an addict. I just can't avoid betting on terrible teams like this.
The Broncos don't just "not cover," though. Not covering would be a royal understatement.

You see that little number right there? Negative 14.29? That is the average number of points they've failed to cover by during their streak. They've made oddsmakers look stupid and public bettors look like geniuses thanks to their horrid play.
If we look at thetiny sample of sucky teams who've failed to cover in this many games in a row, it would appear that now would be a good time to bet on Denver. Teams with at least a seven game ATS losing streak have gone 8-4-1 ATS.
Has Denver done anything recently to warrant anyone betting on them, though? No…not really. Perhaps one glimmer of hope came yesterday when Trevor Siemian threw for two TDs and no picks after he took over for the injured Paxton Lynch.
This week, they'll head to Miami in a game that is currently right around a pick 'em around the market. Neither team has a starting QB locked in, but it shouldn't really matter to the spread regardless of who starts.