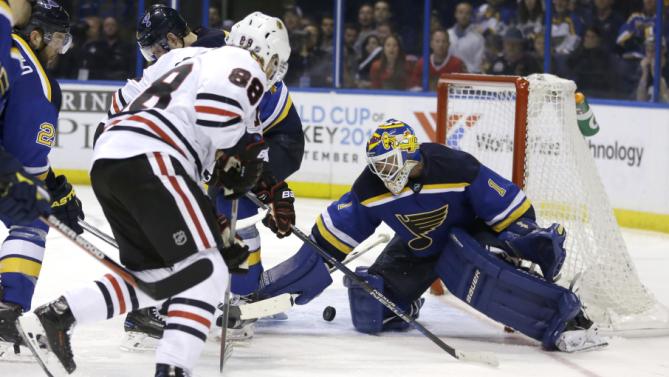 Blackhawks vs. Blues Game 7 Preview
The Blues and Blackhawks have played one of the most intriguing playoff series in recent memory and have now given fans the joy of being able to watch a Game 7. St. Louis went up 3 games to 1 with a chance to knock off the defending Stanley Cup champions but Chicago was able to get a double-overtime goal from Patrick Kane to keep them alive in Game 5, and a monster second period in Game 6.
The Blackhawks have simply been clutch in the playoffs under Joel Quenneville, and it's not just this season. We've highlighted Chicago's incredible playoff performance a number of times but it's worth repeating: The Blackhawks are now 15-1 in Game 6's under Quenneville and are 33-7 for +23 units won in Games 5 through 7 of a playoff series.
Here's a look at how the series odds have changed after each game. Chicago was as high as +625 to come back and win the series after Game 4 when St. Louis was -900, but Game 7 is essentially a toss-up.
[table "1071" not found /]
Coasts Casino was the first to open a line for Game 7, and they opened St. Louis -125, Chicago +105. Soon after, most of the market then opened STL around -115 or -120. Since opening, the Blackhawks are actually now the slight favorites at sharp offshore books like Pinnacle (-107) and 5Dimes (-115).
Was the line move due to sharp money, public money, or a mix of both? Right now 64% of tickets and 77% of the money wagered is on Chicago, which means that both sharp and public bettors are taking the Hawks. Here's a look at how the line and betting percentages have changed since opening:

We didn't expect the betting percentages to be too lopsided, as there's been just one playoff game since 2005 to see a 70/30 bet ticket split in a Game 7. The main reason for this is likely because both teams have won 3 games in the series, so bettors can find a great reason to bet on either side by Game 7. In this series though, bettors have tons of confidence in Chicago to finish off the comeback.
Another point we've highlighted in the past is the added perception that in these must-win games for both teams, referees put their whistles down and let the players play. This should make for fewer called penalties and tighter games, which essentially should lead to less scoring. But does that theory hold true? According to Nate Silver of FiveThirtyEight.com, "Game 7 officials call penalties at a rate of nearly half the regular season."
This has also been proven from a betting perspective in terms of the total, as 60% of Game 7's have gone Under or pushed. Here are some more Game 7 betting trends since 2005:
| Filter | Record | Units Won |
| --- | --- | --- |
| Visitors | 22-21 | +10.1 |
| Underdogs | 20-23 | +6.26 |
| Favored in Previous Game | 25-18 | +7.55 |
| Won Previous Game | 23-20 | +7.40 |
| Unders | 22-15-6 | +4.19 |
Reminder that you can keep up with the latest odds, betting percentages, betting factors and more at our Free Live Odds page.