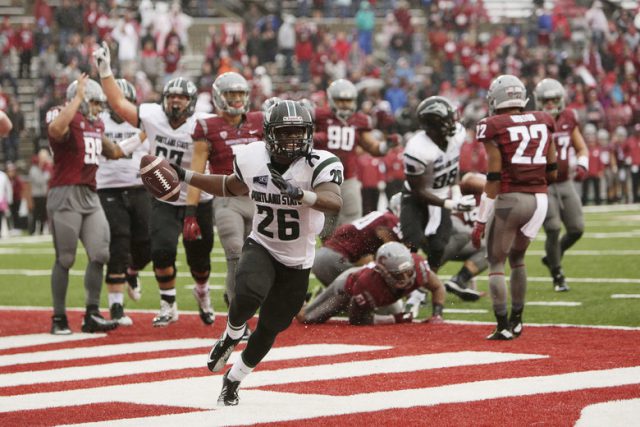 Biggest College Football Moneyline Upsets from the Past Decade
There may not be a more unpredictable sport than college football. It seems like every season there are a handful of monumental upsets that defy logic and cause shockwaves throughout the betting world.
When most fans think about the greatest upsets in college football history, they immediately visualize the 2007 showdown between the 5th-ranked Michigan Wolverines and the FCS powerhouse Appalachian State Mountaineers. Although most sportsbooks do not publish lines when FBS teams play against FCS (formerly 1-AA) opponents, there were some oddsmakers listing the Wolverines as 33-point favorites in Ann Arbor. This was the first game of the season for both teams and Michigan was expected to win with ease. Instead, Appalachian State blocked a game-winning field goal attempt at the end of regulation to secure a 34-32 win.
Amazingly, this wasn't even the biggest upset of the season. On October 6, 2007, USC closed as 39-point favorites against conference rival Stanford at the market-setting Pinnacle sportsbook. Most books don't bother posting moneylines for games with such large point spreads, and this game was no exception. In a remarkable upset, the Cardinal won 24–23. This ranks as the largest point spread upset in college football history.
USC isn't the only massive favorite to lose against a conference rival. During that infamous 2007 season, Syracuse (closed +37.5) defeated Louisville by 17 points in a battle of Big East foes. That qualifies as the second biggest upset in our database, but most sportsbooks weren't offering a moneyline.
Sportsbooks rarely offer moneylines in games with huge point spreads, but I wanted to know whether there was a firm cutoff so I reached out to Scott Cooley from Bookmaker.eu. "Usually we stop offering moneylines in the 30-point range," according to Cooley. "Sometimes it depends on the matchup and what type of action we're expecting."
Consistently taking large moneyline underdogs is a losing proposition, as the juice makes it nearly impossible for bettors to have long term success. That said, big moneyline 'dogs have been slightly less atrocious against conference opponents. Since 2005, moneyline underdogs have produced a -6.4% ROI in conference games and a -17.8% ROI in non-conference games.
The table below displays the biggest moneyline upsets in our database using the closing line at Pinnacle. (* Denotes conference game)
| Date | Team | Opponent | Moneyline | Spread | Total | Final Score |
| --- | --- | --- | --- | --- | --- | --- |
| *11/14/15 | New Mexico | at Boise State | +5500 | +31 | 57 | 31-24 |
| 9/5/15 | Portland State | at Washington State | +5250 | +31 | 67 | 24-17 |
| 8/31/13 | Eastern Washington | at Oregon State | +2750 | +25.5 | 57.5 | 49-46 |
| 9/4/10 | Jacksonville State | at Mississippi | +2585 | +29.5 | 49 | 49-48 |
| 9/11/10 | South Dakota | at Minnesota | +2500 | +30 | 54 | 41-38 |
| *10/22/11 | Texas Tech | at Oklahoma | +2500 | +29 | 70 | 41-38 |
| 9/8/12 | UL Monroe | at Arkansas | +2500 | +30 | 61 | 34-31 |
| 9/4/10 | North Dakota State | at Kansas | +2350 | +27 | 64.5 | 6-3 |
| *10/29/05 | Ball State | at Northern Illinois | +2200 | +28 | 59 | 31-17 |
| 9/7/13 | Nicholls State | at Western Michigan | +2200 | +29.5 | 53.5 | 24-17 |
| *9/30/06 | Illinois | at Michigan State | +2200 | +24.5 | 54 | 23-20 |
| *12/1/07 | Pittsburgh | at West Virginia | +2172 | +28.5 | 58 | 13-9 |
There were several additional upsets where Pinnacle did not offer moneyline betting. Some of those games include:
September 1, 2012: Texas State (+34.5) at Houston
September 11, 2010: James Madison (+33.5) at Virginia Tech
November 23, 2013: Georgia Southern (+28.5) at Florida
It's interesting to note that most of these games took place early in the season and that every one of these massive upsets involved a road team. Last week I explained that home-field advantage has been overvalued by college football bettors, and that visitors have historically provided value on the point spread. That edge has persisted for moneyline bettors, but the schism between large and small underdogs has been astounding.
Road Underdogs of 14+ points: -579.26 units lost, -27.4% ROI

Road Underdogs of 13.5 points or less: +208.07 units won, +7.1% ROI

Every season there are about 850 college football games with spreads posted, although roughly 50 of those games feature such massive mismatches that oddsmakers don't bother posting moneylines. With an enormous slate of games, it's inevitable that there will be a few epic upsets — but that doesn't make it an effective betting strategy.
It's common for casual bettors to be tempted by the possibility of a massive one-time payday. The truth is that sportsbooks understand this tendency and charge increased juice on these massive moneylines in order to help minimize their risk. That's especially true given the public's tendency to pound large underdogs in the hopes of getting lucky on a 25/1 long shot.
Although road favorites have historically provided more value to college football spread bettors, there's been excellent value taking small road underdogs (between -110 and +425) on the moneyline. That's particularly true in conference games where the familiarity between teams levels the playing field.
Confirmation bias is a serious problem for many novice bettors, who tend to only recall information that reaffirms their preexisting beliefs. Don't fall into this trap. These types of improbable upsets will happen from time to time, but not frequently enough to justify chasing that big payout. Instead, focus on smaller underdogs in low-scoring conference games.
As an example, South Carolina (+145) looks like a solid value in their season opener against Vanderbilt whereas bettors should steer clear of huge 'dogs like South Alabama (+5500 at Mississippi State) or Rutgers (+2500 at Washington). That's not to say bettors should take every small road 'dog on the moneyline, but it's a helpful trend to consider when handicapping games.
Bettors can view the latest college football odds, scores, injuries, public betting trends and more by visiting our free NCAAF odds page.
Have any questions for the staff at Sports Insights? Utilize our live chat to speak with a customer service representative or e-mail us at help@sportsinsights.com.