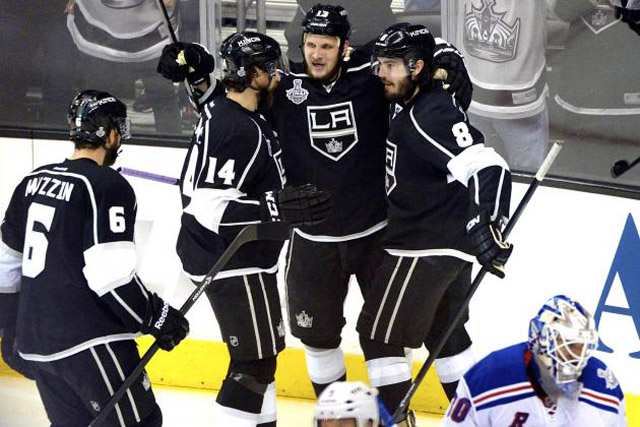 What Bettors Should Know for Thursday, June 5
MLB Betting
Yesterday, we published a post with updated results regarding Betting Against the Public in MLB. As of Wednesday, MLB underdogs that closed with less than 30% of spread bets were +9.99 units on the season.
Contrarian betting is a key component considered in selecting our MLB Best Bets, which are +60.36 units since the start of the 2012 season and a red-hot +14.57 units since May 1.
Interesting in trying our MLB Best Bets? Get four days of MLB picks now with a $49 trial of our Pro membership.
NBA
– Game 1 of the NBA Finals tips off tonight with the Spurs currently listed as 4.5-point favorites across the sports betting marketplace.
At the time of publication, San Antonio is receiving 61% of all spread bets, with a more detailed breakdown of spread betting shown below:
On May 21st, Andrew Wiggins was a -150 favorite to be the 1st overall pick in the NBA Draft. Joel Embiid is now the front runner at -300.

— SportsInsights.com (@SportsInsights) June 4, 2014
NHL
The Kings grabbed a 1-0 series lead in the Stanley Cup Final with a 3-2 overtime win last night against the Rangers.
At the time of publication, Game 2 lines are not yet available, but visit our Free NHL Betting Trends page for updated lines and public betting percentages.
NFL 
Colin Kaepernick has signed a 6-year extension with San Francisco. The #49ers are currently +750 to win the Super Bowl. — SportsInsights.com (@SportsInsights) June 4, 2014
French Open
Men's French Open odds (via 5Dimes): Djokovic +102 Nadal +130 Murray +1325 Gulbis +2675

— SportsInsights.com (@SportsInsights) June 5, 2014
Women's French Open odds (via 5Dimes): Sharapova +105 Halep +190 Bouchard +750 Petkovic +1400

— SportsInsights.com (@SportsInsights) June 5, 2014
Player News
#MLB #Rockies – Carlos Gonzalez, Finger – is on the disabled list — SportsInsights.com (@SportsInsights) June 4, 2014
Chris Tillman (5-2, 4.63 ERA) will start for the #Orioles tomorrow in place of the injured Gonzalez. — SportsInsights.com (@SportsInsights) June 4, 2014
#MLB #Yankees – Carlos Beltran, Elbow – is upgraded to probable Thursday (6/5) vs. Oakland

— SportsInsights.com (@SportsInsights) June 5, 2014
#MLB #Angels – Mike Trout, Back – is doubtful Thursday (6/5) at Houston

— SportsInsights.com (@SportsInsights) June 5, 2014
#MLB #BlueJays – Edwin Encarnacion, Back – is questionable Thursday (6/5) at Detroit — SportsInsights.com (@SportsInsights) June 5, 2014
#MLB #Padres – Andrew Cashner, Elbow – is upgraded to probable for start Saturday (6/7) vs. Washington — SportsInsights.com (@SportsInsights) June 5, 2014
#MLB #Giants – Matt Cain, Hamstring – is upgraded to probable for start Friday (6/6) vs. New York Mets

— SportsInsights.com (@SportsInsights) June 5, 2014
College Baseball World Series
Virginia (+450) is the favorite to win the College Baseball World Series followed by TCU and UL Lafayette (+550). pic.twitter.com/P3VLBaWdwM — SportsInsights.com (@SportsInsights) June 4, 2014