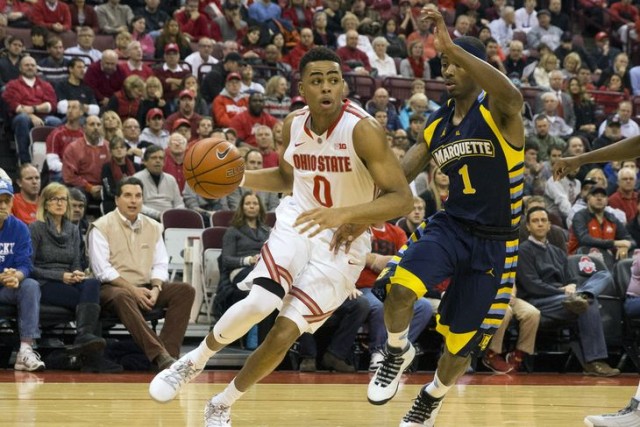 Betting Against the Public on Major Conference NCAAB Teams
We're constantly preaching the value of betting against the public, however, this contrarian viewpoint isn't always profitable and shouldn't be the lone criteria for selecting your picks.
One thing that creates value in fading the public is the sheer volume of bets placed on a given game. The whole concept of betting against the public is based on the idea that "square" or uninformed public bettors create artificial line value by pounding one side — typically the favorite or the over. That is one of the main reasons why underdogs and unders have been historically undervalued.
While sports like football, basketball and baseball are extremely popular with bettors, others (like hockey) simply don't stack up. Due to this comparatively low amount of bets, we haven't observed that same type of historical success with betting against the public in the NHL as we have in the MLB, NBA, NFL, or NCAAF.
While College Basketball is beloved by American sports fans and bettors alike, not every game receives the same level of public support. This makes sense as bettors are understandably more interested in laying money on a UNC/Duke rivalry game than they are when two random mid-majors square off.
This raises the question: Is betting against the public actually a more profitable strategy in major conference games?
In the past we've noticed that fading the public has been more profitable in conference games because these contests receive a larger number of bets. With more bets being placed, sportsbooks are more likely to move the lines based on public money which allows sharp bettors to sneak in and essentially get free points on the other side.
Piggybacking off of this concept, we hypothesized that contrarian teams from any of the six major conferences (ACC, Big East, Big 12, Big Ten, Pac-12 and SEC) would be particularly profitable for bettors. As you can see from the table below, this theory was quickly validated.
| Public Betting | Record (ATS) | Win Rate | Units Won | ROI |
| --- | --- | --- | --- | --- |
| >35% | 1942-1901 | 50.5% | -55.60 | -1.4% |
| >30% | 1211-1144 | 51.4% | +7.26` | 0.3% |
| >25% | 643-534 | 54.6% | +78.21 | 6.6% |
Although betting against the public has a winning record at the 35% threshold, this system doesn't actually become profitable until we examine teams receiving less than 30% of spread bets. When we focus on even more lopsided bet games at the 25% threshold, our number of past system matches is cut in half but our overall earnings skyrocket by more than 70 units.
There are a number of supplemental trends that can be added to our system to improve the results. Focusing on conference games or matchups with any other team from one of these six major conferences leads to an improved return on investment (ROI). Likewise if the opposing team is ranked, as bettors constantly overvalue teams who appear in the Associated Press (AP) Top 25 poll. However, we were more concerned by how the total (O/U) affects the value of contrarian teams.
When we examined major conference teams receiving less than 25% of spread filters and eliminated any game with a total of less than 128, our system vaulted to a record of 529-409 ATS (56.4%) with 94.81 units won and a 10.1% ROI. It's interesting to note that although underdogs with high totals are undervalued in College Basketball, we prefer to focus on underdogs with low totals when betting on College Football.

During the 2014-15 College Basketball season, this system has produced a 23-12 ATS record with +9.66 units won. In fact, this system has produced a winning record in every season dating back to 2004 i.e. the beginning of our historical database. With consistent year-to-year results, a strong guiding hypothesis and a significant sample size, this fits all three major criteria that bettors should utilize in a winning betting system.
Bet Labs users are able to copy this system directly from our Think Tank, and bettors are able to view the latest odds and trends from our free College Basketball odds page. Have any questions for the staff at Sports Insights? Utilize our live chat to speak with a customer service representative or e-mail us at help@sportsinsights.com.
3/4/15 Update: Since our initial post this system has gone 4-3 pushing the season record to 27-15 ATS (+10.49 units) and 533-412 ATS (+95.64 units) overall.
David Solar is the Content Manager at Sports Insights and can be reached directly at david@sportsinsights.com.