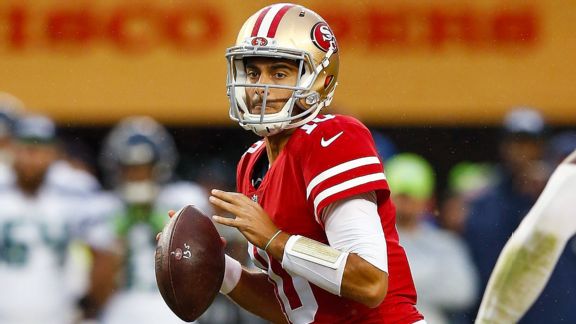 How has the Betting Market Reacted to the Jimmy G News?
At last, 49ers fans will get to see their future franchise QB for more than just a minute.
With C.J. Beathard getting banged up in last week's game against the Seahawks, the 49ers have decided to give Jimmy Garoppolo the nod this weekend.
At the beginning of the week, San Francisco opened +5 in Chicago, but had moved to +3.5 relatively quickly. With many bettors (including PJ) expecting Garoppolo to get the start anyways, five points seemed to good to pass up. Especially against the Chicago Bears. So how much better do oddsmakers think the 49ers will be with Jimmy G starting over Beathard?
Before the season began, Scott Cooley of Bookmaker.eu felt that Garoppolo was worth one point to the spread, but that was when he was on the Patriots.
When he was originally traded before Week 9, bettors sort of jumped the gun expecting him to start at home against the Cardinals. At Pinnacle, they had moved from +2.5 to a PK within a few hours and according to Cooley, Bookmaker would have moved SF to +1 or a PK…if he started, that is. The thing is, he did not start and the line at Pinnacle eventually bounced back to its starting point.
With lines re-opening around the market this morning, most books have only moved the line from 3.5 to 3. It may not be as big of a move as many expected, but keep in mind, nobody really knows how he will play in San Francisco with a far less impressive set of offensive weapons around him.
In a somewhat surprising turn of events, the line has actually moved back towards Chicago since re-opening and betting percentages on San Fran have gone down.

At Bookmaker, the juice on the Bears has gone to -115 since reopening this morning. At Pinnacle, Chicago's juice has moved to -120, appearing to be on the verge of moving back to -3.5.
This Mitchell Trubisky vs. Jimmy G showdown certainly has the attention of NFL fans and bettors and we're sure to see more action throughout the week. Will the line move back to 3.5? Will the Jimmy G hype get real and push the line to 2.5? Only time will tell…as a Pats' fan, give me some Jimmy G plus three.
For updated lines, check out our free NFL odds page. For more news and notes throughout the week, follow @SportsInsights and @ActionNetworkHQ on Twitter.