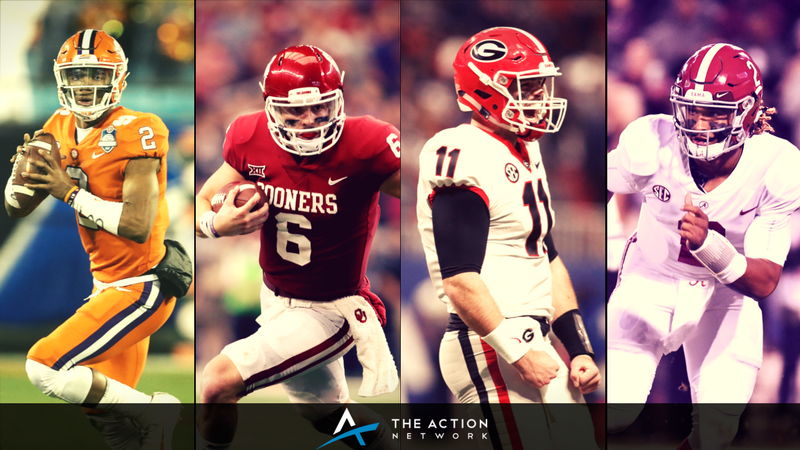 How to Bet the CFP Semifinals and Every Other New Year's Six Bowl
2017 is coming to an end and we're right in the heart of Bowl szn. A time of year when drinking is acceptable seven days a week. A time of year when adding a few pounds is the norm. A time of year when you lock lips with your loved one when the clock strikes midnight — in my case, that means locking lips with the hole on top of a Miller Lite can.
Below you'll find all the information you need to bet on the "New Year's Six" — the six biggest bowl games of the year. What, you got a problem with six?
I hope your New Year's resolution wasn't "retire from betting" because I can all-but guarantee that anyone reading this doesn't have the willpower to resist a nice and juicy line. — Mark Gallant
All info below as of Monday morning. For live spreads and bet percentages, check out this page. To get access to our premium tools, subscribe here.
---
GEORGIA (-3) VS. OKLAHOMA  |  O/U: 61
Jan. 1, 5 p.m. ET | ESPN
Betting market: Georgia opened as 1-point favorites and despite only 43% of spread dollars landing on the Bulldogs, the consensus line ticked up to the key number of -3 on Saturday morning. Clearly sharp money is behind the move, but that's where we could see some buyback on Oklahoma. Some sportsbooks like 5Dimes and BetOnline are actually holding Georgia at a juiced-up -2.5 to keep from moving to -3. — PJ Walsh and Dan McGuire
Trend to know: As the chart above shows, the majority of the betting tickets are on OU. But beware of the trendy underdog. Dogs getting more than 50% of spread tickets are 43-51-2 (45.7%) ATS in bowl games since 2005. — John Ewing
What the metrics say: Georgia has the country's best special teams, per S&P+. Oklahoma ranks 56th overall. The Sooners particularly struggle on punt coverage (98th) and kickoff returns (104th). The Dawgs should also have the advantage inside the 20: They have the seventh-ranked offense and 37th-ranked defense in red zone scoring percentage, compared to 17th and 95th, respectively, for OU. — Collin Wilson and Stuckey
Did you know? Heisman Trophy-winning QBs are 0-6 ATS since 1990 when facing an SEC opponent in a bowl game, as Oklahoma QB Baker Mayfield will on New Year's Day. Those six teams failed to cover the spread by 108.5 points, or 18 PPG. —Evan Abrams
Pass or play? Play Georgia. Oklahoma's offense amazingly ranks No. 1 in every single major S&P+ category. They're the most explosive offense in the country, but Georgia ranks fifth in defending explosiveness. Oklahoma will score, but the Georgia defense should be able to get key stops on third down (20th overall). You can also trust the Dawgs to produce some big plays of their own on offense. They rank 12th in yards per play (6.84), while OU ranks 65th in ypp allowed (5.60). Georgia was also the fifth-most explosive offense on standard downs this season; the Sooners' defense really struggled in that regard, ranking 100th in the country. — Collin Wilson and Stuckey
---
ALABAMA (-3.5) VS. CLEMSON  |  O/U: 47
Jan. 1, 8:45 p.m. ET | ESPN
Betting market: Not only are the ticket percentages in this game relatively even (see chart below), but sharp money come down on both sides earlier in the week, with Steam Moves triggered at Alabama -3 and Clemson +3. This line moved to -3.5 at Bookmaker.eu around midday on Monday, and other sportsbooks appear poised to follow suit. — PJ Walsh and Dan McGuire
What the metrics say: These are two of the 10 best defenses in Havoc Rate, defined as a team's total tackles for loss, passes defensed, and forced fumbles divided by total plays. Clemson struggles to create explosive plays on offense, ranking 119th in IsoPPP, while Alabama's defense thrives at limiting big plays (eighth overall). — Collin Wilson and Stuckey
Trend to know: Alabama lost its previous game 26-14 to Auburn. Ranked teams coming off a double-digit loss are 117-163-8 (41.8%) ATS in their next game since 2005, including bowl season. Even worse: Since 2007, Nick Saban is 3-12 ATS after a loss, including five consecutive losses against the number. — John Ewing
Injuries watch: The Crimson Tide will be missing three key players on defense: LB Dylan Moses, DB Hootie Jones, and LB Shaun Dion Hamilton. Moses' injury happened during bowl preparation, and is a pretty big loss for Bama's defense. — Stuckey
Pass or play? Play Alabama -3. Saban with more than a month of prep for a revenge game? Yes please. Alabama needed this break (to get healthier on defense and along the O-line) much more than Clemson (who had just played its two best games of the season). Don't expect the Clemson defense to create any momentum-swinging turnovers. The Tigers rank 75th in takeaways per game (1.4), and Alabama's offense turns it over fewer than any other team in college football (0.5 per game). The under is also worth a look, as these two defenses rank in the top-four in defensive yards per play allowed. Expect Alabama to get back to its run-first identity after watching film of their loss to Auburn. — Collin Wilson and Stuckey
---
USC VS. OHIO STATE (-10)  |  O/U: 64.5
Dec. 29, 8:30 p.m. ET | ESPN
Betting market: Ohio State opened -7 at Bookmaker.eu and bettors have pushed the Buckeyes up to -7.5 across the market. That's where the line sat on Friday morning, until Ohio State got steamed all the way up to -10 later in the day. — PJ Walsh
What the metrics say: The over is worth a look. Both of these teams give up plenty of free yards via penalties, ranking 121st and 122nd overall, and USC should lean on the pass against Ohio State's No. 1 S&P+ rush defense. The Buckeyes' offense also ranks 15th in Adjusted Pace and 93rd in time of possession. Translation: Expect plenty of quick-strike scores from Urban Meyer's offense. — Collin Wilson and Stuckey
Did you know? Speaking of Meyer: He's 10-3 SU and ATS in bowl games as a head coach, and 5-1 ATS when he is favored by a FG or more. — Evan Abrams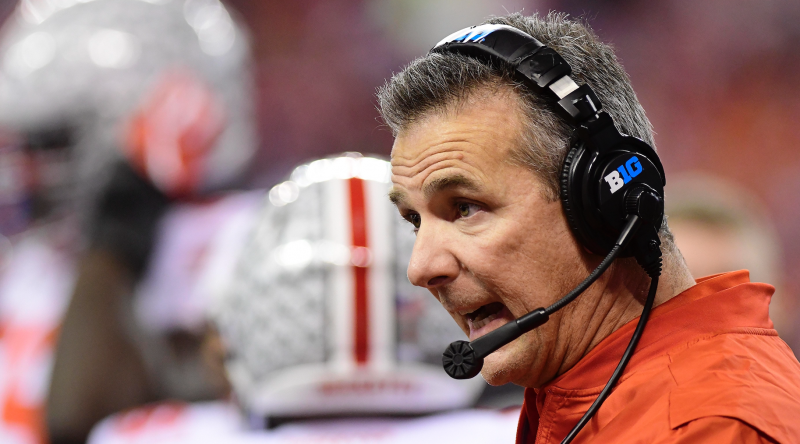 Prospect profile: USC QB Sam Darnold Darnold is just a 20-year-old redshirt sophomore, so there's no guarantee that he will actually declare early or be selected No. 1 overall, but he looks like a future NFL starter. He has the size (6'4″ and 220 pounds), winning record (11-2 this year, 10-3 last year), pro-level arm talent, and mobility to appeal to general managers. Read more. — Matthew Freedman
Trend to know: USC went 3-9-1 ATS during the regular season, losing $616 for a $100 bettor (sixth-least profitable FBS team in 2017). A profitable contrarian strategy for bowl games is betting teams that were bad against the spread in the regular season. Teams that covered less than 50% of their games have gone 141-111-2 (56.0%) ATS since 2005 in bowl games. As an underdog these teams are 84-52-2 (61.8%) ATS. — John Ewing
Injury watch: Ohio State OLB Dante Booker is questionable with a concussion, while USC could be without DE Porter Gustin (doubtful), RT Chuma Edoga (questionable), WR Velus Jones Jr. (questionable), and CB Jack Jones (questionable).
Pass or play? We played Ohio State at -7.5 before the line move. Expect Meyer to have his boys fired up to put on a show for everyone who said they shouldn't be in the College Football Playoff. This game will be won on the sideline — Ohio State has a massive coaching advantage — and in the trenches. As measured by adjusted line yards, Ohio State has the No. 1 D-line in the FBS, compared to USC's 33rd-ranked O-line. And the Buckeyes' O-line ranks eighth overall versus the Trojans' 92nd-ranked defensive front. — Collin Wilson and Stuckey
---
WASHINGTON VS. PENN STATE (-2)  |  O/U: 55
Dec. 30, 4 p.m. ET | ESPN
Betting market: The public is all over Penn State, with a whopping 72% of spread tickets on the Nittany Lions (see chart). And yet, the line has dropped from Penn State -2.5 to -1.5. This movement is a clear indicator that sharp Washington action is responsible for the odds adjustment. It'll be interesting to monitor if professional Penn State money shows up and pushes this number back toward 3. — PJ Walsh
Trend to know: Fading the public has been a sharp strategy in bowl season, with teams receiving less than 50% of spread tickets going 228-194-6 (54.0%) ATS since 2005. The fewer tickets a team gets the more profitable they become: <40% of bets (132-90-3 ATS) and <30% of bets (33-17-1 ATS). — John Ewing
Did you know? Penn State won 66-3 vs. Maryland in its last regular season game. James Franklin's teams have historically responded well to such success, going 10-3-1 ATS in the games after covering by 20 or more points. Franklin is 6-0-1 ATS in his past seven games in the situation. — Evan Abrams
Pass or play? Play Washington +2. The Huskies only allow 92.3 rushing yards per game and 2.6 yards per carry, both of which rank No. 1 in the nation. They should be able to contain Saquon Barkley, forcing Trace McSorley into passing situations, where Washington's elite pass-rush (ranked sixth overall in adjusted sack rate) should feast on a Penn State offensive line ranked 74th in the metric. —Collin Wilson and Stuckey
---
WISCONSIN (-4.5) VS. MIAMI  |  O/U: 45
Dec. 30, 8 p.m. ET | ESPN
Betting market: Wisconsin opened as 7-point favorites, but steady Miami action moved this off the key number and all the way down to a consensus of -4.5. Our Bet Signals data picked up on a Miami getting steamed at +6. — PJ Walsh
What the metrics say: Wisconsin is an elite third-down team, ranking in the top 12 in conversion percentage on both sides of the ball. That helps the Badgers dominate time of possession (35:09 per game, third-best overall). Miami, on the other hand, ranks as one of the worst third-down offenses in the country (119th) and isn't much better on defense (67th). — Collin Wilson and Stuckey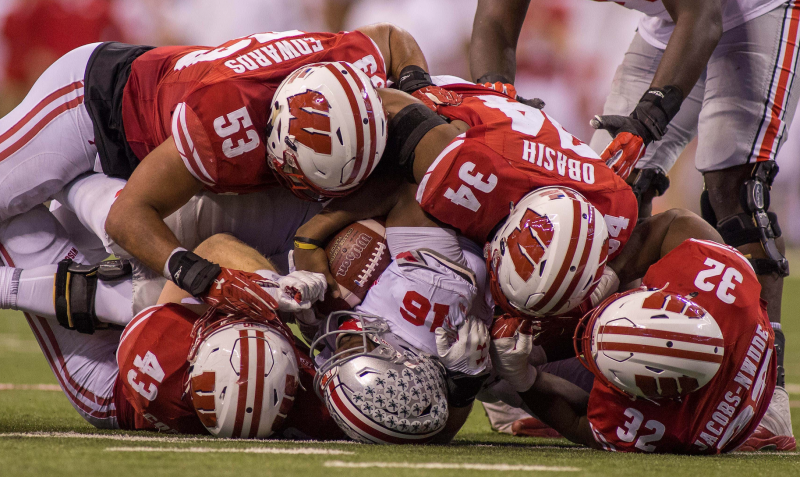 Trend to know: Miami lost its past two games. Teams listed as underdogs in a bowl game after ending the season on a losing streak have gone 36-27 (57.1%) ATS since 2005. — John Ewing
Pass or play? Play Wisconsin -4.5. The Badgers should dominate time of possession (see third-down advantages above), and in the trenches against a Miami team playing without their RB1 (Mark Walton), TE1 (Christopher Herndon), and WR1 (Ahmmon Richards). Miami's offense has relied on explosive plays all season (15th overall in IsoPPP+), but Wisconsin's defense, the No. 1 overall unit in S&P+, ranks ninth in IsoPPP+ (allowing explosiveness). And, if Miami can't score via the big play, good luck in the red zone against this Badgers defense, which is the top-ranked unit by far in terms of TD percentage allowed. — Collin Wilson and Stuckey
---
UCF VS. AUBURN (-12)  |  O/U: 67
Jan. 1, 12:30 p.m. ET | ESPN
Betting market: Behind 59% of spread tickets, Auburn is the most popular public side of the New Year's Day slate of bowl games. The Tigers opened -9.5, hit -10 on Friday evening, and moved up to -12 on gameday. — PJ Walsh
What the metrics say: Auburn's defensive front, which ranks 16th in adjusted sack rate and fourth in standard-downs sack rate, should dominate a UCF offensive line that will be missing starting LT Aaron Evans, who has played in every game the past three seasons. — Collin Wilson and Stuckey
Injury watch: The Tigers RB Kerryon Johnson (probable, rib/shoulder) should be good to go, but stud Auburn CB Carlton Davis will miss the game with a concussion. — Stuckey
Did you know? Over the past 20 years, teams that enter a bowl game undefeated are 2-8 ATS when facing an SEC school, failing to cover the spread by 10.9 PPG. The two schools to cover both did so against Alabama. — Evan Abrams
Pass or play? We played Auburn at -9.5. The Tigers had dreams of playing in the College Football Playoff a month ago, so one could question their motivation. But UCF's mental state is also a concern with the pending departure of coach Scott Frost. Auburn should be able to make plenty of big plays through the air, as UCF ranks 125th in pass explosiveness. — Collin Wilson and Stuckey
Photos via USA TODAY-Sports