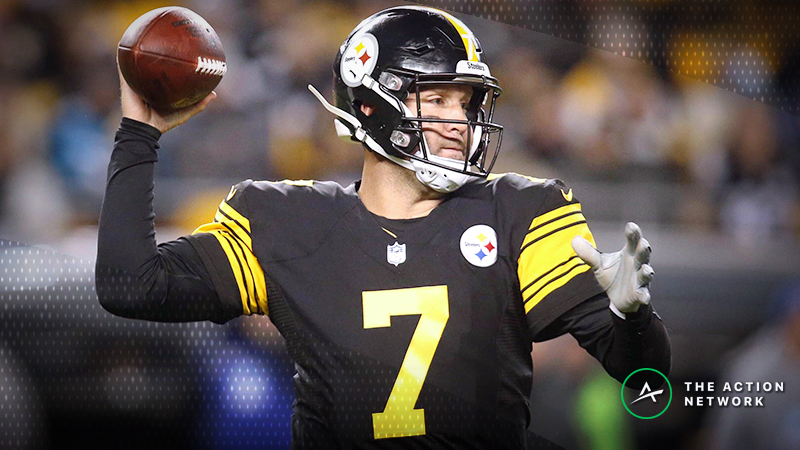 Roethlisberger Is NFL's Worst QB as Double-Digit Favorite in Past 15 Years
Good teams win, great teams cover. The same can be said about NFL quarterbacks, at least from a sports-betting perspective.
With two Super Bowl victories, more than 55,000 passing yards and 355 touchdown passes in his career, Pittsburgh Steelers quarterback Ben Roethlisberger is a sure-fire Hall of Famer.
But Big Ben has been mediocre, at best, in terms of performance against the spread (ATS).
Overall, Roethlisberger is 107-100-3 (51.7%) ATS in his regular-season career, according to our Bet Labs data.
Bettors must win 52.38% of ATS wagers assuming a standard vig of -110, meaning Ben falls just short of profitability.
Big Ben has thrived as a underdog at 27-18 (60%) ATS, but his 80-82-3 record as a favorite suggests he's slightly underperformed when compared to betting market expectations.
As expectations increase, Roethlisberger appears to play down to the level of his competition.
In games in which Roethlisberger and the Steelers closed as favorites of at least 10 points, Pittsburgh is just 11-20 (35.5%) ATS. His 9.15 units lost make Big Ben the worst bet among ALL quarterbacks (both active and retired) as a double-digit favorite since 2004, his rookie season.
On the road, Roethlisberger is an abysmal 1-9 ATS when giving at least 10 points, which is notable considering Pittsburgh is an 11-point road favorite against the Oakland Raiders in Week 14.
Interestingly, among active quarterbacks, Drew Brees (-6.15 units) and Philip Rivers (-3.27 units) are the next worst as favorites of 10 or more points over that span.
This article was originally posted on ActionNetwork.com by PJ Walsh. Sports Insights is part of The Action Network.