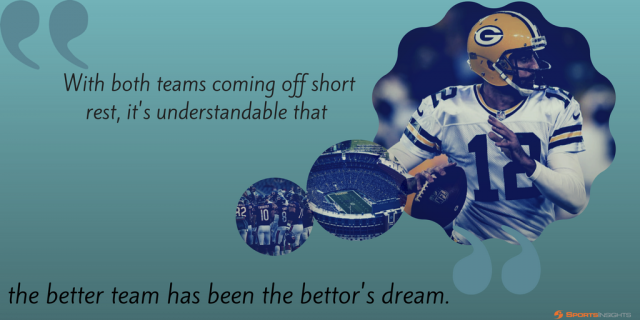 Bears vs. Packers: Thursday Night Color Rush Gambling
How have they not made this prop yet: "Whose jersey is more vomit-inducing?" I guess there's no way to judge that, but I guarantee both of these jerseys will be so hideous that Rocky Dennis will seem like a handsome fella.
Tonight, we have a divisional showdown between the Bears and Packers. Last Thursday, the 49ers and Rams combined for 80 points in an unexpected shootout between the great Jared Goff and Brian Hoyer. I guess anything is possible tonight as Kevin Garnett would say.
Right now, this game is pretty gosh darned lopsided. Even though the Bears were able to beat the Steelers last weekend in what is currently the second largest upset of the season, bettors aren't giving them any love. They've received just 25% of spread and moneyline bets to this point.
With that being said, they are getting some decent coin.

Though they're only getting a quarter of the bets, they are getting close to 40% of the dollars. Larger bets = sharper bettors (usually), which can help explain the line moving from 7.5 to 7.
Generally, I would love the Bears in this situation. Contrarian, seven point division dog, reverse line movement, et cetera, et cetera, et cetera. Howevah, underdogs and contrarian teams have SUCKED on Thursdays.
| Criteria | ATS Record | Units | ROI |
| --- | --- | --- | --- |
| Underdogs | 62-88 | -28.86 | -19.2% |
| Teams w/ 30% or less | 16-22 | -7.24 | -19.0% |
With both teams coming off short rest, it's understandable that the better team has been the bettor's dream. Another thing that could help the Packers is the temperature, as the folks over at Bet Labs Sports point out. Historically, they've done much better against the spread at home when it's cool/cold than when it's warm. Tonight, the temperature is expected to dip into the 50s.
With the spread looking like a difficult decision, perhaps you may want to stick to the total.

The total had been sticking around at 45.5 around the market since opening, but began to drop late last night and this morning. As you can see by the BLUE line, the under is getting about one third of the bets, which is pretty standard. BUT…as you can see by the GREEN line, the under is getting close to 60% of the money.
According to Fantasy Labs' Vegas Report, the Packers are one of just a handful of teams remaining in the league who have yet to hit their implied total in a game. Are they due to put up some big numbers or is their offense just not quite as good as we all think it is?
What will you be doing? Here is what our "tweeps", as the hip young people call it, are looking at.
#ColorRush What is the smartest bet? (odds via Bookmaker)https://t.co/IFVOea3DEi

— Sports Insights (@SportsInsights) September 28, 2017
Bookmark our free NFL odds page to see how the line moves between now and when the game starts.