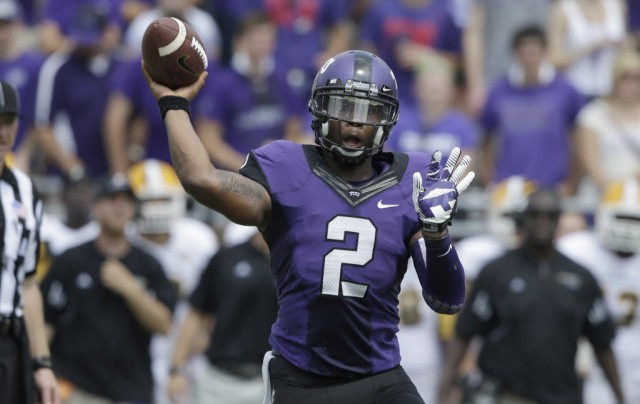 Bad Injury Information Moves Oklahoma State/TCU Line
Coming off a ridiculous 61-58 loss to the Baylor Bears, #12 TCU (4-1, 1-1 Big 12) opened as 9-point favorites against #15 Oklahoma State (5-1, 3-0 Big 12). The Horned Frogs, who feature the nations 12th ranked passing attack and 3rd ranked scoring offense, are led offensively by quarterback Trevone Boykin.
The 6'2″ junior has tallied nearly 1,900 total yards (1,463 passing, 305 rushing) and 14 touchdowns in five games this season. However, an interesting situation occured on Tuesday afternoon involving the Horned Frogs primary offensive weapon.
Early on Monday afternoon the TCU website, Frogs O' War, reported that Boykin underwent surgery on Monday evening to repair his left wrist and that the star player would miss between 4-6 weeks. This report moved the line at CRIS, one of the market-setting sportsbooks, from TCU -9 to -7. A two-point move is significant, but that movement is magnified when the line moves to a key number like seven.
However, soon after this tweet was sent out we began receiving some contradictory information. The following tweets came from David Ubben who works as a columnist and analyst for Fox Sports Southwest.
TCU spokesman tells me Trevone Boykin is practicing today.

— David Ubben (@davidubben) October 14, 2014
TCU coach Gary Patterson tells me there's no truth to a report that Trevone Boykin had wrist surgery Monday and will miss 4-6 weeks.

— David Ubben (@davidubben) October 14, 2014
Shortly after this information broke, the folks at Frogs O' War backtracked on their original tweet and apologized for reporting false information.
Folks, this is Managing Editor Jamie Plunkett. I'd like to apologize for the report that went out about an hour ago. — Frogs O' War (@FrogsOWar) October 14, 2014
Within minutes the TCU line has moved back to the original opening line of -9. The line graph below, which is available to all Sportsbook Insider customers, depicts the line movement at CRIS since opening.

Our Sportsbook Insider customers also have access to full line histories at each of our available sportsbooks. The screenshot below displays the Oklahoma State/TCU line history from CRIS.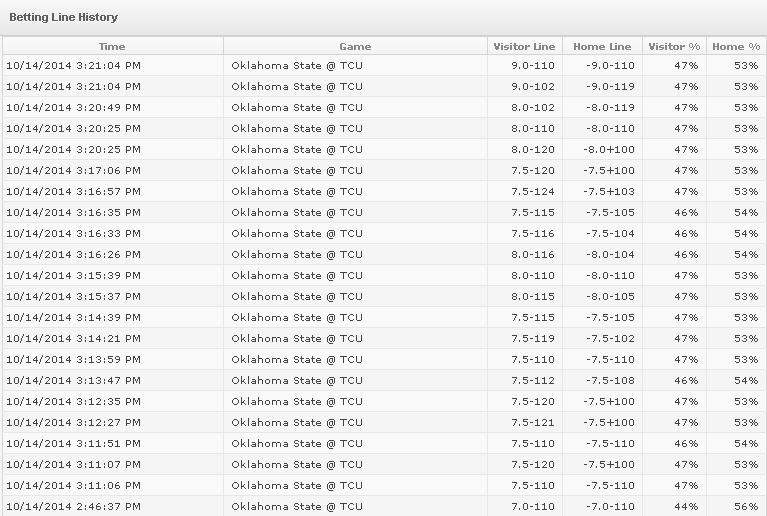 Bettors can receive the latest injury information on our new and improved free College Football odds page. Have any questions for the staff at Sports Insights? Utilize our live chat to speak with a customer service representative or e-mail us at help@sportsinsights.com.
[adrotate group="4″]