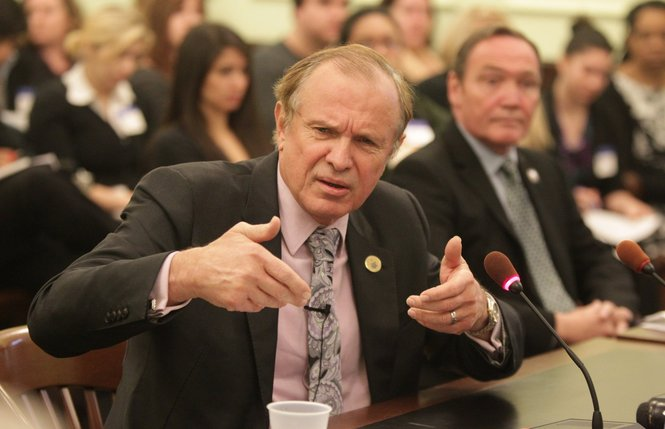 New Jersey's Push Towards Legalized Sports Betting
Today on Monday, June 23, 2014, New Jersey found out that the US Supreme Court will NOT hear its sports betting appeal case led by Democratic Senator Ray Lesniak. New Jersey was prepared for this though, and Senator Lesniak has prepared a bill that would allow for private operation of sports betting in the state's casinos and racing tracks.
While one political side routinely points to massive, European-style budget cuts (known as Austerity) as the answer to our fiscal problems, others have argued that the best way to stimulate the economy is through a balanced approach which includes both cuts and revenue increases. With Barack Obama still in office, it appears that Democrats have assumed the upper hand in terms of which policies will actually be signed into law. However, because Republicans are likely to fight any additional tax increases tooth and nail, many politicians have been looking for creative new ways to generate revenue and stimulate the economy to pay down our massive debt. Legalized sports betting may be the one revenue-generating avenue where compromise remains possible.
Why legalized sports betting?
Independent reports have stated that legalized sports betting could generate over $1 billion in bets in its first year alone. Since New Jersey carries an 8% tax on all casinos' gross revenue, that additional $1 billion in bets would produce nearly $100 million in revenue for the Garden State.
However, that figure could end up being exponentially higher when you take into account several other factors. For example, according to the Washington Post, last year a total of $3.5 billion was bet on sports in the state of Nevada, speaking to how popular and in demand legalized sports betting is. In a recent article from insider Marisa Lankester, estimates of illegally bet money worldwide ranged from $380 billion to $500 billion.
In addition to revenue generated from taxes, there is also a potential economic boon based upon the creation of thousands of legal sports betting-related jobs and millions of tourists that are sure to flock to the bars, restaurants and local establishments in the surrounding areas.
A brief timeline of the fight for legalized sports betting:
-October 1992: Congress passes the Professional and Amateur Sports Protection Act (PASPA), which bans all sports betting outside of a select few states (Nevada, Oregon, Montana and Delaware).
-January 2010: Senator Ray Lesniak (D) introduces first bill that would legalize Internet gaming in New Jersey.
-November 2010: New Jersey Senate passes legalized Internet gambling bill by a 29-5 margin.
-March 2011: New Jersey Governor Chris Christie vetoes Senator Lesniak's Internet gambling bill citing "legal hurdles".
-April 2011: Black Friday where online poker sites Full Tilt Poker and PokerStars suspend real-money services in the US. Weeks later, Ultimate Bet and Absolute Poker file for bankruptcy.
-December 2011: US Department of Justice alters interpretation of the Wire Act; non-sports betting now falls outside they're scope.
-January 2012: New Jersey Gov. (R) Chris Christie signs legislation legalizing internet gambling in New Jersey.
-August 2012: Major sports leagues (NCAA, NFL, NBA, MLB, NHL) file suit against Christie's bill, claiming it violates the 1992 Federal Ban and could lead to more corruption in sports.
-February 2013: Rep. Frank LoBiondo (R-NJ) and Rep. Frank Pallone Jr. (D-NJ) introduce new legislation that argues "New Jersey must be allowed to move forward with legal sports betting and bring much needed revenue to the state".
-February 2013: Governor Christie signs the revised bill into law, making NJ the 3rd state to pass Internet gambling legislation.
-December 2013: Over 100,000 online gambling accounts already created in New Jersey.
-June 2014: Supreme Court decided NOT to hear New Jersey's sports betting case, led by Senator Ray Lesniak (D).
So where does New Jersey's push for legalized sports betting stand now?
At this point, a major issue still stems from the battle between states' rights and the jurisdiction of the federal government, which was the major crux of the Civil War back in 1865. While Christie is able to legalize gambling in New Jersey, he does not have the authority to override the 1992 Professional and Amateur Sports Protection Act.
"In my view, the only way this goes anywhere is if the Supreme Court finds PASPA to be unconstitutional or if Congress reverses itself and passes a new law", said Frank J. Fahrenkopf Jr., President of the American Gaming Association. If the Supreme Court does hear the case, many believe the 1992 ban could be struck down because Congress does not have the power to regulate interstate commerce in this particular case, according to backers of legalized gambling. Also, many believe the 1992 ban also violates the 10th Amendment and is unconstitutional because it treats states differently, allowing gambling in some states like Nevada but not others.
Senator Lesniak is so confident that we'll see sports betting soon, he has said "Go to the bank on it, because if the Supreme Court takes the case, it will be overturned". Even after the U.S. Supreme Court denied to hear the legalized sports betting case, Lesniak has been quoted saying "I plan on placing my first bet at Monmouth Racetrack on September 8 for the Giants to cover the spread against the Lions on Monday Night Football." New Jersey has continued to fight and work for legalized sports betting which common sense says needs to happen, hopefully sooner than later. Would you 'go to the bank' on Senator Lesniak and legalized sports gambling, or will it be the same old nonsense again next year?