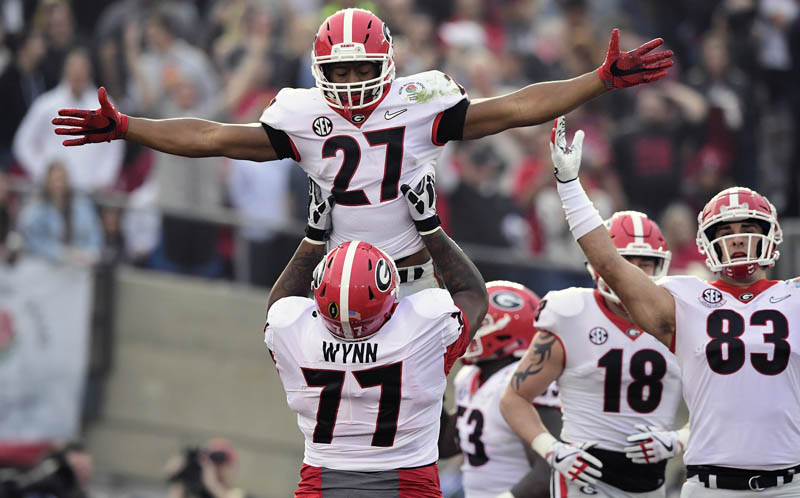 Alabama vs. Georgia: Early Betting Preview for 2018 CFP National Championship Game
S-E-C! S-E-C! The chants kept getting louder, spreading far and wide below the Mason-Dixon Line as one conference's dream became a reality on Monday night. Georgia. Bama. Dawgs. Tide. In Atlanta. For the SEC national title.
Let's take a look at how bookmakers responded to the first all-SEC CFP title game, before our CFB expert Collin Wilson gives some initial thoughts on the matchup.
The betting market
Following a convincing win over Clemson, Alabama opened as 4.5-point favorites for Monday's College Football Playoff National Championship game against Georgia.
The Crimson Tide closed -3.5 in the Sugar Bowl and easily covered for bettors. On the other hand, Georgia (-2.5) pulled out a thrilling overtime victory over Oklahoma in the Rose Bowl to earn the right to take on Alabama.
According to Scott Cooley, an Odds Consultant for Bookmaker.eu, the semifinal performances of both teams played a big part in setting this number.
"The way the semis unfolded certainly factors into the oddsmaking for this matchup, given that Alabama played such a complete game and looked like juggernauts while Georgia simply appeared to be on the right side of a shootout. The thought was to be higher than a field goal to give Alabama the respect it deserves, but not near a touchdown where we're giving too much value to a quality Georgia club," Cooley said.
While ticket percentages for the championship game are evenly split, 72% of early money has taken Alabama. That hasn't been enough to inspire movement off the consensus opening line. The total sits at 45, with the majority of the tickets and the money betting the under in the early going. — PJ Walsh
An early lean
Alabama boasts the nation's No. 2 S&P+ Rush Defense, which will be critical against Georgia's No. 8 ranked S&P+ Rush Offense. A deeper dive into the ground game matchup reveals that Alabama's defense ranks in the top 15 in opportunity rate and adjusted line yards; the Crimson Tide will face a Georgia rushing offense that also ranks in the top 15 of those two categories.
Keep in mind that these season-long stats aren't adjusted for how injuries devastated Alabama's defense throughout the year, so the unit's true ceiling is still to be determined. (Alabama linebacker Anfernee Jennings did suffer an injury during the Sugar Bowl though.)
When Alabama is on offense, the Crimson Tide's passing offense (ranked No. 69 nationally in passing downs success rate) will be challenged by a stout Georgia defense that ranks 16th in defensive passing downs success rate.
Both Georgia and Alabama have very similar statistical profiles and both head coaches have a significant level of familiarity with one another, which I think would lend itself to the under in this particular matchup. Georgia head coach Kirby Smart served as the defensive backs coach at LSU under Nick Saban in 2004. In 2006, Smart rejoined Saban with the Miami Dolphins before eventually serving multiple years as Alabama's defensive coordinator. This will be the first meeting between Saban and Smart as head coaches.
Ultimately, red zone success could determine the winner. The Bulldogs score on 95.7 percent of their red zone drives (fifth in the country), compared to 88.1 percent for Alabama (36th in the country). In a matchup of two very similar teams, one failed red zone trip could easily swing the game.
Georgia also takes the nod in special teams, as the Bulldogs lead the nation in that category per the Special Teams S&P+ stat. Specifically, Georgia ranks fourth nationally in kickoff success rate, while Alabama is only No. 101 in kickoff return success rate. Georgia should also benefit from standout placekicker Rodrigo Blankenship, who was able to connect on a 55-yard bomb early in the first half of the Rose Bowl. With the game expected to be heavy on defense and field position, Georgia's advantage in the kicking game should not be overlooked.
Georgia +4.5 appears to have some value, with other power rating systems making this game closer to Georgia +2. But with these two teams being so similar, only the under 45 (and first half under 23) should be considered at this point. Keep tabs on Alabama's injury situation, as they will need every defender to slow the Bulldogs' ground and air attack. — Collin Wilson
For updated national championship odds and betting percentage data, please visit our free NCAA Football Live Odds page.
Photo via Gary A. Vasquez-USA TODAY Sports