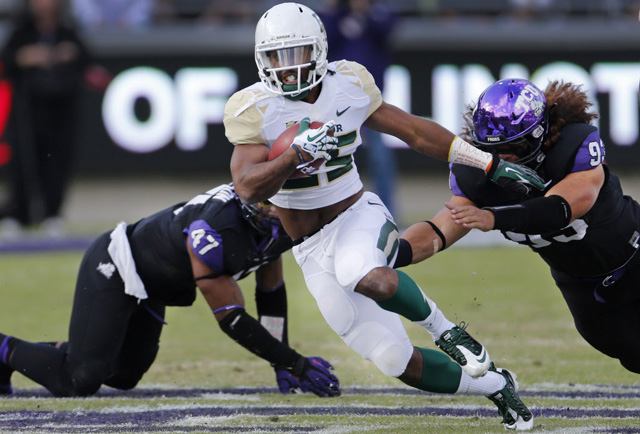 Week 7 College Football Line Moves that Matter
Line movement has become a very popular topic in both mainstream and social media as bettors attempt to identify which teams professionals are playing. However, blindly betting a game simply because a line moves can be detrimental to your bankroll, especially if you don't know why it moved.
Looking ahead to College Football Week 7, I pinpointed three games with significant line movement and explain why these moves should matter to bettors.
Indiana at Iowa
Pinnacle opened this game at Iowa -7 and big bets early in the week helped drive the line down to the current number of Hawkeyes -3. Interestingly, 60% of spread bets have taken Iowa, a sign that the 4-point line move is the result of sharp money pounding the underdog.
[Click image to enlarge]

Why does this matter?
Our Bet Signals alerted us that Steam Moves at CRIS, Pinnacle and YouWager hit this game at +7, +6 and +4, respectively, triggering the line movement we've seen so far. While it's pretty clear that sharp money is on Indiana, this game started at the key number of 7, passed through 6 and 4 and now sits at 3.
If you played this game early in the week, congratulations on getting a great number. However, betting it now means buying the bad end of sharp money moves, minimizing and potentially eliminating the previously existing line value.
---
TCU at Baylor
In one of the most heavily bet games of the day, Baylor opened as an 11-point favorite and money has pushed this line down to -8 at CRIS. A quick look at the chart below shows an early drop from an opener of -11 to -9.5. Our Bet Signals then triggered a Steam Move on Tuesday at TCU +9.5, pushing the line down to -8 and eventually -7.5 by the end of the day.

Why does this matter?
Similar to our Indiana/Iowa analysis, I'm comfortable projecting that sharp money is responsible for the line movement, but playing TCU as an 8-point underdog simply because it's the "sharp side" would be buying one of the worst numbers the betting market has offered so far this week.
[Want our official College Football Picks? Click here to see our Week 7 Best Bet Picks]
---
Air Force at Utah State
Unlike the first two examples above, this game's line movement can be attributed more to one-sided betting than sharp money hitting the market. At the time of publication, 65% of spread bets have taken Air Force and, combined with the lack of Bet Signal triggers (Steam and Smart Money), indicates the movement is likely a reaction to tickets loading up on the underdog.

Why does this matter?
Both the Indiana/Iowa and TCU/Baylor games illustrate how to identify sharp money and, more importantly, how blindly following it can seduce bettors into taking bad numbers. However, Air Force being bet down from +9 to +7 appears to be the result of lopsided betting, as opposed to sharp action.
Therefore, anyone interested in playing Utah State can now comfortably get down at the key number of -7 without being overly concerned about buying back the wrong side of a sharp move.
NOTE: This article was published Friday at 9:35 a.m. ET. For updated lines and real-time betting data, please visit our Free College Football Odds page.
[adrotate group="4″]