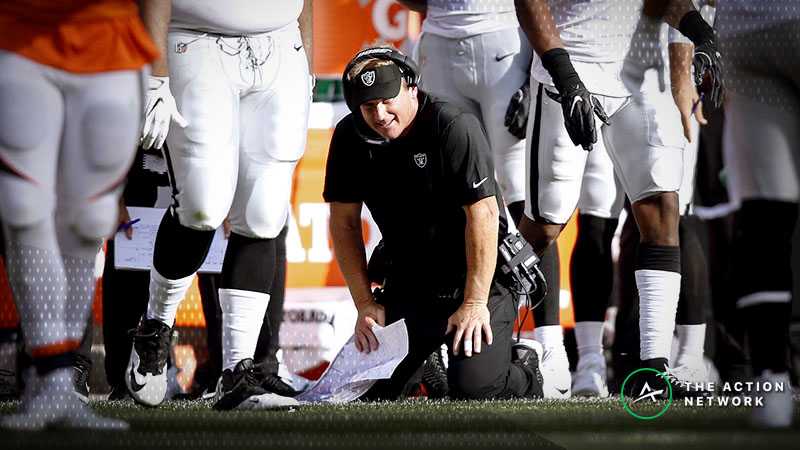 2018 Raiders Among Worst Against-the-Spread NFL Teams of Past 15 Years
The Oakland Raiders are bad. That's not exactly breaking news for anyone who has watched the 1-7 Raiders so far this season, especially those who struggled through Thursday night's 34-3 loss to Nick Mullens and the San Francisco 49ers.
Not only is Oakland a terrible football team overall, but it has also been a disaster for spread bettors this season.
Following their embarrassing Week 9 performance against the 49ers, the Raiders fell to 2-6 (25%) against the spread (ATS), losing 4.13 units for bettors backing them in every game this season.
However, it's not just Oakland's performance ATS that is telling, it's how badly the team is losing compared to closing point spreads.
Through their first eight games, the Raiders have an average cover margin of -11.2 points according to our Bet Labs software. That means, on average, Oakland is failing to cover the spread by 11.2 points this season.
To put that in perspective, the Atlanta Falcons are the second-worst ATS team at 2-5 against the number heading into their Week 9 game with the Washington Redskins.
However, the Falcons have a cover margin of -5.4 points, indicating that they've been much more competitive than the Raiders even though the raw ATS records are similarly disappointing.
In fact, according to Bet Labs' NFL archive, which dates back to the 2003 season, Oakland's -11.2-point cover margin is the second worst we've ever tracked heading into Week 10 of an NFL season.
Because I know you're curious, the honor of least competitive ATS team through nine weeks goes to Jay Cutler and the 2007 Denver Broncos, who sported an average cover margin of -12.8 points at this point in the season.
The Raiders' remaining schedule doesn't get any easier with games against the Chargers, Cardinals, Ravens, Steelers, Bengals, Broncos and the Chiefs (twice).
This article was originally posted on ActionNetwork.com by PJ Walsh. Sports Insights is part of The Action Network.