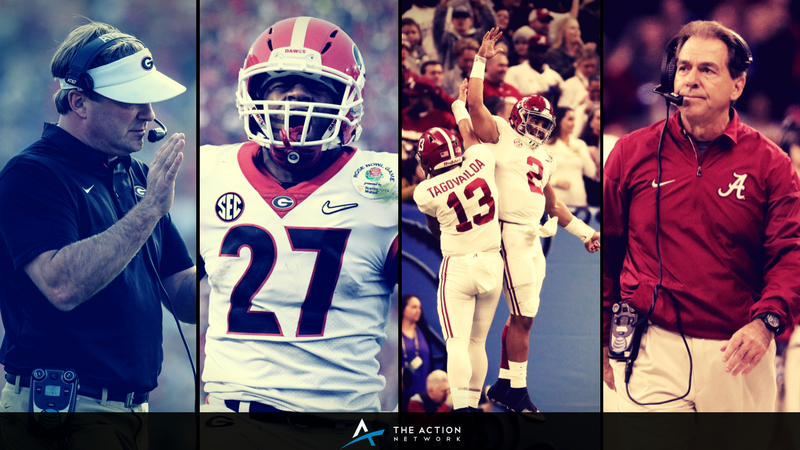 Mega CFP National Championship Preview: How to Bet Alabama-Georgia
Alabama. Georgia. Crimson Tide. Bulldogs. Where I come from, a crimson tide means to stay out of the water. (You probably shouldn't eat anything from the water either, but that's never been a concern of mine given my laundry list of food allergies.)
Enough about me: The College Football Playoff National Championship is here! (And boy is it a mouthful.) Bama is back (shocker) and will face off against Georgia, who could be had at 50-1 over the summer. Nick Saban's squad is looking to totally redeem itself after being upset last year as a 6.5-point favorite at the hands of Deshaun Watson and Clemson.
This year, oddsmakers believe it will be an even closer game. Let's take a look at what the experts have to say. – Mark Gallant
All info is as of Monday afternoon. For live spreads and bet percentages, check out this page. To get access to our premium tools, subscribe here.
---
The setup: Alabama (-3.5) vs. Georgia  |  O/U: 45.5
Betting market: Alabama opened as 5.5-point favorites at 5Dimes; the line was then released across the market with the Tide as 4.5-point favorites. It appears the early bets from sharp bettors took Georgia and the under. Our Bet Signals data triggered Steam Moves on Georgia (+4) and the under (45). The consensus line moved from -3.5 to -4 early Monday afternoon, behind Alabama getting the majority of the overall tickets, but Georgia got steamed by some sharp money shortly thereafter, moving it back to +3.5. Alabama (64% of tickets) is the most popular National Championship bet since we started tracking data in 2005. — PJ Walsh and Mark Gallant
Metrics overview: These teams are almost identical on both sides of the ball. Bama gains 6.7 yards per play on offense. Georgia: 6.9. Alabama allows 3.9 ypp on defense. Georgia: 4.6. Both offensive lines struggle in pass protection and thrive when run-blocking. — Stuckey
The coaches: One reason these schools are so similar statistically? Their head coaches are cut from the same cloth. Georgia head coach Kirby Smart served as the defensive backs coach at LSU under Nick Saban in 2004. In 2006, Smart rejoined Saban with the Miami Dolphins before eventually serving multiple years as Alabama's defensive coordinator. But wait, it goes deeper. Jeremy Pruitt, Smart's replacement at Alabama, came from Georgia while Bulldogs defensive coordinator Mel Tucker worked as a DB coach under Saban at Alabama. The intense overlap between the two programs, both statistically and schematically, is what makes this game so difficult to handicap. — Collin Wilson
A few coaching trends: Nick Saban is the sixth-most profitable coach in our database when listed as a favorite against a conference opponent: 49-39 ATS, a +$808 profit for a $100 bettor.
Saban is also 11-0 SU and 9-2 ATS when facing one of his former Alabama assistants, winning by an average of 28.7 PPG and covering the spread by 11.7 PPG. Seven of the 11 games were played away from Tuscaloosa; Saban outscored his assistants 293-71 (31.7 PPG differential) in those contests. One thing to consider, though: The average spread in those 11 games was -17, and Monday's game will mark just the second time Saban faces a more assistant as less than a TD favorite. — John Ewing and Evan Abrams
Did you know? Underdogs have covered in the past four national championship games. Since 2009, only three favorites have covered the spread in the national title: All three teams were coached by Saban (2009, 2011, 2012). — Evan Abrams
---
When Alabama has the ball
What the metrics say: Alabama's bread and butter on offense is the run-pass option (RPO). QB Jalen Hurts has masked his inability to throw downfield for two seasons thanks to great decision making when running RPOs. But Georgia's front seven, led by freakish LB Roquan Smith, has shut down similar RPO-reliant QBs this season.
The average Passing Success Rate for a QB is 40%. Here's what a few RPO QBs did vs. the Dawgs this season:
Brandon Wimbush, Notre Dame: 21% Passing Success Rate
Nick Fitzgerald, Mississippi State: 27%
Jarrett Stidham, Auburn: 31%
Baker Mayfield, Oklahoma: 37% — Collin Wilson
DFS prospect to watch: WR Calvin Ridley. Ridley is widely expected to be a first-round pick, but he looks unlike a lot of successful Day 1 selections from previous seasons. Often compared to Amari Cooper, Ridley turned 21 as a true freshman: When Cooper was 21, he was in the NFL. When his advanced age is taken into account, Ridley's 1,045-yard freshman season isn't impressive and he's regressed since then. Last year he had just 769 yards and this year he has just 16 percent of Alabama's receiving touchdowns. With his smallish size (6'1″ and 190 pounds), Ridley will need to display good athleticism in his pre-draft workouts to justify his draft hype. — Matthew Freedman
---
When Georgia has the ball
What the metrics say: Alabama boasts the nation's No. 2 S&P+ Rush Defense, which will be critical against Georgia's No. 8 ranked S&P+ Rush Offense. A deeper dive into the ground game matchup reveals that Alabama's defense ranks in the top 15 in opportunity rate and adjusted line yards. Surprise surprise: Georgia's offense also ranks in the top 15 of those two categories.
One advantage to keep an eye on: Georgia's offense ranks 24th in Power Success Rate, defined as the percentage of runs that result in a first down on third-and-short and fourth-and-short. Alabama's defense comes in at 119th overall.
Should this game be close late, watch out for Bama's fourth-quarter defense, which ranks third in S&P+. — Collin Wilson and Stuckey
Prop I'm eyeing: Jake Fromm over 15.5 completions. This is a tight line if you look at Fromm's game log of completions. But Georgia has thrown more on first down in their past two games, and if Smart continues that trend to get Fromm some confidence, you'll see this sail over the total. — Collin Wilson
Injury watch: Alabama's injuries at linebacker didn't hurt them against a Clemson offense that struggles to produce explosive plays. But with Georgia's rushing attack adept at breaking the game open, the losses of Anfernee Jennings (out), Shaun Dion (doubtful), and Dylan Moses (out) could loom large for Bama's D. — Stuckey
DFS prospects to watch: RBs Nick Chubb and Sony Michel. As a freshman, Chubb looked like a future first-rounder in relief of lead back Todd Gurley, but then he tore multiple ligaments in his knee as a sophomore and was capably replaced by Michel. Chubb returned to action as a junior and since then, he and Michel have formed one of the most dynamic backfield duos in the history of college football. Last game they broke the all-time teammate rushing record held by Eric Dickerson and Craig James (8,192 career rushing yards). They now have 67 more yards than the Pony Express — with 249 fewer carries. Both Chubb and Michel are Day 2 prospects with Day 1 potential. — Matthew Freedman
Prop I'm eyeing: D'Andre Swift to score first TD +3500. This line is from 5Dimes and is a good reminder of why you should shop around for the best number with this stuff (it's +1200 on BetOnline, for example). Swift had 88 yards and a TD on seven carries in the SEC title game, but he was barely used in the Rose Bowl. I can see him getting touches to provide a different look tonight. He has the ability to break a full-field TD from anywhere. — Collin Wilson
---
A word about special teams
Georgia gets the nod here, as the Bulldogs lead the nation in Special Teams S&P+. Specifically, Georgia ranks fourth nationally in kickoff success rate while Alabama is only No. 105 in kickoff return success rate. Translation: You can expect Alabama's starting field position to be at the 20 or less. Georgia's field position off kickoffs has the potential to be much better, with Alabama's JK Scott forcing a touchback just 47% of the time. The Dawgs should also benefit from placekicker Rodrigo Blankenship, who has been a little shaky from 40-49 yards (4-of-7), but has connected on a few key bombs this season, most notably a 55-yarder in the Rose Bowl. Alabama's kicker, Andy Pappanastos, has gone just 4-of-8 on field goals of 40-49 yards this season, and Saban has yet to trust him with a kick of 50-plus. With the game expected to be heavy on defense and field position, Georgia's advantage in the kicking game should not be overlooked. — Collin Wilson
---
Which way are you leaning?
We both played Georgia and the under on the open and would still recommend both at anything +3.5 or higher and 44.5 and up (as always, shop for the best number). The first-half under is also worth a look. Listen, the margin in this game is razor thin. This is not a game we'd advise betting more on just because there's a title up for grabs. These teams could not be more similar and the game will ultimately come down to the little things. One example is red zone efficiency. The Bulldogs score on 95.7 percent of their drives inside the 20 (fifth in the country) compared to 88.1 percent for Alabama (36th in the country). Those tiny advantages inside the red zone, on special teams and in high-leverage short-yardage situations add up over the course of the game and could ultimately swing the matchup in Georgia's favor. — Collin Wilson and Stuckey
Images for photo illustration via USA TODAY Sports