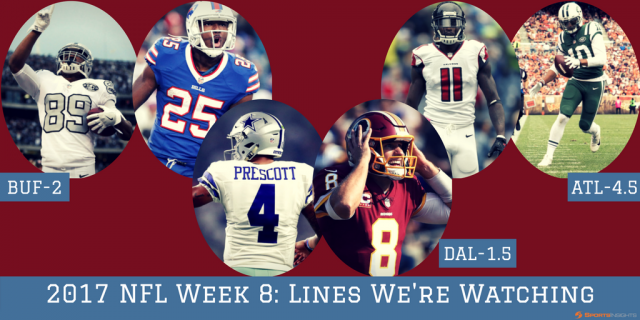 2017 NFL Week 8: Lines We're Watching
On one of the lightest slates of the year, we also have some of the crappiest matchups. Just our luck. Nevertheless, let's dive in and take a look at a few games that bettors will be paying close attention to.
Raiders (3-4 ATS) at Bills (4-1-1 ATS)
One of the most interesting games from a betting perspective on the 1PM slate is Oakland at Buffalo. Oakland, one of the most trendy preseason teams, opened as a three point pooch to the Bills, who weren't expected to do much, but have played very well this year—especially on defense.
Even though the Bills have been very kind to spread bettors this year, the Raiders are getting all of the early action. Perhaps it's due to Oakland's recent thrilling win over the Chiefs or perhaps it's because bettors still think the Raiders are a true contender.

According to Bob Scucci of Boyd Gaming and The Buffet with Chad and Scooch, early action on the Raiders is primarily coming from the public. However, he expects "wiseguys" to be in agreement and join the public on Oakland. With this line having already moved from three to two, I don't expect any super-sharp Bills buyback to move it back to three based on Scooch's insight.
Falcons (2-4 ATS) at Jets (4-2-1 ATS)
Coming off a foggy loss to the Pats…not to mention two straight big upsets at home to the Bills and Dolphins…the Falcons will look to end their AFC East nightmare in the Meadowlands against the Jets. Before the season began, the Falcons were a seven point favorite on CG Technology's lookahead lines. With the Jets playing much better than expected and the Falcons on a skid, this game opened at 4.5.

This line has been bouncing all over the place ever since opening, with early line movement actually in the Jets' favor. On Tuesday afternoon, it went back towards the Falcons and has since settled in back at the -4.5 opener.
Needless to say, the public likes Atlanta. Honestly, I kind of like them, too…pretty square of me, but it's true. Scooch believes that value actually lies with Atlanta due to their recent performance.
Cowboys (3-3 ATS) at Redskins (2-4 ATS)
The team getting the least percentage of spread bets this week is a divisional home dog—the Redskins. This is also just one of two 4PM games, which should mean plenty of public bets. You think the squares are going to watch a Cowboys game without making it a little interesting???
If you follow us on Twitter or pay any attention to public betting trends, you know that teams getting less than 30% of bets have killed this year, going 16-5 ATS so far. With 26% of bets, the Redskins are the best candidate on the slate to fit that trend this week.

So far, we've tracked two profitable reverse line moves on the Redskins from two sharp books. Washington +3 looks a lot better than Washington +2 or +1.5, though, so if you like the Redskins you may have missed the boat…for a good number, at least.
Follow the latest lines on our free NFL odds page and follow us on Twitter @SportsInsights and @ActionNetworkHQ for gambling news throughout the week.