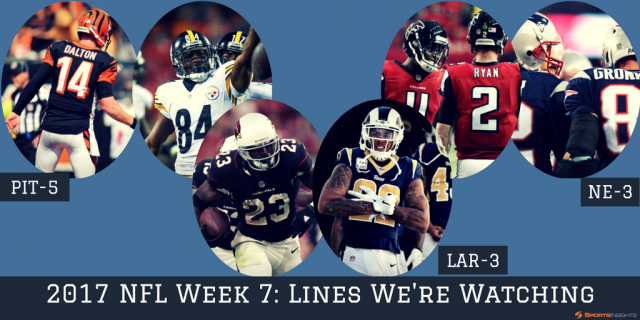 2017 NFL Week 7: Lines We're Watching
Dogs, upsets, contrarian covers…a lot of stuff continues to go well for non-public bettors this season.
NFL teams getting <40% of bets are now 32-20 ATS this year.

Teams getting <30% of bets are now 15-5 ATS.

— Sports Insights (@SportsInsights) October 15, 2017
This week has plenty of contrarian opportunities, reverse line moves, and more. Here are some games that we'll be watching closely heading into the weekend.
Bengals at Steelers
The Steelers have been one hell of an enigma lately. One week they make the Jaguars look like the '04 Patriots, the next week they beat the last remaining undefeated team on the road. Go figure.
The Bengals are coming off a bye week, which has historically helped favorites, but NOT dogs.

With that being said, there was some reverse line movement earlier on the week on said Bengals, but the line has stayed put for a few days now.

Bets on this game are almost split 50/50, but Cincy is getting close to 75% of the dough. With Pittsburgh being such a popular team, this has the potential to move back to 6 by Sunday.
Bonus game
Falcons at Patriots
Cardinals vs Rams
Ahh, good old Twickenham Stadium (formerly known as "Billy Williams' Cabbage Patch"…no, seriously.)
I guess that means we're back in London! No 9 AM start, though, so I don't really understand the point of going to London in the first place.
This will be the 20th London game so far, with favorites going 12-7 ATS. With the Cardinals finally getting a cover this past week thanks to Adrian Peterson, bettors are piling on at +3. However, the line hasn't moved. In fact, it is beginning to look like the Rams will hit -3.5 soon.

Arizona is getting two thirds of the bets, but money is close to 50/50. If you're a member, take advantage of the line watcher tool that can alert you when/if the line hits 3.5 or 2.5.
Check the latest lines on the free NFL live odds page and follow @SportsInsights for all of your gambling news as we head towards the weekend.