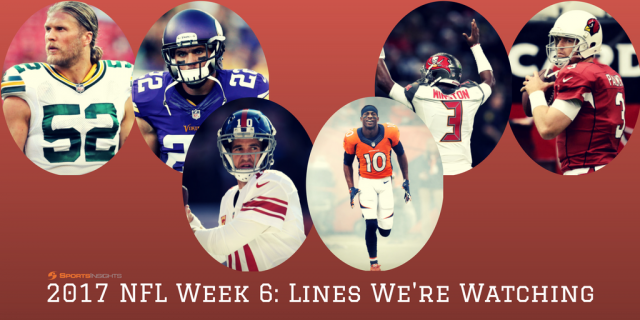 2017 NFL Week 6: Lines We're Watching
Interesting week in the NFL, as we have lots and lots of big favorites and likely several spots to go contrarian. Last week, there were no teams that received less than 30% of bets, which is pretty rare.
Here are three games on this week's slate that we'll be keeping a close eye on heading into the weekend.
Packers at Vikings
The Packers, or should I say Aaron Rodgers, pulled one out of his ass on Sunday against the Cowboys for a last minute victory. This week, they'll take on a division opponent in the Vikings who are coming off a Monday night win against Mitch(ell) Trubisky and the Bears.
Slingin' Sammy Bradford had to leave the game due to his knee issue, but Case Keenum filled in nicely. The QB situation is still up in the air, but the game has remained on the board across the market.

Though 75% of bettors are taking Green Bay, the line has gone from GB -4 to -3 since opening. The past couple of days, there have been a handful of reverse line moves triggered on the Vikings which can help explain why the line is now 3 across the market.
As we saw with the Vikings game on Monday, timing is EVERYTHING when you're dealing with a key number like three. Early bettors who took MIN -2 or -2.5 won, while those who took the closing line of -3.5 lost.
Bucs at Cardinals
Neither of these two teams want to cover a spread. They just flat out refuse. The Bucs covered their first game, but have failed to do so in their previous three. Meanwhile, the Cardinals are the only team remaining in the NFL without a cover. 0-5. I know they haven't had David Johnson, but jeez…get it together.

With books unsure of how to handle this suck-fest, this game opened as a pick 'em. However, according to Scott Cooley of Bookmaker.eu, early sharp action moved the Bucs from a PK to -2, but there has since been buyback to -1.
If the Cards can't cover (and win the game if this line holds up), they'll be just the 8th team since 2003 to have zero covers heading into their seventh game. Barf-worthy. With the line heading towards the Bucs in the early going and now heading back towards the Cardinals, this is certainly one to watch closely.
Giants at Broncos
This game is currently in the double digit area…currently around the no-man's land of 11.5/12. Though this game isn't really floating around a key number or anything, there could be some big movement in the coming days.
On the first episode of "The Buffet with Chad and Scooch", Bob Scucci of Boyd Gaming says that sharp bettors have "dabbled" on the Giants, but haven't been placing any limit bets. He believes that they're waiting for the line to reach as high as possible before hammering down on the G-Men.
Right now, Denver is getting 73% of the spread bets and the line has moved from -9.5 to -11.5 at Bookmaker. Will the Giants reach +12 around the offshore market? Probably. Will they reach +13? I doubt it, so if you are planning on going contrarian and taking the Giants don't be afraid to pull trig once the line reaches 12.
Follow the new @ActionNetworkHQ Twitter handle and sign up for our new newsletter for all of your gambling needs.
Join us live Sundays at noon ET
We're now holding our members-only live Sports Betting Hangouts Sunday mornings to prepare you for a full day of NFL games. Members, simply log into your account Sunday morning to access the hangout.
Not a member? Start a trial today to join our Sports Betting Hangouts held six days a week, plus all the other Sportsbook Insider Pro benefits.