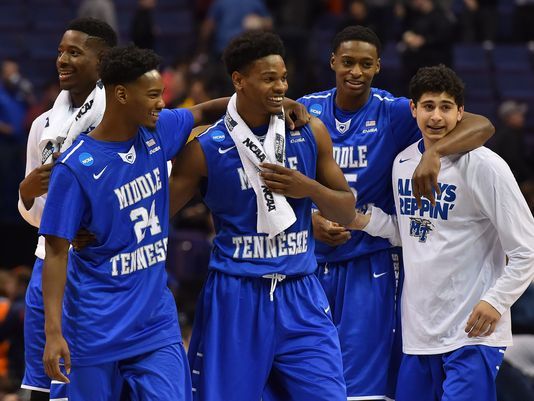 2017 NCAA Tournament: Round of 68 Opening Line Report
It's time. The 2017 NCAA Tournament has arrived, and the First Four games take place Tuesday and Wednesday. Before we jump into the Round of 68 openers, let's take a quick look at the play-in games.
16-seeds (Tuesday): New Orleans -2 vs. Mt St Mary's
11-seeds (Tuesday): Wake Forest pk vs. Kansas State
16-seeds (Wednesday): NC Central -3.5 vs. UC Davis
11-seeds (Wednesday): Providence pk vs. USC
New Orleans, Wake Forest, NC Central, and USC are getting the early majority of tickets in the First Four games. New Orleans has dropped from -2 to -1.5 while both public and sharp money have moved USC from a pick 'em to -3.
As for the Round of 68 games, we won't be going through every game, but have highlighted some of the biggest line moves, most lopsided games, and intriguing market action so far.
#5 Minnesota vs. #12 Middle Tennessee State (Thursday 4pm ET)
This looks like an odd game to start with, but it's actually attracting the most tickets at our contributing sportsbooks out of any NCAA Tournament game so far. CRIS and 5Dimes both opened Minnesota -1.5 while Pinnacle opened Minnesota -1. The heavy majority of tickets has come in on Middle Tennessee State, which has brought the line down to a pick 'em around the market. Many bettors have last year's MTSU upset over Michigan State on their minds, as well as being down on Minnesota as an over-seeded #5. At first glance this looks like a great #12-seed to pull the "upset", but it may actually be a good opportunity and fade the public and take the Golden Gophers.
#3 Florida State vs. #14 Florida Gulf Coast (Thursday 9:20 pm ET)
Again, bettors seem to be thinking about past tournaments and taking FGCU (aka 'Dunk City' from 2013) with the points. Incredibly, more than 80% of spread tickets is on FGCU yet they've actually moved from +11.5 to +12 at sharp sportsbook Pinnacle.

CRIS even moved FSU to -12.5 briefly before settling at -12, where most of the market sits. This could definitely be a great spot to fade the trendy underdog, but single-digit contrarian favorites tend to perform better than double-digit contrarian favorites.
#6 Creighton vs. #11 Rhode Island (Friday 4:30 pm ET)
The 11th-seeded Rams are actually getting 84% of early tickets, the most lopsided opening round game of the entire tournament so far. CRIS and 5Dimes both opened Creighton -2 but have dropped to -1 behind the one-sided action on URI. Pinnacle opened Creighton -1.5, moved up to -2, but has eventually dropped to -1 with the market. Casual bettors likely have URI's Atlantic 10 title on their mind, as well as knowing that Creighton lost their best player 2 months ago. However, this may be another good opportunity to fade the public and take Creighton to advance.
#7 Dayton vs. #10 Wichita State (Friday 7:10 pm ET)
Wichita State is going to get a lot of attention in the beginning of the tournament due to being badly mis-seeded. Most power rankings have Wichita State SOMEWHERE in the Top 25, yet they're a 10-seed. Oddsmakers agree as Wichita opened -6.5 around the market for their opening game against Dayton. Early tickets were pouring in on Dayton at +6.5, which has moved the line to +6, but the percentages have evened out. At the time of publication, Dayton was receiving 52% of tickets and Wichita State 48% of tickets. This is the biggest spread for a "higher" seed in the opening round since at least 2005 (via BetLabsSports.com). While non-informed bettors may be taking Dayton and the points, sharp bettors know how good Wichita State is. I wouldn't be surprised to see this line move back to -6.5 or even up to -7 before tip-off.
Want access to all sports, odds, ticket counts, money %'s, bet signals, breaking injuries and more? Sign up for an extended Pro membership trial now and start making smarter bets.