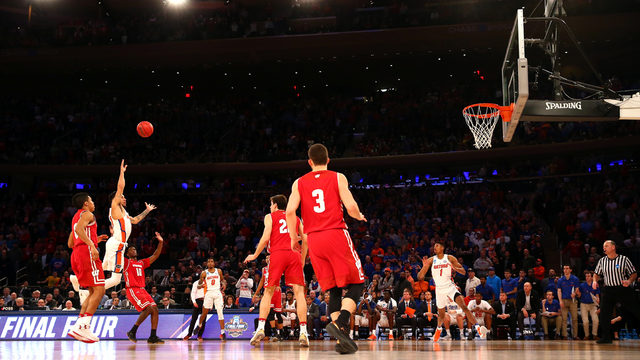 2017 NCAA Tournament Betting Recap: Road to the Final Four
Wow, what a weekend of games. Florida beat Wisconsin on a buzzer-beater but was then upset by South Carolina. UNC got a last second (0.3 to be exact) win against Kentucky in a crazy game while Oregon and Gonzaga rolled from the Elite Eight into the Final Four.
UNC had the best odds (+135) to reach the Final Four heading into the tourney and they haven't disappointed. Their longest title odds at William Hill during the year was +2000 while Oregon reached +4000 in December and Gonzaga reached +6000 to win the title back in May. The most incredible story is South Carolina, who was +4000 to reach the Final Four and +30000 to win the tourney just 2 weeks ago.
Fading the Public has continued to work, and those familiar with us know that it's a core philosophy of ours especially in highly-bet games. Here's a look at what's happened in the 2017 NCAA Tournament so far:
Trends and Notables:
Underdogs: 30-28 ATS
Teams getting <50% spread tickets: 35-22 ATS
Teams getting <40% spread tickets: 22-10 ATS (including 7-1 ATS as favorites)
11-6 in Round of 64
5-2 in Round of 32
3-1 in First Four
3-1 in Elite 8
Teams getting <50% of spread dollars: 36-21 ATS
Teams getting <40% of spread dollars: 26-18 ATS
Overs: 38-25 (just 4-8 since Round of 32 when betting tickets for O/U really increase)
Majority of public bettors has been on the Over in 60 of 64 games
Best Conference: SEC 9-3 ATS
Worst Conference: ACC 3-13 ATS
The Big-12, SEC, Big Ten, Pac-12, and WCC went OVER their conference win totals in the tournament
The ACC, Big East, AAC, and Atlantic 10 went UNDER their conference win totals in the tournament
Best Seed: #8 (6-1 ATS)
Worst Seed: #5 (1-6 ATS)
South Carolina is a perfect 4-0 ATS (3-0 as underdog, 1-0 as favorite)
UCLA/Kentucky closed with the highest tournament total that we've ever tracked (167) but the game went UNDER with Kentucky winning 86-75.
The ending of Florida/Wisconsin meant that buzzer-beater (-265) and overtime (-565) cashed for tournament prop bets that we mentioned prior to the start.
Odds to reach the Final Four before the tourney (via BetOnline):
UNC +135
Gonzaga +160
Oregon +450
South Carolina +4000
Highest odds to win the title before/during season (via William Hill US):
UNC +2000 on November 22, 2016
Oregon +4000 on December 22, 2016
Gonzaga +6000 on May 18, 2016
South Carolina +30000 on March 9, 2017
Biggest Moneyline Upsets: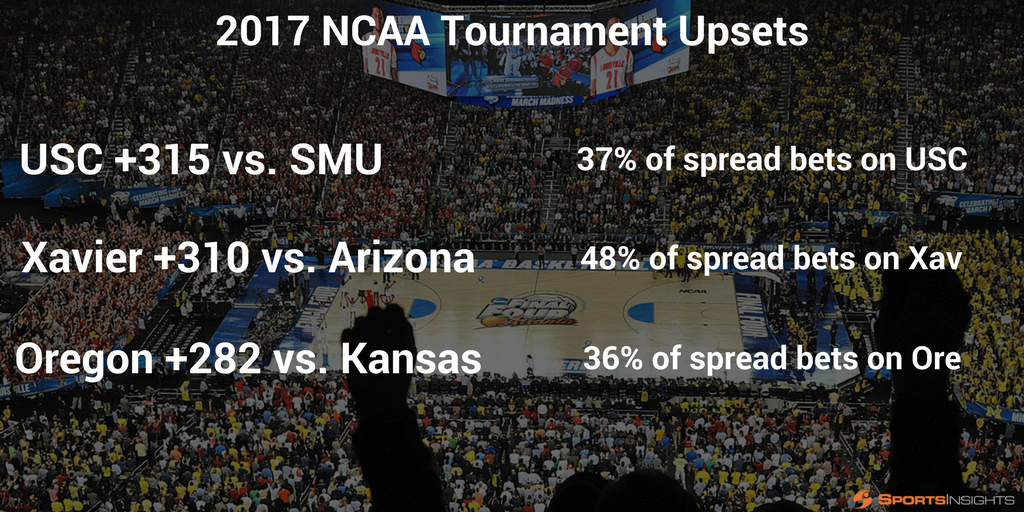 Most Bet Games by Ticket Count:
1. Oregon/Kansas 50,568 (Oregon covered with 36% of bets)
2. Kentucky/UNC 49,527 (Pushed)
3. UCLA/Kentucky 46,782 (Kentucky covered with 41% of bets)
4. Xavier/Gonzaga 45,086 (Gonzaga covered with 34% of bets)
Late Covers/Bad Beats:
-Kentucky/UNC late buckets by both teams-
Kentucky (opened +2.5, closed +2) led late, then UNC stormed back, then Kentucky tied it again:
Malik Monk!

Luke Maye!

UNBELIEVABLE!#FinalFour #GoHeels pic.twitter.com/egIlS5nmP1

— NCAA March Madness (@marchmadness) March 26, 2017
-Florida/Wisconsin late threes by both teams-
After Wisconsin tied the game on a late three to send it to overtime, the Badgers (+1) looked to be in control. That's when Chris Chiozza had other plans:
#Florida wins it on this incredible buzzer-beater in overtime. pic.twitter.com/DwzwDfCs90

— Sports Insights (@SportsInsights) March 25, 2017
-Vandy late foul-
After going up 1 with 15 seconds left, Vandy mistakenly fouled Northwestern to give them free throws and the win. 52% of spread bets was on Vandy (opened -1, closed -2).

-Seton Hall 'intentional' foul-
This late call was controversial and unfortunate for Seton Hall backers (61% of tickets, 70% of money):
This was called a flagrant. pic.twitter.com/IcqB89sFfP

— CBS Sports CBB (@CBSSportsCBB) March 17, 2017
-OK State late three-
Michigan was up 4 after late free throws but Cowboys backers (34% of tickets, 32% of money) soon rejoiced:
Michigan (closed -2.5) received 66% of spread bets according to @SportsInsights. #badbeat pic.twitter.com/aWbTph1jNC

— David Solar (@TheDavidSolar) March 17, 2017
-USC putback at buzzer-
USC (opened +6.5, closed +5.5) was close with Baylor throughout but went down 6 with less than 10 seconds left. USC missed a shot but got an offensive rebound and deep putback to lose 82-78 at the buzzer, giving them the cover. This was a rare nice win for public bettors this tourney as 59% of tickets took USC.
Putback with no time left gives #USC the cover (opened +6.5, closed +5.5) but #Baylor advances 82-78.

— Sports Insights (@SportsInsights) March 20, 2017
Want to keep up with all the latest odds, betting percentages, market moves, smart money and more? Sign up for a Pro membership trial today and start making smarter bets.