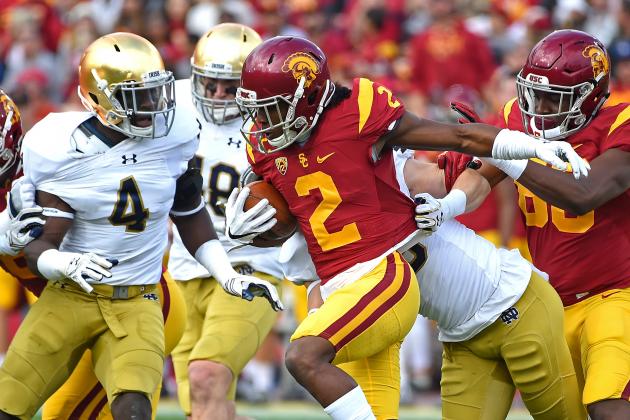 2017 College Football Week 8 Opening Line Report
As we head into Week 8 of the college football season, we've compared the current and opening lines at CRIS to the lookahead odds from the summer:
Matchup
CRIS Current
(Oct 16)
CRIS Open
(Oct 15)
G Nugget Lookahead
(Jun 22)
Michigan at Penn St
Penn St -10
Penn St -12.5
Penn St -6.5
USC at Notre Dame
ND -3.5
ND -3.5
USC -8
Oklahoma St at Texas
Okla St -7
Okla St -6
Texas -3
Louisville at Florida St
FSU -5.5
FSU -6.5
FSU -8
Tennessee at Alabama
Bama -34
Bama -33
Bama -24.5
Oklahoma at Kansas St
Okla -12.5
Okla -12.5
Okla -9
USC at Notre Dame: The lookahead line over the summer was USC -8, but that has clearly changed. On Sunday night, Notre Dame opened -3.5 and quickly moved up to -4.5. However, there's been some buyback on USC to bring the line back down to -3.5. Spread tickets are fairly split in this one and it'll be interesting to see if the Irish fall to -3 during the week. Remember, you can't always look at the opening and current odds to determine where the line movement is– you need to look at the entire line history as well as the lookahead lines, ticket %'s, money %'s and so on.
Michigan at Penn St: Penn State opened -12.5 but that was too high for bettors, and the line quickly dropped down to -10 around the market. Right now spread tickets are fairly even around the market in this game, too, but obviously some sharper early money took Michigan above the +10. Penn State's Saquon Barkley has slipped behind Stanford's Bryce Love in the Heisman race, but a big week against the Wolverines would certainly change that.
Oklahoma State at Texas: Oklahoma State opened -6 and quickly moved to -7, where the line is sitting around most of the market. The line hasn't come back down below -7 so the books are aware that they'll take Cowboys money at -6.5 if they do. Oklahoma State had been getting 75% of early bets, but since moving to -7 those percentages have come down to 60%.
Other notes:
Kansas has now lost 43 straight road games after losing 45-0 at Iowa State last week, and the Jayhawks opened +38 this week at TCU.
BYU is 0-7 ATS on the season and opened -7.5 at ECU. They've already dropped down to -5.5.
There are three teams who have gone the whole season without failing to cover: Utah 5-0 ATS, UCF 5-0 ATS, and Georgia Tech 5-0 ATS.
Road teams had been crushing it ATS this season, but home teams got a little revenge in Week 7 going 28-26 ATS. Contrarian home dogs (<40% of bets) went an impressive 10-5 ATS, and there were 9 double-digit underdogs to win outright. 30+ point underdogs are now 52-21 ATS and both Kansas (+37.5) and Tennessee (+34) are matches for this weekend.