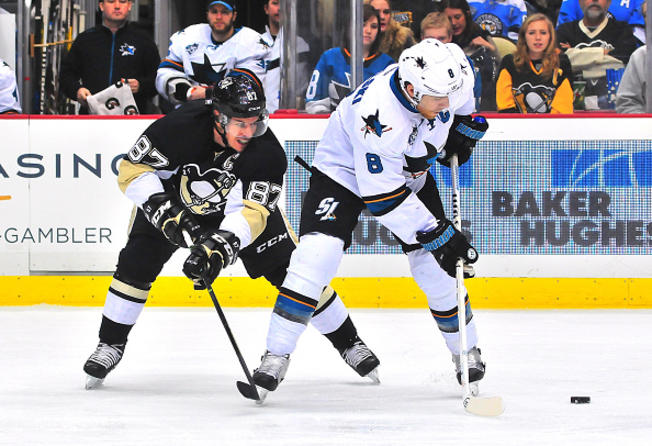 2016 Stanley Cup Final: Sharks vs. Penguins
The 2016 NHL Stanley Cup Final will feature the Pittsburgh Penguins against the San Jose Sharks. Although the matchup isn't riveting for non-NHL fans, there are star players (Crosby, Malkin, Kessel, Thornton, Pavelski), an up-and-coming head coach (Mike Sullivan), and two young goaltenders (Murray, Jones) who have led their teams throughout the playoffs.
Not many were envisioning a Sharks-Penguins final, and before the year this exact Stanley Cup matchup was listed at 125:1 odds ($100 to make $12,500). Pittsburgh was as high as 25:1 to win the Stanley Cup during the season and San Jose reached 60:1 to win the Stanley Cup before the season.
In terms of conference odds, Pittsburgh was 6:1 before the season to win the East, and as high as 14:1 in late January. San Jose was 30:1 to win the West before the season, which were the highest odds for them at any point in the year.
A 1-seed in the NHL Playoffs hasn't made the Stanley Cup Final in four years. There have now been four 3-seeds and two 2-seeds to reach the final since the last 1-seed (Blackhawks in 2013).
The Penguins opened -150 for Game 1 at 5Dimes sportsbook and -145 to win the series. Sharks opened +137 for Game 1, and +125 to win the series. So far, San Jose has been receiving the slight majority of moneyline tickets for Game 1 but there's been little line movement. Here's a look at the early betting graph at Pinnacle:

The key for Pittsburgh will obviously be their speed and how they'll utilize it against the hard-checking Sharks. Crosby, Malkin, and Kessel are the big names for the Penguins but their depth has been key throughout the playoffs. They'll need to continue to get help from everyone with defenseman Trevor Daley out for the playoffs.
Since Mike Sullivan took over as head coach of the Penguins during the year, oddsmakers have fallen in love with Pittsburgh. They were also series favorites against the Rangers, Capitals, and Lightning on their way to the Stanley Cup, and sharp bettors have been keen on the Penguins throughout. Casual bettors may view these lines on Pittsburgh as inflated, but they've been incorrect thus far.
Finally, here's a look at Conn Smythe Trophy odds and will be updated as soon as sportsbooks release more. Sidney Crosby was the favorite heading into the Conference Finals and will likely remain the favorite heading into the Stanley Cup Final.