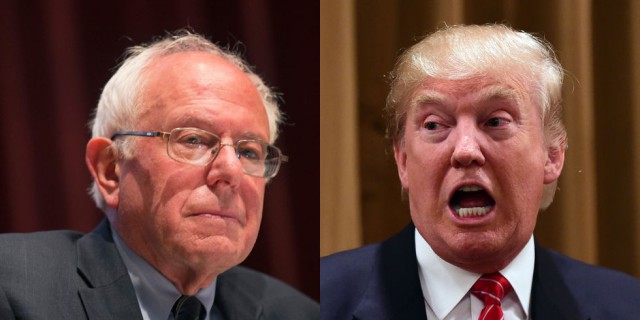 2016 Presidential Primaries: The Final Countdown
Welcome to the latest installment of our ongoing 2016 Presidential betting series.
Much has changed since our debut post. On the Democratic side, Hillary Clinton remains the front-runner; however her once-massive lead has all but evaporated thanks to the meteoric rise of Vermont Senator Bernie Sanders.
In the Iowa Caucus, the 74-year-old Democratic Socialist shocked the political world by fighting Clinton to a virtual tie, 49.9% to 49.6%. This was a stark contrast to one year ago, when Sanders trailed Clinton 68-7 in Iowa. Sanders followed up his strong performance in Iowa with a dominant victory in the New Hampshire Primary, crushing the former Secretary of State 60.4% to 38%. With Martin O'Malley no longer in the race, it's now a one-on-one grudge match between Clinton and Sanders for the Democratic nomination.
On the Republican side, Donald Trump has defied conventional wisdom and remains the odds-on favorite to win the nomination.
After losing the Iowa Caucus to Texas Senator Ted Cruz (27.6% to 24.3%), Trump rebounded nicely in New Hampshire, scoring a decisive victory over his Republican competitors. Trump finished with 35.3% of the vote in the Granite State. His closest competitor was Ohio Governor John Kasich (15.8%), followed by Cruz (11.7%), former Florida Governor Jeb Bush (11%) and Florida Senator Marco Rubio (10.6%).
As the race heads to Nevada and South Carolina, Sanders and Trump carry all the momentum. However, they will both face challenges as the demographics of the electorate will shift from less diverse to more diverse states.
TRACKING THE NUMBERS
Here is a look at the two Democratic candidates and their odds to win the nomination since the beginning of January. (via Bovada)
| Candidate | 2/10/16 | 1/19/16 | 1/17/16 | 1/4/16 |
| --- | --- | --- | --- | --- |
| Clinton | -400 | -700 | -800 | -1200 |
| Sanders | +250 | +350 | +400 | +600 |
As you can see, Clinton and Sanders are trending in the opposite directions. Since January 4th, Clinton has fallen from -1200 to -400, while Sanders has risen from +600 to +250. Simply put, Sanders is succeeding in sparking a political revolution. His anti-Wall Street message and vociferous defense of the middle class has struck a chord with the American people, especially among Millennials (85% of people under 30 voted for Sanders in the New Hampshire Primary).
Meanwhile, Clinton's campaign seems to be imploding. She has been dogged by questions about her trustworthiness (among New Hampshire Democrats who said "honest and trustworthy" was a top priority, 95% chose Sanders compared to just 3% who chose Clinton). The email scandal continues to hang over Clinton's head like a dark cloud, and now she is being forced to deal with the fallout from accepting $600,000 in paid speeches from Goldman Sachs.
Making matters worse, Madeleine Albright and Gloria Steinem have shamed young women for not supporting Hillary, which has backfired in a big way, alienating young women and pushing them further toward Sanders.
Now let's take a look at the Republican candidates and their odds to win the nomination over the past five weeks. (via Bovada)
| Candidate | 2/10/16 | 1/24/16 | 1/17/16 | 1/4/16 |
| --- | --- | --- | --- | --- |
| Trump | -150 | -125 | +150 | +180 |
| Rubio | +300 | +250 | +200 | +180 |
| Cruz | +600 | +400 | +325 | +290 |
| Bush | +1200 | +1200 | +1000 | +800 |
| Kasich | +1000 | +2500 | +5000 | +7500 |
Trump has broken away from the pack and now enjoys a commanding lead over his competitors. Rubio remains the runner-up, but he has slipped since his poor debate performance when he repeated the same talking point five separate times, raising questions about whether or not he is ready for prime time.
Despite winning in Iowa, Cruz has also fallen off the pace, due in large part to swirling questions about his eligibility to run for President (Cruz was born in Canada).
It's interesting to note that Ohio Governor John Kasich has seen his odds skyrocket since January 4th, moving from +7500 to +1000. Kasich has largely flown under the radar; however he has run a strong campaign and is now emerging as the "moderate" alternative to Trump. After a strong showing in New Hampshire, Kasich has now overtaken Bush for the fourth spot overall among Republicans.
Now let's take a look at the 2016 odds for all the candidates. (via Bovada)
| Cand | 2/10/16 | 1/19/16 | 1/11/16 | 1/4/16 |
| --- | --- | --- | --- | --- |
| Clinton | +100 | -110 | -140 | -150 |
| Trump | +275 | +250 | +400 | +500 |
| Rubio | +750 | +1000 | +800 | +500 |
| Sanders | +400 | +400 | +800 | +750 |
| Cruz | +1600 | +1200 | +800 | +1000 |
| Bush | +2500 | +3300 | +3300 | +2500 |
| Kasich | +2000 | +12500 | +15000 | +15000 |
| Bloomberg | +2500 | N/A | N/A | N/A |
Clinton (+100) remains the favorite to win the White House, however her odds have slipped substantially over the past five weeks. This coincides with the emergence of Sanders, who has risen from +750 to +400. Sanders now has the best odds of any candidate not named Clinton or Trump.
Meanwhile, Trump (+275) has solidified his position as the Republican frontrunner.  Rubio and Cruz both have slipped, but remain firmly in the conversation. Kasich is a dark horse on the rise while Bush is hanging by a thread.
It's interesting to note that, for the first time, Michael Bloomberg's name is being listed at Bovada. In recent weeks, rumors have swirled that the former New York City Mayor might throw his hat in the ring. If he does, it could shake up the race in a big way.
BOVADA VS BOOKMAKER
Since Bovada is considered a "square" book, let's see how the odds are stacking up at Bookmaker, a "sharp" book that accepts higher limits on political props (between $1,000 to $10,000).
Updated 2016 Odds (Bookmaker)

Clinton -138
Trump +409
Sanders +701
Rubio +920
Bush +1474
Cruz +1615
Bloomberg +2630
Kasich +3792

— Sports Insights (@SportsInsights) February 11, 2016
Right off the bat, you can see that the sharp bettors are bullish on Clinton and bearish on Sanders. Clinton is at even money at Bovada, but -138 at Bookmaker, while Sanders is +400 at Bovada and +701 at Bookmaker.  This means that the sharp bettors remain confident in Clinton winning it all in November despite her recent string of setbacks.
On the Republican side, Bookmaker is offering a higher payout on Trump (+409) to win the presidency than Bovada (+275). This would lead you to believe that the sharps are less confident in Trump becoming President.
One interesting thing to note: Kasich is a much bigger longshot at Bookmaker (+3792) than he is at Bovada (+2000), which is evidence that the sharps don't think much of Kasich despite his recent surge.
WHAT DO YOU THINK?
As a Democrat, are you sticking with Hillary to secure the nomination and win the White House? Or do you "Feel the Bern" and think Sanders will pull off the upset?
As a Republican, are you all in on Trump making America great again? Or will you be going with someone like Rubio or Cruz?  Or will you be taking a shot on a dark horse candidate like Kasich?
As an independent, do any of the candidates interest you? Are you leaning toward Trump or Sanders? Or crossing your fingers that Bloomberg enters the race?
Please leave your thoughts in the comments section below.