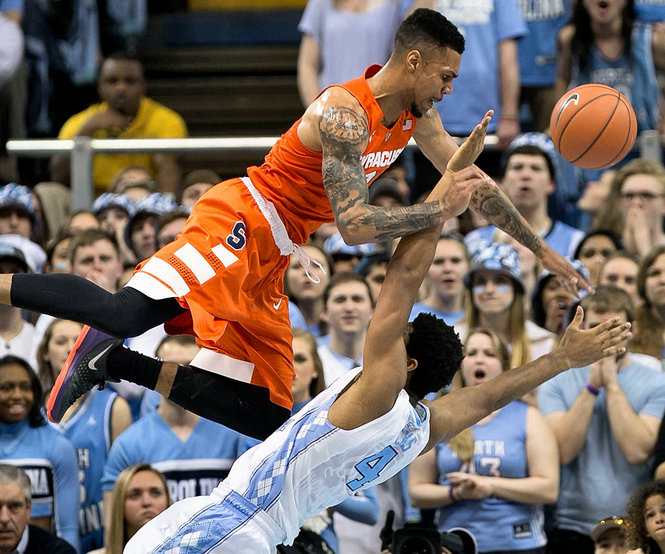 2016 March Madness: Final Four Opening Line Report
This year's Final Four consists of #2-Villanova vs. #2-Oklahoma and #10-Syracuse vs. #1-North Carolina. Syracuse is by far the biggest surprise, as they were 30:1 to win their region prior to the tournament and pulled off the second-largest upset (+374 moneyline) in the Elite 8 that we've tracked. They even reached +1600 on the live moneyline against Virginia deep in the second half, making this run even more unlikely. This is the first time ever that a 10-seed has reached the Final Four, but the Orange still have a big mountain to climb to win the title. Below we've analyzed the opening lines as well as early betting trends and market data.
#2-Villanova vs. #2-Oklahoma
This game opened Saturday night so there's been more time to bet it than Syracuse-UNC. BetOnline and Pinnacle both opened Villanova -1 and many people on Twitter felt this was an incorrect line, thinking Oklahoma should be moderate favorites. Public bettors have agreed and Oklahoma is receiving over 60% of spread bets so far. However, most of the sharp market like CRIS and 5Dimes has moved Villanova to -2.5, meaning the smart money has clearly come in on the Wildcats so far. Similar to the Elite 8 game between Villanova and Kansas, it's crucial to look at the moneyline splits with such a small spread. Public bettors are all over Oklahoma with 70% of moneyline tickets so this looks to be a great spot to fade the trendy underdog Sooners.
In terms of the total, this game opened 150 but has dropped all the way to 146 despite relatively split ticket action which is a clear indication that lots of smart money has come in on the Under. The chart below shows the dwindling total and we've already tracked two very profitable bet signals on the Under:

#10-Syracuse vs. #1-North Carolina
As mentioned earlier, this game was just opened late Sunday night so there hasn't been as much betting activity yet. BetOnline opened UNC -10 while Pinnacle and CRIS both opened UNC -9.5. Betting has been fairly even so far with 47% on Syracuse and 53% on UNC, but most of the market has dropped UNC to -9. This indicates some of the sharper, early money has come in on Syracuse. The only spread in the Final Four higher than Syracuse +9 was back in 2013 when Wichita St was +9.5 vs. Louisville.
Not all of our contributing books have reported their betting percentages yet but what we've seen so far is very interesting:
Sportsbook and SIA are two of the squarer sportsbooks we receive betting trends from and we'd expect both to report high percentages on the big favorites (UNC). However, SIA is actually reporting 80% on the underdogs (Syracuse), meaning this could also shape up as a game to fade the trendy underdog. Be sure to keep up with all the latest lines, betting trends, breaking injuries, line predictions and more at our Free Live Odds page.
Here's a look at the current and preseason odds for each school to win the tournament:
North Carolina +108 | +900
Villanova +255 | +2500
Oklahoma +355 | +3750
Syracuse +1300 | +8500
Syracuse was even as high as 1000:1 to win the title at Westgate Superbook back in early January and they took 4 bets on the Orange to win it all.
And here are the lookahead moneylines for potential Championship Game matchups at 5Dimes:
Villanova -280/Syracuse +220
North Carolina -155/Villanova +125
Oklahoma -180/Syracuse +150
North Carolina -135/Oklahoma +105
Lastly, here's a quick recap of this year's tournament so far:
Favorites: 35-29 ATS
Double-digit faves: 9-5 ATS
<20% bets: 2-0 ATS
10-seeds: 7-1 ATS
Overs: 32-32
Biggest moneyline upsets: MTSU +1529, Cuse +374
Are you holding a futures ticket on any of the remaining schools? If so, are you hedging your bets at all? Feel free to leave your comments and thoughts below.