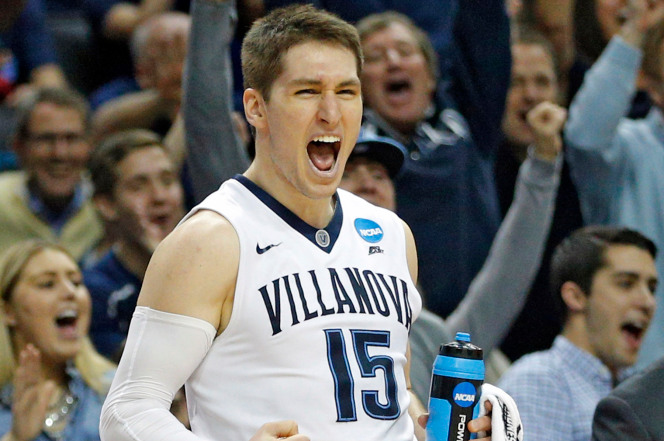 2016 March Madness: Elite 8 Preview
With all the talk about parity this season in college basketball, the remaining eight teams consist of four #1 seeds, two #2 seeds, a #6 seed and #10 seed. This can be regarded as somewhat "chalky" since most of the top teams are still alive, and even the #6 and #10 seeds come from the ACC, which was arguably the toughest conference all season. The odds of all four #1 seeds to make the Final Four were listed at 18:1 prior to the tournament.
Below we've taken a look at each Elite 8 matchup by examining opening odds, line movement, betting trends and more.
Oklahoma vs. Oregon (6:09 pm ET Saturday)
Most of the market opened this game as a pick 'em and initially moved to Oklahoma -1. However, since that time Oregon has moved out to -2 despite roughly split spread betting, meaning that the Ducks have been getting more respected money on them. This is evident by comparing the "% bets" to "% money", where Oregon is getting 54% of tickets but 61% of the money. Here's a look at the betting trends (% of tickets, and % of money) for the spread, moneyline, and total via our Pro Membership:

Villanova vs. Kansas (8:49 pm ET Saturday)
Kansas opened -2.5 at most books around the market but -3 at CRIS. Even though the public was all over Kansas from the start (73% of spread bets), the line has actually moved to Kansas -2, meaning that the sharper money has clearly been on Villanova so far. With such a small spread, it's also crucial to look at the moneyline %'s, where bettors are again lining up on Kansas. The Jayhawks covered more than 2/3 of their games this season and are the overall #1 seed in the tournament, but smart money is on the Wildcats right now. Here's a look at the spread ticket breakdown at each of our contributing books: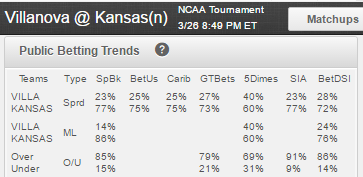 Kansas will likely be without reserve guard Brannen Greene due to a back injury and while his absence won't be significant, it's still one less player on the depth chart.
Syracuse vs. Virginia (6:09 pm ET Sunday)
Most people believed the ACC was the strongest conference all year, but Syracuse was not one of those teams high on people's list. They've pulled off wins against Dayton, Middle Tennessee State, and Gonzaga to reach the Elite 8 and now face their stiffest competition yet. BetOnline opened Virginia -8 and hasn't yet moved off the number. Most of the market still has this game off the board but we'll continue to update as new information comes through.
Notre Dame vs. North Carolina (8:49 pm ET Sunday)
BetOnline opened UNC -9.5 while CRIS opened -10 and Pinnacle -10.5. Books like BetUS and GTBets have already moved the Tar Heels to -10.5 and early public betting is high on UNC (68% of spread bets). If you like the underdog Irish, it's best to wait until the line moves up to +11. Even if it doesn't move up, that's a great indication that sharper money has come in on ND.
Here's a look at some betting trends since 2005 in the Elite 8:
Underdogs have gone 26-18 ATS
Double-digit underdogs have gone 3-0 ATS
Teams getting <50% of bets have gone 28-17 ATS
Teams getting <40% of bets have gone 8-3 ATS
West Virginia is the only team to get <30% of bets in the Elite 8 (won by 7 as 4-point underdogs in 2010)
And here's a look at some current futures:
To win the title via 5Dimes. Current vs. Preseason:
UNC +305 | +900
Kansas +335 | +1400
Virginia +470 | +1800
Oklahoma +610 | +3750
Oregon +710 | +12500
Villanova +760 | +2500
Notre Dame +2250 | +8500
Syracuse +2250 | +8500
Winning Region via BetOnline:
South +175 (Kansas, Villanova)
East +240 (UNC, Notre Dame)
West +310 (Oregon, Oklahoma)
Midwest +325 (Virginia, Syracuse)
Winning Conference via BetOnline:
ACC -115 (UNC, Virginia, Syracuse, Notre Dame)
Big 12 +175 (Kansas, Oklahoma)
Big East +750 (Villanova)
Pac 12 +750 (Oregon)
You can keep up with all the latest line moves, betting trends, injuries and more at our Free Live Odds page.
We're also proud to announce we've just released our MLB Early Bird Special which is 40% of the Pro membership through the baseball season.