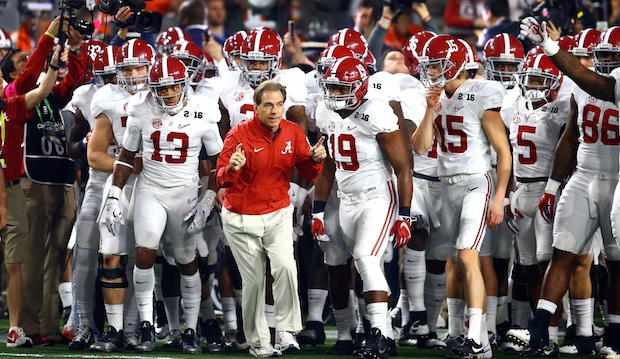 2016 College Football: Week 8 Opening Line Report
We've just about reached the halfway point of the College Football Season with Week 7 now in the books, and we still have Alabama and Ohio State as the top two teams in the nation. Underdogs have turned it on in the last couple weeks after favorites got off to a quick start. Now we look ahead to the crucial matchups in Week 8 and break down the early betting market.
Below I've shown the available lookahead lines over the summer from Golden Nugget, as well as odds from BetOnline and sharp offshore books:

Matchup
Oct 17 Current
(BetOnline)
Oct 16 Opener
(BetOnline)
July 8 Lookahead
(Golden Nugget)
Miami FL at Virginia Tech
VT -4
VT -4.5
VT -3
BYU at Boise
Boise -7
Boise -9
Boise -6.5
Oregon at Cal
Cal -3 (via CRIS)
Cal -3 (via CRIS)
Oregon -7
Utah at UCLA
Off Board (Rosen injury)
Off Board (Rosen injury)
UCLA -10
Texas A&M at Alabama
Bama -17
Bama -16.5
Bama -14
Arkansas at Auburn
Aub -9.5
Aub -9
Aub -3.5
Ole Miss at LSU
LSU -6
LSU -3
LSU -9.5
TCU at West Virginia
WVU -4.5
WVU -5
WVU -3
Miami FL at Virginia Tech (7:00 pm ET Thursday)
Early bettors seem unimpressed with Va Tech's loss at Syracuse last week and rightfully so. After crushing BC, ECU, and UNC, and also playing Tennessee close for a while, the Hokies lost to 'Cuse as -21 favorites last week. Right now over 60% of tickets is coming in on Miami-FL and they've moved from +4.5 to +4 around most of the market. Over the summer the lookahead line was VT -3 so not a whole lot has changed. In my opinion the Hurricanes are the better team so taking the points on the road looks like the smart bet.
BYU at Boise (10:15 pm ET Thursday)
Boise opened -9 at BetOnline and -9.5 at 5Dimes and actually moved to -10, but have since moved to -7 around most of the market behind the majority of bets on BYU. The line graph below shows a perfect illustration of initial sharp money on Boise before an influx of public money to move the line back down:

Boise is undefeated this season and looking to run the table, but face a tough BYU squad who has beaten Michigan State, Toledo, and Mississippi State. There are a number of games this weekend including this one where public bettors are happy to take the underdog and the points, which could present some value on the other side by the end of the week. Now that books have settled on -7, it will be interesting to see if the line comes back up due to sharper money.
Texas A&M at Alabama (3:30 pm ET Saturday)
Texas A&M opened +16.5, the highest underdog spread for a Top 10 team since the 2013 season where Miami FL closed +21.5 at FSU and lost by 27 points. Some of the market has already moved Alabama to -17, as they're clearly the best team in the nation. This is one of the most bet games of the week and public bettors could inflate the line on Bama, but only about 60% of tickets are taking the Crimson Tide right now, so books set a good number where they'd attract some Aggies bets. However, as I always say, they're like the Patriots: bet against them at your own risk, especially against good teams.
Arkansas at Auburn (6:00 pm ET Saturday)
Auburn was only -3.5 on the summer lookahead line, so opening -9 against a solid Arkansas team was a bit of a head-scratcher. Oddsmakers clearly view the Tigers to be a superior team, but initially I wasn't sure if a 5.5-point move from the summer is justified. I was proven wrong as the market has now moved to Auburn -9.5 so bettors have no problem taking the Tigers to cover the big spread. This is the most bet game of the weekend and books will likely take a ton of action on the underdogs at such a nice price. Public bettors are taking the points, while sharper bettors are laying the big spread.
Ole Miss at LSU (9:00 pm ET Saturday)
Books had to wait to release this line due to the status of LSU RB Leonard Fournette but BetOnline opened LSU -3 by late Sunday afternoon. On Monday morning once he was upgraded to probable, LSU moved to -6 around the market, which clearly shows how much of an impact he has for a team that struggles to throw the ball. Early spread tickets are just about even, and books should be able to attract wagers on both sides during the week. If Ole Miss reaches +7, that may be the time to grab them.