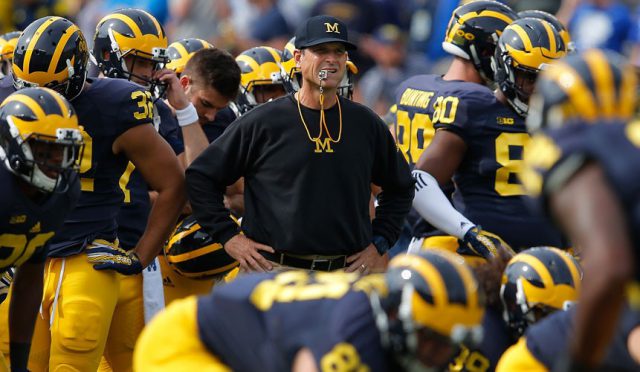 2016 College Football Week 5 Line Moves That Matter
Last week in this space, I explained that publicly backed underdogs have historically performed very poorly — particularly in the day's most heavily bet games. In order to minimize liability, sportsbooks will adjust their college football lines if one side is being hammered by public money. These artificially inflated lines have historically created value for opportunistic contrarian bettors since they're getting a better line purely based on the public perception.
Entering Week 4, favorites receiving less than 50% of spread bets had gone 19-13 ATS (59.4%) including a 12-8 ATS record (60.0%) in games where the number of bets was at least the daily average. In Week 5, the importance of focusing on heavily bet games when implementing a contrarian strategy was quite evident.
Last week there were ten favorites receiving less than 50% of spread games. When the number of bets was at least the daily average, contrarian favorites went 5-0 ATS. In games where the number of bets was less than the daily average, they went 0-5 ATS.
| Favorite | Underdog | Result | Favorite | Underdog | Result |
| --- | --- | --- | --- | --- | --- |
| Virginia Tech (-14.5) | East Carolina | VT 54-17 | Middle Tenn St (-4.5) | Louisiana Tech | MTSU 38-34 |
| Baylor (-7) | Oklahoma State | BAY 35-24 | Connecticut (-1.5) | Syracuse | SYR 31-24 |
| Kentucky (-2.5) | South Carolina | KEN 17-10 | North Carolina (-7.5) | Pittsburgh | UNC 37-36 |
| Tennessee (-4) | Florida | TEN 38-28 | Tulane (-3) | UL Lafayette | TUL 41-39 |
| Texas A&M (-7) | Arkansas | A&M 45-24 | Kansas State (-50.5) | Missouri State | KSU 35-0 |
This week there are fifteen favorites being avoided by public bettors including five in heavily bet matchups: Washington (-3.5 vs. STAN), Iowa (-13.5 vs. NW), Oklahoma State (-3 vs. TEX), Michigan (-10 vs. WIS) and USC (-10 vs. ASU). The public betting percentages may change before kickoff, so make sure to bookmark our free NCAAF odds page for the latest information.
Using the information available to Sportsbook Insider subscribers, I have examined the line movement for three of these games to determine what's responsible for early line movement.
Northwestern at Iowa (Saturday at 12:00 PM)
Entering the season there were many well-respected, sharp bettors picking Iowa as a longshot candidate to win the national championship. That dream died on September 17 when they lost to North Dakota State. In fact, the loss was just the fourth ever by a ranked FBS team against an FCS opponent. Perhaps that massive upset explains why casual bettors are wary about backing the Hawkeyes.
Iowa opened as 12-point favorites at the market-setting Pinnacle sportsbook, and they have received just 43% of spread bets at our contributing sportsbooks. Despite receiving a minority of public bets, the Hawkeyes have received 80% of total dollars wagered. This influx of money has caused the line to jump from Iowa -12 to 13.5.
[click image below to enlarge]

As game time approaches, it will interesting to see whether Iowa continues receiving such a high percentage of the money. There still hasn't been any buyback on Northwestern, so it will be curious to see whether the line hits the key number of 14 in the next two days.
Wisconsin at Michigan (Saturday at 3:30 PM eastern)
Despite their 4-0 record and last week's 30-6 upset victory over Michigan State, #8 Wisconsin opened as 10.5-point road underdogs against #4 Michigan. Public bettors are prone to taking the underdog when two ranked teams play each other, and Saturday's game has been no different.
At the time of publication, 68% of spread tickets and 65% of total dollars wagered were backing the Badgers. That one-sided public betting has caused the line to drop from Wisconsin +10.5 to +10.
[click image below to enlarge]

Since the start of the 2005 season, there have only been seven games where Wisconsin closed as double-digit underdogs. This would also mark just the 24th occasion in which a top-ten team closed as a double-digit favorite. Interestingly, those teams have gone just 9-14 ATS.
It's also worth pointing out that the public rarely bets against Jim Harbaugh. My research found that Harbaugh's teams have gone 5-1 ATS when receiving less than 50% of spread bets and 2-0 ATS when receiving less than a third of public support.
Arizona State at USC (Saturday at 8:30 PM eastern)
In a showdown between Pac-12 rivals, USC opened as 8-point home favorites at Pinnacle. Although the Trojans have received just 30% of spread tickets, they have received over 61% of total dollars wagered which has caused the line to move from USC -8 to -10.
[click image below to enlarge]

For many bettors, this marks the most confusing game of the week. Despite losing three of their first four games, USC is listed as a double-digit favorite against an undefeated divisional rival. Nonetheless, the reverse line movement and public betting percentages both indicate that sharp money likes the Trojans this weekend.
Interested in checking out our new money percentages and line charts for the entire slate of Week 4 games? Sign up now for a 4-day trial of Sportsbook Insider Pro.
In addition to the features shown in this post, subscribers also have access to our entire suite of live odds, public betting trends, steam moves, smart money alerts and our in-house Best Bet picks. We currently have six pending NCAAF Best Bets including:
Virginia at Duke
Connecticut at Houston
Rutgers at Ohio State
Have any questions for the staff at Sports Insights? Make sure to utilize our live chat or call us directly at 877-838-2853.