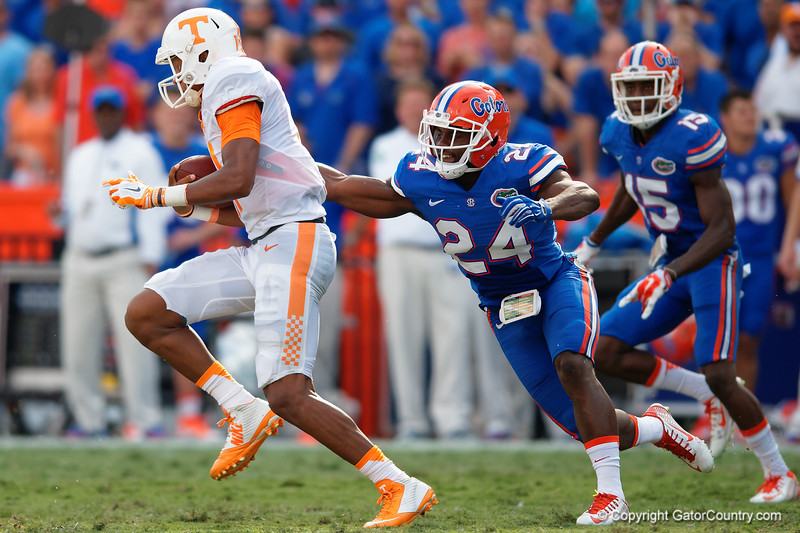 2016 College Football: Week 4 Opening Line Report
College football fans were probably hoping for more drama in Week 3, but instead there were a number of blowouts including Ohio State over Oklahoma and Louisville over FSU. Week 4 brings us some quality conference matchups including Florida at Tennessee, Wisconsin at Michigan State, and Stanford at UCLA.
The table below shows the lookahead lines over the summer from South Point and Golden Nugget in July, as well as early odds from BetOnline. Again, keep in mind that these early lines are lower limits and more speculative. The write-ups will delve in to how the sharper books are shaping the market:
Matchup
September 19
BetOnline
September 18
BetOnline
July 8
Golden Nugget
May 13
South Point
Florida at Tennessee
Tenn -6.5
Tenn -10
Tenn -11
N/A
Penn St at Michigan
Mich -19
Mich -16
N/A
N/A
Clemson at Georgia Tech
Clem -9
Clem -13
Clem -12.5
N/A
Wisconsin at Michigan St
N/A
N/A
Michigan St -3
N/A
Stanford at UCLA
Stan -3
UCLA -1
UCLA PK
N/A
Arkansas vs. Texas A&M
TexA&M -6
TexA&M -2.5
ARK -1.5
ARK -1.5
Clemson at Georgia Tech (Thursday 7:30 pm ET)
BetOnline opened Clemson -13 which was right on par with the summer lookahead line. However, early bettors clearly felt this number was too high and the Tigers were bet down to -10 by Monday morning. Sharp books like 5Dimes and Pinnacle opened Clemson -10 on Sunday night, and have been bet down to -8.5 despite 63% of tickets on the road favorites. Some sharper early money is clearly taking Georgia Tech as a double-digit dog, and the public will likely keep this line in between -8 and -10. Thursday night home underdogs have performed well historically, covering with a 6% ROI, but I'd be wary of taking GT at any number below +10.
Florida at Tennessee (Saturday 3:30 pm ET)
Similar to the Clemson/GT game, BetOnline opened this line (Tenn -10) nearly on par with the summer lookahead line (Tenn -11). However, since that time Florida QB Luke Del Rio got injured and will miss Saturday's contest. The Vols haven't beaten the Gators since the 2004 season, a string of 11 straight games, but are currently -260 on the moneyline (72.% chance of winning). They've only covered 3 games against Florida over that span as well, so the Gators have really owned the Vols. Early public bettors have been all over the road underdog here, with 81% of spread tickets taking Florida, which has moved the line down to -7 at CRIS and 5Dimes, and to -6.5 at Pinnacle. Here's a look at the line graph at BetOnline since opening Sunday afternoon:

I'm a huge Gators fan but based on the projected line and injury to Del Rio, Tennessee at -6.5 right now is a bet I'm willing to make.
Penn State at Michigan (Saturday 3:30 pm ET)
Oddly enough there was no lookahead line for this game despite Michigan coming into the season as a title contender. BetOnline opened Michigan -16 here and proved to be too short, as they're now up to -18.5 at CRIS. There's currently 63% of spread tickets on the Wolverines so it's not just public money moving this line. Now that this line is in a dead area, it could easily move to -20 and perhaps even -21.
Wisconsin at Michigan St (Saturday 12:00 pm ET)
Michigan State has certainly exceeded my expectations and got a huge road win at Notre Dame last week, while Wisconsin struggled at home against Georgia State. Those recent results will surely stick out to public bettors and would expect the majority of tickets to take Michigan State here. This line just opened Monday morning at many of the sharp sportsbooks so there hasn't been movement yet, but the lookahead line was Michigan State -3.5 back in July. I believe the adjustment is warranted and can see this line getting bet up to -7.
Stanford at UCLA (Saturday 8:00 pm ET)
A crucial game in the Pac-12, BetOnline actually opened UCLA -1 here but quickly moved to Stanford -3. Right now more than 2/3 of tickets is coming in on Stanford, but they've remained at -3 around the market. The majority of tickets will continue to come in on the short road favorites, but if this line does move to UCLA +3.5 or UCLA +4, I'd be looking to bet it.
Arkansas vs. Texas A&M (Saturday 9:00 pm ET at AT&T Stadium in Arlington, TX)
This has surprisingly turned into a key matchup with both teams ranked in the Top 20, and even stranger that this was the only Week 4 game that South Point released a line for back in May. South Point set the lookahead line at Arkansas -1.5, as did Golden Nugget in July. Then on Sunday afternoon BetOnline opened Texas A&M -2.5 and moved to -6 rapidly. The market has been sitting on Texas A&M -6 and spread tickets are fairly split at this point. In my opinion the current odds are an overreaction since Arkansas hasn't even lost yet, and would be taking the points, especially if the Hogs move to +7.