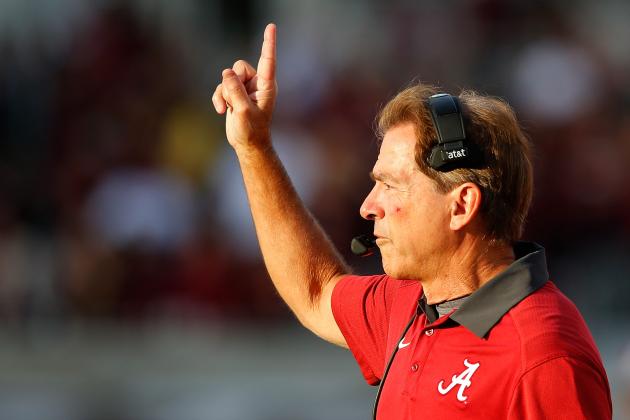 2016 College Football AP Poll vs. Title Odds
The 2016 College Football AP Poll was released on Sunday morning at 10 am ET and to no surprise, Alabama, Clemson, and Oklahoma are the top 3 schools. The table below shows the preseason AP Poll compared to each team's NCAA Title odds and playoff odds via 5Dimes:
AP Poll Rank
Team
Title Odds
(5Dimes)
Odds to Make Playoff
(5Dimes)
1
Alabama
+665
+145
2
Clemson
+710
+155
3
Oklahoma
+1095
+175
4
Florida State
+1350
+315
5
LSU
+900
+325
6
Ohio State
+1075
+195
7
Michigan
+1100
+240
8
Stanford
+2800
+425
9
Tennessee
+1450
+325
10
Notre Dame
+2200
+450
11
Ole Miss
+5200
+950
12
Michigan State
+8000
+1200
13
TCU
+5200
+850
14
Washington
+4500
+500
15
Houston
+10000
+1250
16
UCLA
+6000
+750
17
Iowa
+9500
+1400
18
Georgia
+6000
+950
19
Louisville
+7500
+1400
20
USC
+6000
+800
21
Oklahoma State
+10000
+1000
22
North Carolina
+13500
+1500
23
Baylor
+6000
+900
24
Oregon
+4800
+775
25
Florida
+5500
+1300
At first glance, Michigan State appears to be highly overrated by the AP Poll, as they sit at 80:1 to win the title by oddsmakers and are 12:1 just to make the playoffs. I took their Season Win Total Under 8.5 a couple months ago and am surprised to see them ranked so high this year.
A team that appears to be underrated by the AP Poll is Oregon, as they have better title odds at #24 than any other school ranked #15-25.
Another interesting team to watch for is Washington. They have decent title and playoff odds, and they're receiving a good portion of money at William Hill to win the Pac-12. Personally I like UCLA from the Pac-12, but that conference appears to be open with the likes of Stanford, USC, Washington, Utah, UCLA, and Oregon all in contention.
How have preseason #1 teams finished lately? To put it simply, they're not a good bet:
Where has the preseason #1 team finished in the rankings at the end of the season (via @CollPollArchive) pic.twitter.com/vYQrPsUBik

— Bet Labs Sports (@Bet_Labs) August 22, 2016
At 5Dimes, there's been sharp money on Clemson to make the playoffs. At CRIS, there's also been sharp money on Clemson to win the NCAA title, along with FSU, Alabama, LSU, and Ohio State. At William Hill, FSU and LSU are receiving the most money wagered to win their conference.
You can also find every team's odds to win the NCAA Title and to make the 4-Team Playoff.
Join us live Saturday mornings at 11am ET
We're now holding our members-only live Sports Betting Hangouts Saturday mornings to prepare you for a full day of College Football. Members, simply log into your account Saturday morning to access the hangout.
Not a member? Start a trial today to join our Sports Betting Hangouts held six days a week, plus all the other Sportsbook Insider Pro benefits.