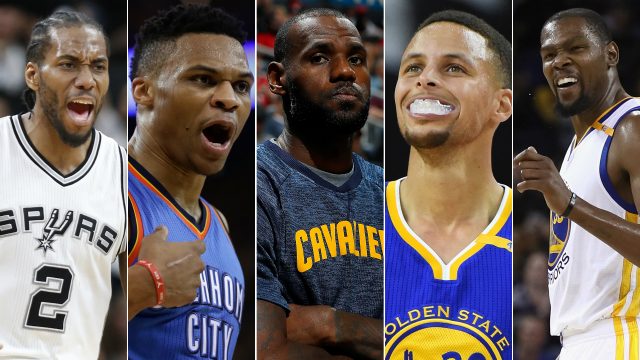 2016-17 Top NBA MVP Candidates
Although it may seem like the 2016-17 NBA season just tipped off, we're already done with one-quarter of the regular season. After one full month of action, a number of fascinating storylines have developed with several star players chasing history. The Warriors could become the first team to win at least 70 games in consecutive seasons, and nobody would bat an eye at the accomplishment. That's largely due to the incredible individual performances we have witnessed this season.
Russell Westbrook is on pace to become the first player to average a triple-double since Oscar Robertson in the 1961-62 season.
James Harden recorded back-to-back games with 30+ points and 15+ assists for the first time in league history.
LeBron James passed Hakeem Olajuwon for 10th on the all-time scoring list.
Stephen Curry set the NBA record for most three-pointers in a game with 13.
We have been updating the NBA MVP odds throughout the season, but these historical performances deserve closer examination. Reigning MVP Stephen Curry opened as the +250 favorite back in July, but bettors pounded Oklahoma City Thunder guard Russell Westbrook throughout the preseason. This influx of public money caused Westbrook to leapfrog Curry as the MVP frontrunner. Based on the early results, those bettors are looking prophetic.
[ View the latest NBA lines and trends on our free odds page ]
Westbrook entered the regular season with the shortest odds of winning the MVP Award (+350), the shortest odds of leading the league in scoring (+200) and the second-best odds of leading the league in assists (+300). Oddsmakers also indicated that Westbrook's absence would likely cause a 5-6 point line move, which tied him with LeBron James for the most valuable player in terms of spread value. Despite those lofty forecasts, Westbrook has somehow exceeded expectations.
Westbrook has already posted 10 triple-doubles in 21 games including a streak of five straight. On December 5, Westbrook was listed as the +180 favorite to win the NBA MVP Award at Paddy Power, but there are still several capable candidates nipping at his heels.
The list below examines the odds for the top six MVP candidates along with their implied probability of winning. It's important to note that most of these prop bets take low limits and bettors won't actually be paid out for nearly six months. It's also crucial for bettors to shop the best line since every sportsbook will have different odds.
1. Oklahoma City Thunder (13-8) guard Russell Westbrook: +180
Stats: 31.0 PPG, 11.3 APG, 10.8 RPG, 1.3 SPG, 42.6% FG, 33.0% 3PT, 82.1% FT
After losing Kevin Durant in free agency, everybody realized that Westbrook would be forced to shoulder an inordinate amount of Oklahoma City's offensive output. After all, Westbrook had previously averaged 28.0 points per game, 8.4 assists per game and 7.1 rebounds per game in 61 games without Durant. Still, few could have anticipated this level of production.
On Sunday, Westbrook became the first player since Michael Jordan in 1989 to post a triple-double in five straight games, however, it wasn't all sunshine and rainbows. Westbrook also had 10 turnovers in Sunday's victory, highlighting a season-long issue. Last season James Harden set the all-time record with 374 turnovers in 82 games (4.6 TOV) and Westbrook is currently on pace (5.7 TOV) to shatter that record. That's not entirely unexpected given Westbrook's usage rate, but it's a situation that bears monitoring.
Westbrook is re-writing the record books but, more importantly, the Thunder are winning despite losing Durant in free agency. Playing with as much fire as ever before, I'm surprised Westbrook isn't an even larger favorite — even at this early point in the season. Unless Westbrook suffers a major injury, he will be difficult to unseat as the favorite.
Implied probability: 35.71%
2. Houston Rockets (13-7) guard James Harden: +275
Stats: 28.3 PPG, 11.8 APG, 7.6 RPG, 1.3 SPG, 44.2% FG, 34.5% 3PT, 83.1% FT
Known primarily as a one-dimensional scorer, James Harden has been thriving as the point guard in coach Mike D'Antoni's uptempo system. Harden currently ranks fourth in the league in scoring (28.3 points per game) but, more surprisingly, he also leads the league with 11.8 assists per game.
Despite losing Dwight Howard in free agency, the Rockets have the fourth-best record in the Western Conference. That's particularly impressive since Houston was even money to miss the playoffs before the season. When asked for his MVP pick, Harden didn't mince word. "The Beard. Look at our record. Obviously the numbers, historic numbers. Just my performance overall."
Harden's odds of winning the MVP Award have already improved from +1400 to +275, but his current price doesn't seem to present much value. Not only is Westbrook posting better numbers, but he's also the far superior defender.
Implied probability: 26.67%
3. Cleveland Cavaliers (13-5) forward LeBron James: +450
Stats: 23.4 PPG, 9.4 APG, 7.7 RPG, 1.1 SPG, 49.8% FG, 35.1% 3PT, 70.3% FT
LeBron James, who was my preseason MVP pick, hasn't seen his odds change this season. James (+450) opened with the third-best odds of winning the MVP Award back in July, and that's exactly where his odds are today. The four-time MVP winner has seen his scoring drop by two points per game, but his assists per game have increased from 6.8 to 9.4.
The Cavs are coming off three consecutive losses, but they remain the odds-on favorite (-265) to represent the Eastern Conference in the NBA Finals. It's safe to say that James will likely remain in the MVP conversation throughout the season, but it seems like he's pacing himself for the playoffs. Although his stat line is impressive, LeBron's odds seem way too short.
Implied probability: 18.18%
4. San Antonio Spurs (16-4) forward Kawhi Leonard: +600
Stats: 24.3 PPG, 6.0 RPG, 3.3 APG, 2.2 SPG, 45.3% FG, 38.6% 3PT, 91.0% FT
Kawhi Leonard opened with 14/1 odds to be named the NBA MVP, and was one of the trendiest preseason picks. With money pouring in on Leonard, his odds improved from +1400 to +650 before the season even started. Leonard has rewarded these bettors by setting career highs in points per game (24.3), assists per game (3.0) and free throw percentage (91%).
The two-time Defensive Player of the Year has led the Spurs to a 16-4 record, but it seems unlikely that voters will reward Leonard's defensive prowess. For that reason, I would need much longer odds to warrant a wager on the 25-year old forward.
Implied probability: 14.29%
5. Golden State Warriors (17-3) forward Kevin Durant: +650
Stats: 27.3 PPG, 8.4 RPG, 4.8 APG, 1.8 BPG, 1.6 SPG, 56.2% FG, 42.9% 3PT, 87.1% FT
It's ironic that Durant has the fifth-best odds of winning the MVP Award while his two former Thunder teammates (Westbrook and Harden) are the early frontrunners. Still, I tend to believe that Durant should actually have slightly better odds given his early performance.
Although Durant is currently averaging the fewest field goal attempts per game of his career, his efficiency has been nothing short of spectacular. Durant's shooting a career-high 56.2% from the floor and 42.9% from downtown while setting a career-low in turnovers per game (2.2). It's also interesting to note that Durant's 1.8 blocks per game put him in the top 10 — ahead of elite shot blockers like DeAndre Jordan, Dwight Howard and Marc Gasol.
The Warriors likely won't win 73 games again this season, and some analysts may use that fact to detract from Durant's performance. That would be extremely narrow-minded. Durant's versatility has been crucial for the Warriors' early success and they're still on pace to win 70 games this season. Durant leads the league in win shares and the Warriors are odds-on favorites (-130) to win the title. He's clearly the best player on the league's best team, and may represent a slight value at +650.
Implied probability: 13.33%
6. Golden State Warriors (17-3) guard Stephen Curry: +1300
Stats: 26.9 PPG, 5.7 APG, 4.0 RPG, 1.5 SPG, 49.6% FG, 42.4% 3PT, 92.6% FT
With the addition of Kevin Durant, Curry's numbers have slipped across the board. In fact, his points (30.1 to 26.9), rebounds (5.4 to 4.0) and assists (6.7 to 5.7), are all down from last season. This has caused Curry's odds of winning his third straight MVP Award to dip from +250 to +1300 since July.
Curry is still one of the league's best players, but his teammate has been superior in nearly every aspect of the game. It's surprising to see Curry listed at 13/1, but it's tough to imagine any situation where Curry wins the MVP Award — especially given voters tendency to search for new storylines and overlook recent winners.
Implied probability: 7.14%
Other top candidates: Damian Lillard +2200, Anthony Davis +2200, Chris Paul +2500, DeMar Derozan +3300, Blake Griffin +3300
Which players do you think are offering value? Can anybody stop Westbrook from winning? Are any longshot candidates being undervalued? Please leave your thoughts in the comment section below.
Have any questions for the staff at Sports Insights? Utilize our live chat to speak with a customer service representative or e-mail us at help@sportsinsights.com.