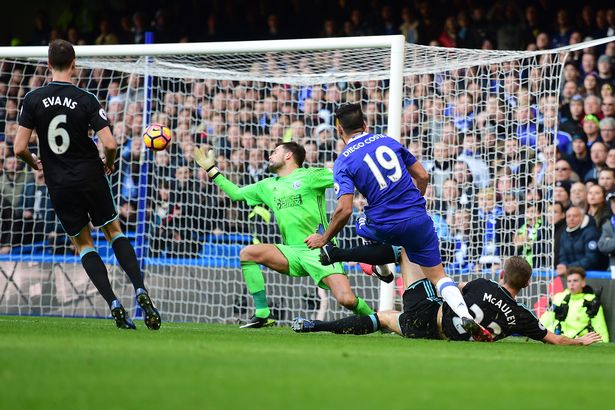 2016-17 Premier League: Week 37 Betting Preview
Just two weeks remain in the Premier League season and Chelsea can seal the title with a win Friday at West Brom. Some teams are still catching up on their schedules so you'll see multiple results from the past week.
Week 36 Results:
Chelsea -700 vs. Middlesbrough
Man City -381 vs. Crystal Palace
Leicester -150 vs. Watford
Arsenal -106 at Southampton
Arsenal +110 vs. Manchester United
Swansea +152 vs. Everton
Burnley/West Brom Draw +203
Bournemouth/Stoke Draw +247
Liverpool/Southampton Draw +316
Sunderland +528 at Hull
West Ham +740 vs. Tottenham
Season Trends:
Home: 173 wins of 355 (+33.33 units)
Away: 99 wins of 355 (-74.70 units)
Draw: 83 wins of 355 (-19.58 units)
Odds are now off the board for Chelsea to win the title, as they can seal it with a win on Friday afternoon at West Brom. Tottenham are 6 points behind and need Chelsea to draw or lose to have any outside chance at the title.
Last week's value plays went 1-2 but still up +12.30 units on the season. This week the first play will be on Southampton +103 at Middlesbrough. At the time of publication, Middlesbrough were getting nearly 60% of tickets despite being big underdogs. Despite public support, they've moved from +277 to +291, and this team has already officially been relegated. Just 1/3 of tickets are on Southampton but there's been line movement toward them since opening (opened +112, now +103 at Pinnacle). Southampton are actually the odds-on favorite at some sportsbooks, so this is a great chance to take the contrarian favorite on Southampton +103.
The other value play will be a moneyline parlay on Tottenham -139 (vs. Man United) and Man City -402 (vs. Leicester), which pays out +115. Both of these moneylines are getting <50% of tickets despite big favorites, which means I'm fading the trendy dogs again (Man United and Leicester). Both teams are playing at home, a trend that has been highly successful this season.
Most Lopsided Around Market: 86% on Bournemouth (-108) vs. Burnley
Biggest Line Moves at Pinnacle: Hull (+293 to +269) at Crystal Palace, Sunderland (+361 to +300) vs. Swansea
Value Plays (+12.30 units): Southampton +103 at Middlesbrough, Man City/Tottenham Parlay +115
There's just one week left in the season after this weekend, but we do provide odds and betting %'s for soccer leagues around the world including MLS, Champions League and Europa League.