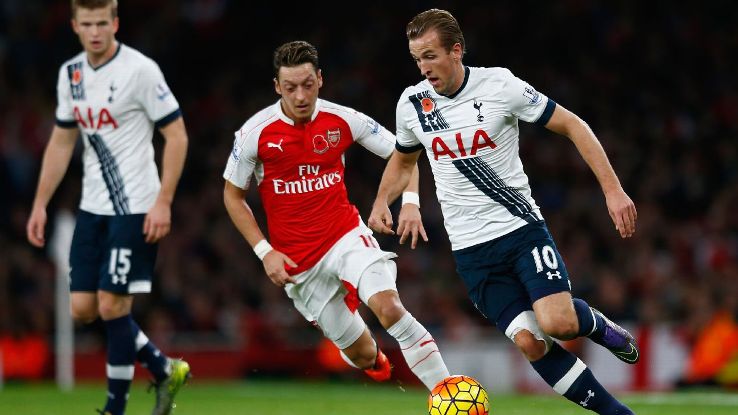 2016-17 Premier League: Week 35 Betting Preview
Just 4 weeks remain in the Premier League season and Chelsea remain at the top. Last week's value play got crushed with Middlesbrough losing 4-0 at Bournemouth as big +350 underdogs, but plays are still up +14.36 units on the season. Not every team has played the same number of games at this point, so you'll see some teams playing twice within a week to catch up, like Middlesbrough and Man Utd last week.
Week 34 Results:
Chelsea -218 vs. Southampton
Arsenal -217 vs. Leicester
Tottenham -170 at Crystal Palace
Man Utd -127 at Burnley
Hull -112 vs. Watford
Bournemouth -111 vs. Middlesbrough
Middlesbrough +121 vs. Sunderland
Swansea +132 vs. Stoke
Man City/Man Utd Draw +246
West Ham/Everton Draw +267
Crystal Palace +660 at Liverpool
Season Trends:
Home: 166 wins of 334 (+35.42 units)
Away: 92 wins of 334 (-75.60 units)
Draw: 76 wins of 334 (-28.07 units)
Title Odds at 5Dimes and Current Points:
Chelsea -950 (78)
Tottenham +700 (74)
Man City +250000 (65)
Liverpool +500000 (66)
Man Utd +500000 (64)
The big matchup of the weekend is Arsenal at Tottenham, a rivalry game in which both teams have a lot at stake. Tottenham look to keep the pressure on Chelsea at the top of the league while Arsenal are battling to reach a coveted Top-4 spot. Tottenham are slight favorites but have increased from -102 to -123 since opening.
The only value play for this weekend will be a draw– West Brom/Leicester +229. Right now there's 14% of tickets on the draw but very heavy on road dogs Leicester (59%). West Brom only have 2 home draws all season while Leicester have only 1 away win. These teams are very even at this point despite West Brom being 7 points ahead in the table. I liked how Leicester played against Arsenal midweek, and they should have earned a point. This weekend I think they will get 1 against a weaker West Brom squad.
Most Lopsided Around Market: 96% on Crystal Palace (-124)
Biggest Line Move at Pinnacle: Bournemouth (+156 to +133) at Sunderland
Value Plays (+14.36 units): West Brom/Leicester Draw +229
Premium and Pro access to all lines, betting %'s and market data.
Bet Labs signup for beta testing