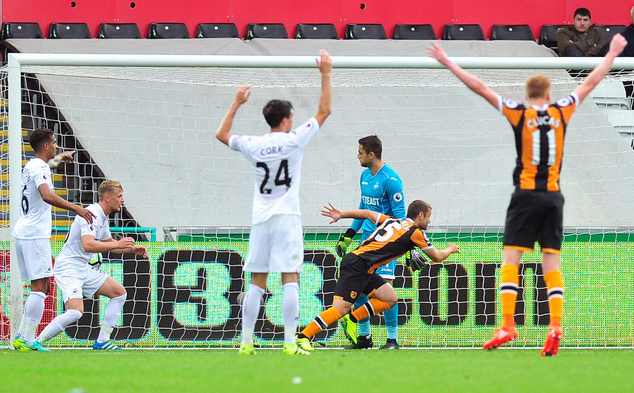 2016-17 Premier League: Week 3 Betting Preview
Last week was solid for public bettors as the most lopsided bet teams went 4-2. Our value picks therefore suffered a bit going 0-4, but we're ready for a bounce back week. First, here's a look at the results around the Premier League for Week 2:
Tottenham -211 vs. Crystal Palace
Man Utd -190 vs. Southampton
Man City -170 at Stoke City
Chelsea -152 at Watford
West Ham +140 vs. Bournemouth
Everton +160 at West Brom
Middlesbrough +200 at Sunderland
Arsenal/Leicester Draw +250
Hull +395 at Swansea
Burnley +625 vs. Liverpool
One of the bigger stories from Week 2 was Burnley's upset over Liverpool as +625 underdogs. Liverpool was coming off a huge road win at Arsenal in the opening week and dominated possession against Burnley, but weren't able to come away with anything. These types of upsets will happen every week in the EPL, but blindly taking every big underdog still is not a profitable strategy. We also only saw one draw out of 10 matches, which is surprising considering how even and competitive most games were.
Through 2 weeks of the Premier League season, home teams have won just 7 of 20 games (-0.11 units) while road teams have won 9 of 20 (+3.2 units), and the draw has cashed in 4 of 20 games (-5.73 units)
Hull got another big win, this time over Swansea (a team I believe will be relegated this season). Hull had the best odds to be relegated before the season at -140 and although they've now earned 6 points out of 6, they're still listed at -110 to be relegated. Oddsmakers clearly don't believe their form is sustainable, and they're in for a tough test this weekend against Manchester United. The public is of course hammering Man United, moving them from -200 to -220, but I'm not ready to jump on Hull this week. It'll be tough for them to get a point out of this game and I'll be probably be laying off this one entirely while rooting for Hull to pull the upset.
The biggest matchup is probably the first game on Saturday morning between Liverpool and Tottenham. As of Friday afternoon, betting percentages are relatively even with just 6% of bets taking the draw. Most books will take considerable action on both sides to win and the eye test says Tottenham should come out victorious. However, these teams are prone to letdowns and I like the value on the draw at +260. Here's a look from our Live Odds page showing some sharper money taking the draw here:

A bettor's conundrum for me this week is Arsenal -135. It's a bit of a square pick and have already lost twice taking Arsenal to win straight up this year, and a third in a row would look rather pathetic. However, Watford is a team Arsenal have continued to find success against, and it's not an understatement to say Arsenal need all 3 points badly in this game. I'm not about to give up on my preseason title winner and like Arsenal -135 to take care of business.
The last two value picks this week will be two more draws: Crystal Palace vs. Bournemouth, and Leicester City vs. Swansea. Both Crystal Palace and Leicester City are being publicly backed on home soil, but I can't trust either team right now.[easy-tweet tweet="Both Crystal Palace and Leicester City are being publicly backed on home soil, but I can't trust either team right now"] Therefore I think there's value on both of the visitors to steal a point.
Most lopsided bets around the market: 80% on Crystal Palace, 76% on Manchester United, 75% on Arsenal, 73% on Manchester City
Biggest Line Moves at CRIS: Man United (-200 to -220), Leicester (-128 to -141), Crystal Palace (+135 to +124)
Value picks: Tottenham/Liverpool Draw +260, Arsenal -135 (yes, again), Crystal Palace/Bournemouth Draw +230, Leicester City/Swansea Draw +285
Feel free to agree/disagree in the space below and best of luck in Week 3.