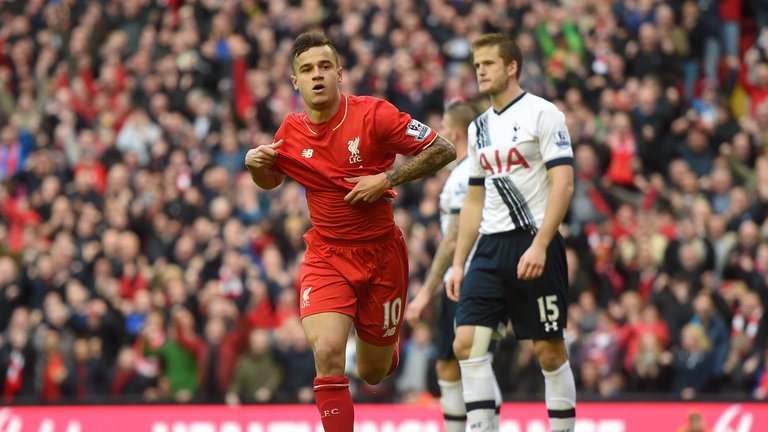 2016-17 Premier League: Week 25 Betting Preview
Last week saw more big upsets, with wins by Hull, Sunderland, and West Ham. There were no draws in Week 24 and home teams won 7 of 10 matches. This weekend's biggest matchup will be Liverpool hosting Tottenham on Saturday night. Chelsea have widened their gap at the top of the table to 9 points ahead of Tottenham and 10 points ahead of Manchester City.
Week 24 Results:
Man City -465 vs. Swansea
Tottenham -350 vs. Middlesbrough
Everton -142 vs. Bournemouth
Man Utd -133 at Leicester
Chelsea +108 vs. Arsenal
Watford +113 vs. Burnley
West Brom +141 vs. Stoke
West Ham +400 at Southampton
Sunderland +481 at Crystal Palace
Hull +615 vs. Liverpool
Season Trends:
Home: 115 wins of 240 (+21.36 units)
Away: 70 wins of 240 (-38.25 units)
Draw: 55 wins of 240 (-15.54 units)
Title Odds at 5Dimes and Current Points:
Chelsea -700 (59)
Man City +1200 (49)
Tottenham +1500 (50)
Man Utd +5000 (45)
Arsenal +5000 (47)
Liverpool +5500 (46)
Value plays have hit a bump in the road lately but are still up +6.73 units this season and I'm not straying from profitable strategies. This weekend there are two draws I like– Middlesbrough/Everton +230 and Swansea/Leicester +225.
Both of these draws are getting very little support from public bettors, with just 7% of tickets on the Middlesbrough/Everton Draw, and just 10% of tickets on the Swansea/Leicester Draw. Again, I cannot trust Everton on the road as small favorites, especially when they're getting over 70% of moneyline tickets to win straight up. The odds of the draw have also fallen slightly since opening, from +230 to +225. I wouldn't be surprised to see public bettors inflate this line until game time, but fade the public and go with the draw at +230 odds.
The other value play is the Swansea/Leicester draw at +225 odds. Swansea have played better of late and have dug themselves out of the relegation zone, now level on points with Leicester. Last season's champions have been awful in the Premier League this year, but have performed incredibly well in the Champions League, which starts back up next week. That should provide a lift and confidence in Leicester that we haven't seen in a couple of months. Since opening at Pinnacle, the draw line has moved from +239 to +230 despite just 10% of tickets.

The public is heavy on Swansea but this is a rare game where they're expected to win. I don't like those expectations for teams that are overperforming lately, and this should be a hotly contested game where both teams need points, and I think both will.
Most Lopsided Around Market: 83% on Stoke (+103), 71% on Everton (+115)
Biggest Line Moves at CRIS: West Brom +273 to +245, Middlesbrough +280 to +270
Value Plays (+6.73 units): Middlesbrough/Everton +230, Swansea/Leicester Draw +225
As always, our Premium and Pro members can follow all the latest odds, betting percentages, line moves and more with a Sports Insights membership.