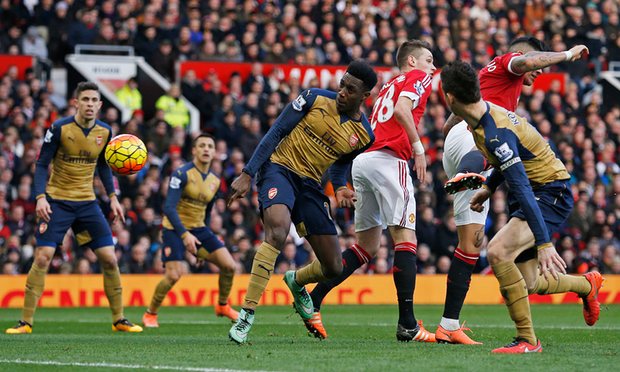 2016-17 Premier League: Week 12 Betting Preview
Last week was full of big payouts including Middlesbrough drawing Manchester City at +655 odds, as well as Hull +475, West Brom +465, and Sunderland +460 all scoring huge upsets. Our value picks unfortunately went 0-2 last week but are still up a healthy +7.39 units on the season. Below shows last week's results, the latest title odds, and a preview for Week 12.
Week 11 Results
Liverpool -350 vs. Watford
Chelsea -202 vs. Everton
Manchester United -145 at Swansea
West Ham/Stoke Draw +255
Burnley +260 vs Crystal Palace
Arsenal/Tottenham Draw +263
Sunderland +460 at Bournemouth
West Brom +465 at Leicester
Hull +475 vs. Southampton
Manchester City/Middlesbrough Draw +655
Season Trends
Home: 46 wins of 110 (-1.84 units)
Away: 35 wins of 110 (-21.05 units)
Draw: 29 wins of 110 (+7.60 units)
Here are the current Premier League title odds at 5Dimes
Man City +230 (24 points)
Chelsea +270 (25)
Liverpool +270 (26)
Arsenal +600 (24)
Tottenham +1600 (21)
Man United +2000 (18)
Everton +35000 (18)
Leicester +40000 (12)
The biggest matchup of Week 12 is at Old Trafford between Manchester United and Arsenal. Most Premier League fans know the story of managers Jose Mourinho and Arsene Wenger and how Mourinho has absolutely owned Wenger lately. It's hard to admit that as an Arsenal fan, but Manchester United have also found great success against the Gunners lately, so there will immense pressure on Arsenal to perform. I'd love to be a homer fan and take Arsenal at +190 but United always find a way to get a result against Arsenal. Therefore I'm simply laying off and hoping Arsenal don't embarrass themselves again.
As for value plays, I've got two for this week and they're both draws. First I'll start with Leicester/Watford +230. Leicester is coming off a tough loss to West Brom last week while Watford got pummeled at Liverpool. Both teams will be fighting for at least a point, and the public majority (52%) is on Leicester despite the +165 odds while 35% is on Watford +190. Only 12% of moneyline bets are taking the Draw at +230 odds, and that's where I feel the value lies since we'd expect to see a draw a little over 30% of the time. Add in the fact that there's such a low opening total of 2 and I think there's a good chance we see a 1-1 result, so take the draw at +230.
The other value play for this week will be the Everton/Swansea Draw at +336 odds. Once again I'm buying low on these squads as Everton were embarrassed 5-0 at Chelsea in Week 11 while Swansea lost at home to Manchester United 3-1. The Swans are now level on points with Sunderland at the very bottom of the table and are 6 points away from the relegation zone. This does no bode well at all and they'll need to get results soon or else they'll be a lock to be relegated by the midseason point. Swansea is playing with new American manager Bob Bradley and they've looked OK at times against the big squads. Right now only about 5% of tickets are taking the draw while the public has been hammering Everton. However, the line has barely moved from the opener which indicates that it's all square money on Everton at this point. Obviously the draw at +336 odds is risky but I do think they can steal a point on the road against a prone Everton squad.
Most lopsided: 82% on Man City -182, 77% on Tottenham -189, 76% on Chelsea -173
Biggest Line Moves: Man Utd +166 to +156, Middlesbrough +633 to +563, Bournemouth +255 to +243
Value Plays (+7.39 units this season): Watford/Leicester Draw +230, Everton/Swansea Draw +336