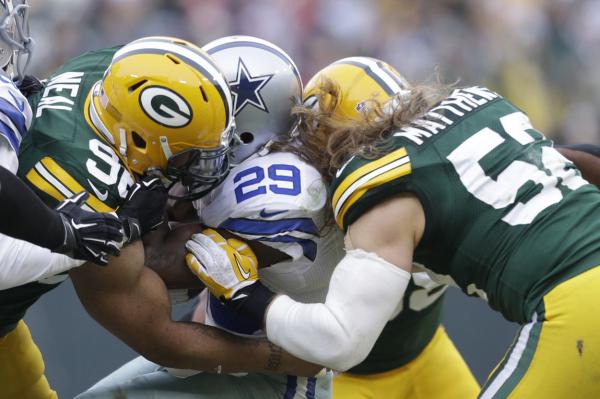 2016-17 NFL Divisional Round: Opening Line Report
The Wild Card Round gave us four favorites who all won outright and covered the spread (HOU, PIT, SEA, GB), and no game was really close in the 4th quarter. Hopefully the Divisional Round will provide more entertainment, but there's one matchup that looks like it could be a blowout. Below shows the lookahead lines before the Wild Card Round started, as well as openers and current lines from 5Dimes:
Matchup
Current
January 9
Open
January 8
Lookahead
January 5
Lookahead
January 3
SEA at ATL
ATL -4.5
ATL -4
ATL -3
ATL -3
HOU at NE
NE -15.5
NE -14.5
NE -14
NE -12.5
PIT at KC
KC -1.5
PIT -1
KC -3
KC -3
GB at DAL
DAL -4
DAL -3
DAL -4.5
DAL -4.5
Seahawks at Falcons (Saturday 4:35 pm ET)
This was the first Divisional Round game on the board, and late Saturday night the Falcons opened -3.5 at BetOnline and -4 at 5Dimes. Early bettors have been flocking towards Atlanta, with around 66% of spread tickets and 80% of spread money laying the points at home. Behind the support of the public, Atlanta has moved to -4.5 around the market which has possibly created some value on Seattle. It's clear the most bettors don't feel comfortable taking the Seahawks on the road, but they also received <50% of tickets last week at home against the Lions, a game they easily covered. Here's a look at the line graph from BetOnline for the opening game of the weekend:

Texans at Patriots (Saturday 8:15 pm ET)
This game opened with the highest playoff spread we've ever tracked at NE -15.5, but it's the lowest total of the weekend at 44.5. New England is no stranger to big spreads, especially in the playoffs, as they account for the 3 highest we've ever tracked in our Bet Labs database since 2003:
NE -14 v DEN on 1/14/12 (Covered)
NE -14 v SD on 1/20/08 (Did not cover)
NE -13.5 v JAX on 1/12/08 (Did not cover)
SEA -13.5 v CAR on 1/10/15 (Covered)
The Texans will be turning back to QB Brock Osweiler, and there's some potential snow in the forecast for the Foxboro area on Saturday night. Even with the huge spread, more than 70% of spread tickets are taking the Patriots to cover, and it's hard to ever argue going against New England. They've been an ATS-machine over the last 15 years, and were the best ATS team in the NFL this season. This line has been bouncing around between -15.5 and -16 since opening, and wouldn't be surprised to see it get up to -16.5 and maybe even -17 during the week.
Steelers at Chiefs (Sunday 1:05 pm ET)
Big Ben is probable with an ankle injury, but he was seen in a walking boot following Pittsburgh's win over Miami on Sunday. The lookahead line liked KC as faves, but Pittsburgh's performance over Miami altered that line a bit. The market actually opened Pitt -1 but after news of Roethlisberger's injury, moved to +1 quickly. Tickets have been fairly even since the line opened, and the market will like flip-flop between KC -1 and PIT -1 during the week. You'll definitely want to keep an eye on Roethlisberger's status even if he stays probable, as the injury could affect his play.
Packers at Cowboys (Sunday 4:40 pm ET)
In the marquee matchup of the weekend, 5Dimes opened Dallas -3 vs. Green Bay but that line quickly moved up. Since the line opened before Green Bay's game with the Giants ended, Jordy Nelson's injury partially impacted the move, as Dallas increased to -3.5 and -4 around the market. He's questionable for next week but more than 66% of spread tickets are taking Green Bay to cover with the points. However, the money is more even, indicating that public bettors are taking Green Bay and sharper bettors are taking Dallas.
All Premium and Pro members can track the latest odds, ticket %'s, money %'s, breaking injuries, weather forecasts, referee assignments and more.