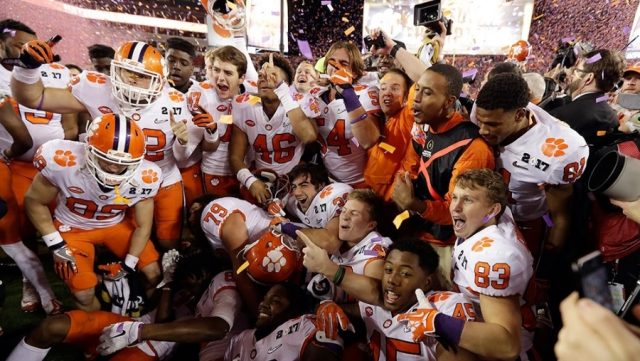 2016-17 NCAAF Bowl Season Recap
With Clemson upsetting Alabama in a wild National Championship game last night, it's a good time to recap the entire bowl season.
Public bettors put a hurt on the books last night with Clemson covering and winning outright. Clemson received 58% of spread bets and 67% of moneyline bets at our seven contributing sportsbooks. Considering there were about 50,000 more bets on this game than any other bowl game, the books were rooting for Alabama in a big way and felt the consequences when Clemson pulled through.
Vegas books suffer "the worst loss in any college football game I can remember," manage to open for business today: https://t.co/qJ36iwvTsx

— David Payne Purdum (@DavidPurdum) January 10, 2017
As a whole, betting against the public was very profitable this postseason. Going contrarian is one of our foundational approaches and this bowl season was a great example of why fading the public is the way to go. Favorites and publicly bet teams fared terribly and those who took a contrarian approach made out like bandits.
| Public Betting | Record (ATS) | Win Rate | Units Won/Lost | ROI |
| --- | --- | --- | --- | --- |
| 51%+ | 27-37 | 42.2% | -10.8 | -16.9% |
| ≤50% | 39-29 | 57.4% | +6.9 | 10.2% |
| ≤40% | 22-11 | 66.7% | +9.5 | 28.7% |
| ≤30% | 6-1 | 85.7% | +4.5 | 63.7% |
As you can see by the table, publicly bet teams were a losing proposition, which is why public bettors tend to lose in the long run. Meanwhile, the more contrarian you went this postseason, the better you fared. The only team receiving 30% or less that failed to cover the spread was Wofford, who played Youngstown State in the FCS Quarterfinal on December 10th.
Here are some more ATS trends:
Favorites: 26-40, -15.3 units
Dogs: 40-26, +11.4 units
Dogs between +1 and +10.5 points: 34-14, +17.9 units
Favorites between -11 and -25.5 points: 12-6, +5.2 units
Dogs were also profitable straight up, going 23-43 for +5.1 units. In games with totals of 60 or more, dogs went 8-13, winning eight units.
The biggest upset took place in the Idaho Potato Bowl, where Idaho upset Colorado State 61-50. Idaho was a 16 point dog and closed at +481 on the moneyline.
Here are some other big upsets:
San Diego over Cal Poly: +425
Youngstown State over Eastern Washington: +350
Wake Forest over Temple: +310
Minnesota over Washington State: +306
Baylor over Boise State: +242
Most Heavily Bet Games
Clemson vs. Alabama- National Championship: 142,466
Ohio State vs. Clemson- Fiesta Bowl : 94,975
Washington vs. Alabama- Peach Bowl : 94,528
USC vs. Penn State- Rose Bowl : 79,751
Auburn vs. Oklahoma- Sugar Bowl : 73,043
As far as totals are concerned, the under was very profitable, going 38-28 (+6.8 units). Considering how much public bettors love taking the over, it should come as no surprise that going contrarian and taking the under was a smart decision. When the under was receiving 30% of bets or less, it went 21-8 (+11.4 units).
The lower totals is where over bettors reigned supreme. In games with a total of 50 or less, the over went 12-5 (+6.2 units).
If you have any thoughts or questions, feel free to reach out to the Sports Insights staff by utilizing our live chat feature, commenting below, or emailing us at help@sportsinsights.com.