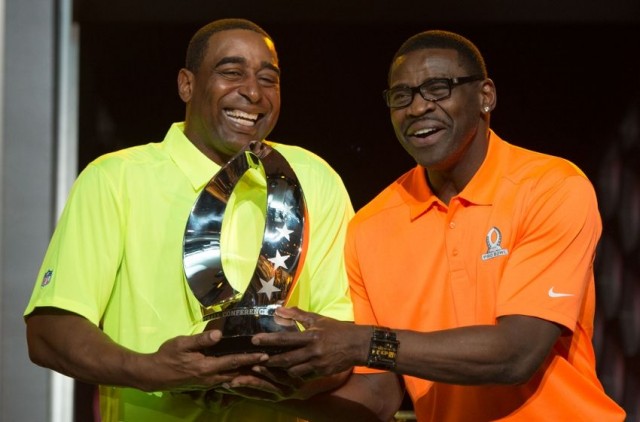 2015 Pro Bowl Betting Analysis
The 2015 Pro Bowl kicks off this Sunday at 8:00 PM ET when a team coached by Cris Carter will face off against a team coached by Michael Irvin. For the second straight year, the NFL has eschewed the traditional AFC vs. NFC format in favor of randomized rosters determined by Hall of Fame captains.
The Pro Bowl rosters were completed on Wednesday night after an intensive draft process in which Carter selected Colts QB Andrew Luck with the first overall pick. Irvin selected seven players from the Cowboys including QB Tony Romo with the second overall pick. Bettors can view full rosters here.
CRIS, a respected offshore sportsbook, opened Team Carter as a 1.5-point favorite with a total of 79. In early action, 50% of bettors have taken the under yet the total has dropped all the way down to 73. There has also been a steam move triggered on Under 76.5 at CRIS, indicating that sharp money is responsible for the 6-point line move. We've also seen 56% of early spread bettors taking Team Irvin although the line has yet to move.
Historically there have been two main schools of thought for Pro Bowl bettors: take the underdog on the moneyline and pound the over. The reasoning is simple enough — neither team plays defense which leads to high-scoring games and unpredictability. This erratic scoring disproportionately favors the underdog since bettors would be receiving plus money.
As you can see from the screenshot below, betting the underdog on the moneyline would have resulted in a 6-4 record with +4.9 units won since 2004. The 2011 Pro Bowl is not listed because the game closed as a pick 'em at Pinnacle.

While taking moneyline underdogs continues to be a sound betting strategy for Pro Bowl bettors, we were curious whether betting the over was legitimately profitable. Since 2004, the over has gone 6-5 which includes a 4-1 mark over the past five years. However, it's interesting to note how the total has been trending.

Back in 2004, the Pro Bowl total was only 51.5 but that number has continually climbed and actually reached an all-time high of 89 last season. Despite that astronomical over/under, only 43 points were scored with Team Rice defeating Team Sanders 22-21. Following that disappointing output, oddsmakers have dropped the 2015 Pro Bowl total 10-points to 79. Part of that decrease in scoring is due to the large number of rule changes implemented prior to last season's game. Those changes include:
The addition of a two-minute warning after the first and third quarters.
The clock will now stop if the offense fails to gain at least 1 yard.
The game clock will start after an incomplete pass except inside the final two minutes of the first half and the final five minutes of the second half.
Defenses will be allowed to play cover two and press coverage (In past years only man-to-man coverage was allowed).
In an attempt to force teams to operate their two-minute drill, both teams will be forced to change possession at the end of each quarter.
In an attempt to speed up the pace of the game, the play clock will be changed from 40 seconds to 35 seconds.
Kickoffs have been eliminated and each team will start with the ball on their own 25-yard line.
Bettors can view the latest Pro Bowl odds and betting trends on our free NFL odds page but make sure to leave any thoughts, comments or questions in the section below.
Join us live Sundays at noon ET
We're now holding our members-only live Sports Betting Hangouts Sunday mornings to prepare you for a full day of NFL games. Members, simply log into your account Sunday morning to access the hangout.
Not a member? Start a trial today to join our Sports Betting Hangouts held six days a week, plus all the other Sportsbook Insider Pro benefits.