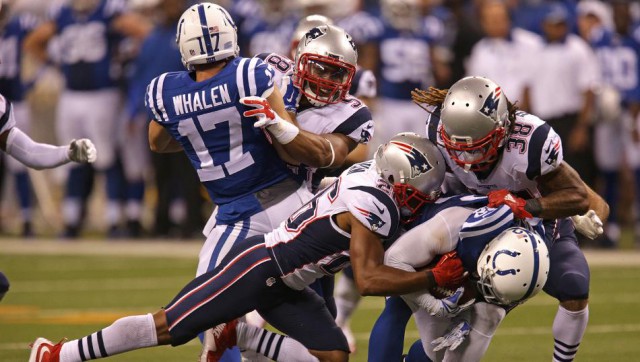 2015 NFL Season: Week 6 Betting Recap
Every Tuesday morning, the team at Sports Insights will examine some of the most interesting trends and results from the past week's NFL action. We'll also look at our betting systems, prop bets, bad beats and more before looking ahead to the following week.
– In Week 6 underdogs were 10-4 ATS, home teams were 8-6 ATS, and home underdogs were 5-1 ATS. On the season, underdogs are 49-40 ATS, home teams are 41-47 ATS and home underdogs are 15-13 ATS.
– Week 6 was very profitable for betting against the public, with teams receiving less than 50% of spread bets posting a 9-4 ATS record. That includes a 5-2 ATS mark for teams receiving less than 35% of spread bets and a 2-0 ATS mark for teams receiving less than 25% of spread bets.
– Early in the week, the Patriots looked like they would be the most lopsided bet game in our database. Not only were they receiving 92% of spread bets (tied for the most lopsided since 2003), but the number of bets tracked was higher than four smaller games combined.
We have tracked more bets on Sunday's Pats/Colts game (25,089) than we have on BAL/SF, NYG/PHI, MIA/TEN and HOU/JAX combined (21,157).

— Sports Insights (@SportsInsights) October 16, 2015
– Ultimately the Pats received 76% of spread bets, which pushed the line from -7 to -8. The Colts ended up losing by 7-points and covering, but not before arguably the worst play call of the past decade.
– The play call came on a key 4th and 3 in the third quarter with the Colts trailing by just 6-points. The Patriots scored on the subsequent possession to take a 13-point lead. The call showed little faith in the Colts defense and could cause Chuck Pagano to lose his job. The interest quickly reacted with the predictable round of jokes and memes, perhaps none better than this recreation using Techmo Bowl (although Bo Jackson still would have scored on the play).
– In Week 6 the over went 9-4 pushing the season record to 47-42.
– Contrarian plays on the over are rare, but this season the over has gone 9-4 when receiving less than 50% of public support.
– In may not seem like rocket science, but unders have been historically profitable when the closing total is high and overs have performed well when the total is low. This season the over has gone 25-11 (+12.54 units) when the total is less than 44. The under has gone 6-2 when the closing total is at least 50.
– Before the start of the week, Dan Quinn (+300) was the favorite to win NFL Coach of the Year. He was followed by Bruce Arians (+500), Mike McCarthy (+600), Bill Belichick (+800), Marvin Lewis (+800) and Todd Bowles (+800). The Falcons and Cardinals both lost last night, so it will be interesting to see who opens as the favorite next week.
– Divisional favorites include Cardinals (-110), Patriots (-2000), Colts (-600), Bengals (-500), Broncos (-2500), Packers (-5000) and Atlanta/Carolina (+100).
– There are still five remaining undefeated teams and the Patriots and Packers have the best odds of running the table.
Perfect Regular Season Odds (16-0) Patriots +600 Packers +1000 Bengals +2500 Broncos +5000 Panthers +6600

— Sports Insights (@SportsInsights) October 20, 2015
– We mentioned the Colts backdoor cover against the Patriots, but there was another bad beat in the early games on Sunday. The Packers/Chargers total closed at 50, and the over looked like a great bet late in the game. Leading 24-20 in the 4th quarter, Aaron Rodgers missed a wide open Richard Rodgers in the end zone on third and goal and Green Bay had to settle for a field goal. On the next drive, Philip Rivers drove the Chargers to the 2-yard line before stalling out with three straight failed plays.
– With their win over Indy, the Patriots (+310) have leapfrogged the Packers (+350) as the Super Bowl favorite at 5Dimes. This is interesting because the NFC is listed as a 1-point favorite over the AFC in the Super Bowl.
– The Patriots odds of posting a perfect 19-0 season are currently +1300 — there are only two team's with better odds of winning the Super Bowl (Packers +350 and Bengals +925).
– The list before displays the current Super Bowl 50 Futures at 5Dimes. Some of the most significant line moves since the start of the season include Seattle (+550 to +1600), Indianapolis (+800 to +2300), Dallas (+1500 to +4700), Ravens (+1700 to +57500) and Panthers (+4500 to +1850).
New England Patriots +310
Green Bay Packers +350
Cincinnati Bengals +925
Denver Broncos +1375
Arizona Cardinals +1500
Seattle Seahawks +1600
Carolina Panthers +1850
Pittsburgh Steelers +2100
Indianapolis Colts +2300
Philadelphia Eagles +2400
Atlanta Falcons +2500
New York Giants +4000
New York Jets +4500
Dallas Cowboys +4700
Minnesota Vikings +7000
San Diego Chargers +7500
Buffalo Bills +10000
St Louis Rams +10000
New Orleans Saints +17500
Miami Dolphins +18500
San Francisco 49ers +25000
Kansas City Chiefs +30000
Oakland Raiders +35000
Washington Redskins +37500
Detroit Lions +45000
Houston Texans +50000
Tampa Bay Buccaneers +50000
Tennessee Titans +50000
Chicago Bears +55000
Baltimore Ravens +57500
Cleveland Browns +85000
Jacksonville Jaguars +100000
Make sure to bookmark our free NFL odds page for the latest lines, public betting trends, injuries, futures and more. Have any questions for the staff at Sports Insights? Utilize our live chat to speak with a customer service representative or e-mail us at help@sportsinsights.com.
Join us live Sundays at noon ET
We're now holding our members-only live Sports Betting Hangouts Sunday mornings to prepare you for a full day of NFL games. Members, simply log into your account Sunday morning to access the hangout.
Not a member? Start a trial today to join our Sports Betting Hangouts held six days a week, plus all the other Sportsbook Insider Pro benefits.