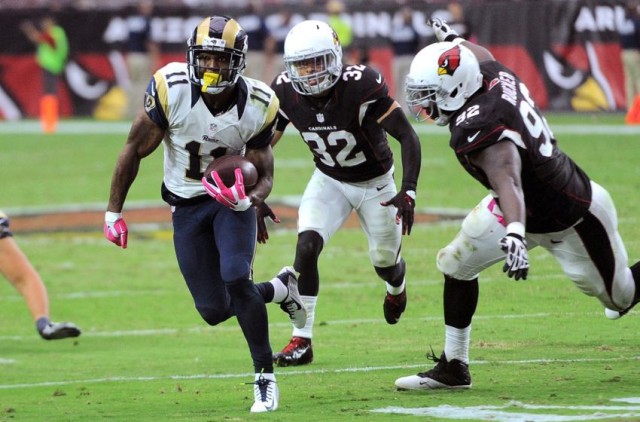 2015 NFL Season: Week 4 Betting Recap
Every Tuesday morning, the team at Sports Insights will examine some of the most interesting trends and results from the past week's NFL action. We'll also look at our betting systems, prop bets, bad beats and more before looking ahead to the following week.
– In Week 4 underdogs were 8-6 ATS, home teams were 5-8 ATS, and home underdogs were 2-2 ATS. On the season, underdogs are 32-30 ATS, home teams are 30-31 ATS and home underdogs are 10-9 ATS.
– A week after seeing poor returns on our contrarian strategies, betting against the public was once again profitable in Week 4. Teams receiving less than 50% of spread bets were 7-7 ATS, teams receiving less than 40% of spread bets were 7-4 ATS and teams receiving less than 30% of spread bets were 3-2 ATS.
– On the season, teams receiving less than 49% of spread bets have gone just 28-32 ATS but teams receiving less than 30% of spread bets have gone 11-10 ATS. When an underdog of 3.5+ points is receives less than 30% of spread bets, they have gone 7-4 ATS.
– In the weekend's biggest upset, the St. Louis Rams (closed +7 on the spread, +260 on the moneyline) defeated the Arizona Cardinals 24-22. Only 23% of spread bettors and 12% of moneyline bettors were backing the Rams.
– Speaking of the Rams, oddsmakers aren't certain the team will be staying in St. Louis much longer:
Which NFL team will be the first to relocate to Los Angeles? (via CRIS) St. Louis Rams -155 San Diego Chargers +143 Oakland Raiders +636

— Sports Insights (@SportsInsights) September 4, 2015
In the past month, the Rams odds of being the 1st team to relocate to Los Angeles have moved from -155 to -250. SD drops from +143 to +365.

— Sports Insights (@SportsInsights) October 2, 2015
– Week 4 was great for last season's cellar dwellers, Teams who finished last season with a losing record (7 or fewer wins) were 11-2 ATS in Week 4. When we eliminate the two games involving two subpar teams (Tampa Bay/Washington and Chicago/Atlanta) that record improves to 9-0 ATS.
– Teams who lost their Week 3 game were 8-6 ATS in Week 4. That record moves to 5-3 ATS when we eliminate the games with two teams coming off a loss.
– In Week 4, the under went 10-5 which moves the season record to 31-31.
– Last week we spoke about how Thursday night was building a reputation for bad beats, and that less-than-proud tradition continued in Week 4. Pittsburgh was in control for most of the game but, holding a 3-point lead in the 4th quarter, kicker Josh Scobee missed two key kicks. Ultimately Justin Tucker's two field goals — including a game-winning 52 yarder — killed bettors who took Pittsburgh +3 (or +2.5 in a few devastating situations).
– With Andrew Luck sidelined, the Colts dropped from -8.5 to -4 on the spread and -450 to -215 on the moneyline in Sunday's game against the Jaguars. Tied 13-13 late in the fourth quarter, Jason Myers missed a 53-yard field goal with 6 seconds left in regulation. He then missed another 48-yard field goal in overtime, before Adam Vinateri won the game on a 27-yarder. Although the Jags covered the spread, moneyline bettors were left with a bad taste in their mouth.
– Last week there were six games decided by double-digits. Before the week, Bovada had set the over/under at 7.5 games.
– We detailed some of the early betting trends and line movement in our Week 5 opening line report, but there has been some additional movement since. There are still three games off the board, but early movers include Jacksonville (+3 to +2.5 at Tampa Bay), Tennessee (+3 to +2.5 vs. Buffalo) and New England (-7.5 to -8.5 at Dallas).
– After starting the season 1-3, the Miami Dolphins fired head coach Joe Philbin. Before the season Philbin was +1300 to be the first head coach fired, but recent struggles had moved that line tremendously. Last Tuesday Philbin was +240 to be the first coach fired but he had moved to +150 by Saturday.
– Since the start of the season, some of the biggest early Super Bowl 50 moves at 5Dimes include: Packers (+550 to +675), Patriots (+900 to +360), Bengals (+5000 to +1400), Falcons (+4500 to +1800) and Colts (+2200 to +800). You can see the full futures list below:
Green Bay Packers +340
New England Patriots +360
Seattle Seahawks +675
Denver Broncos +1075
Cincinnati Bengals +1400
Arizona Cardinals +1800
Atlanta Falcons +1800
Indianapolis Colts +2200
Carolina Panthers +3800
New York Giants +4000
Pittsburgh Steelers +4000
Dallas Cowboys +4500
Philadelphia Eagles +5000
San Diego Chargers +5500
Buffalo Bills +7000
New York Jets +7000
Baltimore Ravens +8000
Kansas City Chiefs +8500
Minnesota Vikings +8500
St Louis Rams +9500
New Orleans Saints +19000
Washington Redskins +24500
San Francisco 49ers +32500
Tennessee Titans +32500
Detroit Lions +37500
Oakland Raiders +37500
Miami Dolphins +38500
Houston Texans +52500
Chicago Bears +55000
Cleveland Browns +100000
Jacksonville Jaguars +100000
Tampa Bay Buccaneers +100000
Make sure to bookmark our free NFL odds page for the latest lines, public betting trends, injuries, futures and more. Have any questions for the staff at Sports Insights? Utilize our live chat to speak with a customer service representative or e-mail us at help@sportsinsights.com.