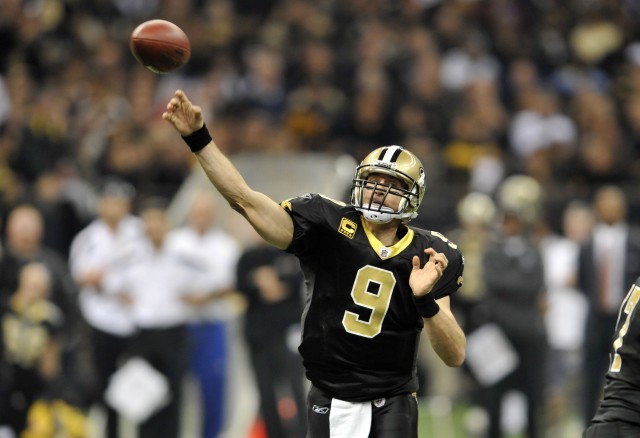 2015 NFL Preview: Player Performance Over/Unders
For months we have discussed some of the most popular futures and prop bets in addition to the historically profitable betting systems that we have featured. However, most of the available prop bets were based on picking the winner from the pool whether it's the odds to lead the league in various statistical categories or win one of the many annual awards.
On Monday, BetOnline became the first major offshore sportsbook to post player performance prop bets. These props allow bettors to wager on the over/under for various statistical milestones. Although they take fairly low limits on this prop, it gives us insight into exactly how well oddsmakers believe players will perform during the upcoming season.
Right now the only prop bets concern quarterbacks, with BetOnline offering an over/under for passing yards and passing touchdowns. There's action on each bets as long as that player participates in their Week 1 game.
| Player | Team | Passing TD | Passing Yards |
| --- | --- | --- | --- |
| Andrew Luck | IND | 35.5 | 4750.5 |
| Aaron Rodgers | GB | 33.5 | N/A |
| Drew Brees | NO | 30.5 | 4475.5 |
| Ben Roethlisberger | PIT | 30.5 | N/A |
| Philip Rivers | SD | 28.5 | N/A |
| Ryan Tannehill | MIA | 26.5 | N/A |
| Matthew Stafford | DET | 26.5 | N/A |
| Russell Wilson | SEA | 24.5 | N/A |
| Cam Newton | CAR | 20.5 | N/A |
| Blake Bortles | JAX | 19.5 | N/A |
| Matt Ryan | ATL | N/A | 4642.5 |
| Peyton Manning | DEN | N/A | 4500.5 |
| Teddy Bridgewater | MIN | N/A | 3752.5 |
Right now there are five over/unders for passing yards and ten over/unders for passing touchdowns with Andrew Luck posting the highest total for each category. This falls in line with other prop bets which listed Luck (+325) as the favorite to lead the league in passing yards.
One interesting note is that Matt Ryan (4642.5) and Peyton Manning (4500.5) are both expected to pass for more yardage than Drew Brees (4475.5), however Brees (+700) actually has better odds of Manning (+750) and Ryan (+800) to lead the league in passing yards.
We will continue to update this table as more information becomes available, and we'll be sure to address how any potential disparities in these totals can be exploited by fantasy football players.
Have any questions for the staff at Sports Insights? Utilize our live chat to speak with a customer service representative or e-mail us at help@sportsinsights.com.
David Solar is the Content Manager for Sports Insights and can be reached directly at David@sportsinsights.com.
Join us live Sundays at noon ET
We're now holding our members-only live Sports Betting Hangouts Sunday mornings to prepare you for a full day of NFL games. Members, simply log into your account Sunday morning to access the hangout.
Not a member? Start a trial today to join our Sports Betting Hangouts held six days a week, plus all the other Sportsbook Insider Pro benefits.