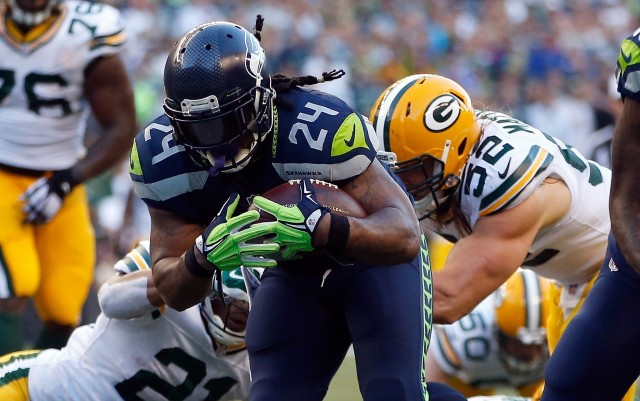 2015 NFL Playoffs: Early Divisional Round Lines
The Wild Card round of the NFL playoffs are here and the popular offshore sportsbook 5Dimes is already looking ahead to next weekend. This past week the sharp sportsbook posted lines for potential Divisional Round playoff games as well as an early line for the Super Bowl and various futures.
The look ahead lines are posted below, but bettors can view the latest odds, public betting trends and much more on our free NFL odds page.
New England Patriots
-7.5 vs. Indianapolis Colts
-9.5 vs. Cincinnati Bengals
-6.5 vs. Baltimore Ravens
-7.5 vs. Wild Card Winner
Denver Broncos
-7 vs. Pittsburgh Steelers
-7 vs. Indianapolis Colts
-7.5 vs. Cincinnati Bengals
-7 vs. Wild Card Winner
Seattle Seahawks
-11 vs. Carolina Panthers
-12 vs. Arizona Cardinals
-10 vs. Detroit Lions
-11 vs. Wild Card WInner
Green Bay Packers
-5.5 vs. Dallas Cowboys
-7 vs. Carolina Panthers
-9 vs. Arizona Cardinals
-6.5 vs. Wild Card Winner
Potential AFC Championship
Patriots -4 vs. Broncos
Potential NFC Championship
Seahawks -6.5 vs. Packers
Early Super Bowl Line
NFC -1.5 vs. AFC | O/U 50.5
Odds to win AFC
Patriots -138
Broncos +278
Steelers +1020
Colts +1825
Ravens +2250
Bengals +2250
Odds to win NFC
Seahawks -133
Packers +278
Cowboys +680
Panthers +2030
Lions +2950
Cardinals +3350
Most likely Super Bowl XLIX matchups
New England Patriots vs Seattle Seahawks +202
New England Patriots vs Green Bay Packers +556
Denver Broncos vs Seattle Seahawks +566
New England Patriots vs Dallas Cowboys +1285
Denver Broncos vs Green Bay Packers +1345
Pittsburgh Steelers vs Seattle Seahawks +1960
Denver Broncos vs Dallas Cowboys +2950
Indianapolis Colts vs Seattle Seahawks +3400
New England Patriots vs Carolina Panthers +3700
Baltimore Ravens vs Seattle Seahawks +4150
Super Bowl Odds
Denver/New England/Seattle/Green Bay -550
Field +425
Join us live Sundays at noon ET
We're now holding our members-only live Sports Betting Hangouts Sunday mornings to prepare you for a full day of NFL games. Members, simply log into your account Sunday morning to access the hangout.
Not a member? Start a trial today to join our Sports Betting Hangouts held six days a week, plus all the other Sportsbook Insider Pro benefits.